How To Give A Really Good Back Massage
Bring your rub-down skills to the next level by following these expert tips.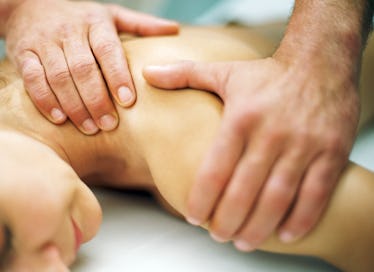 Getty
Can you rub my back? It's a common request because whose muscles aren't tight at the end of an especially long day of standing, sitting, stressing, chasing, and kid-carrying? But let's face it, when we acquiesce to it, we're guilty of doing little more than giving our partner a half-assed shoulder squeeze while craning our necks to watch whatever show is on the screen in front of us. And yeah, that'll sometimes do. But for those times when your partner is really stressed or sore and you know you need to bust out the oils and really get down to business, it's good to know how to give a good back massage. It's a skill every caring partner should have.
For those times when you're ready to rub your partner down, it's smart to brush up on some basics — what kind of pressure is worthwhile; what areas deserve extra attention — because the last thing you want is to do leave your loved one with more stress and tight muscles than when they started. To help, here are six expert massage tips to keep in mind.
1. Have Your Partner Lie Face Down
Sure, you can squeeze their shoulders and neck when you're on the couch together. But, according to, Beret Loncar, licensed massage therapist and owner of Body Mechanics Orthopedic Massage, massages are most effective when the person is lying face down. The reason is simple: "You want to avoid making your partner put in extra work by sitting upright and having to support their own body," she says.
A flat surface — like a firm bed or a floor with a mat or blanket — is ideal and pillows can be used to offer more foundation when you begin to apply pressure. "You want to be able to move around," adds Locar. "And you want your partner to remain in a neutral position to stay relaxed."
If your partner is pregnant or otherwise unable to lie face down, Loncar suggests having them sit in a chair and lean forward onto a table while using their arms (crossed, lying on them like a pillow) to support their head, neck, and shoulders.
2. Use the Right Lotion or Oil
Massage lotion and oil serve to hydrate and nourish the skin while reducing friction, allowing the masseuse's hands to move more easily over the skin. And given their scent, they also add a bit of extra aromatherapy to the experience. Massage therapists generally use lotions with clinical applications, but Loncar says that whatever lotion or oil you have at home is likely fine for a good rub down.
"The function of lotions is to allow your hands to glide across the skin," says Loncar. "So whatever you use really comes down to personal preference." (We like Shea Moisture's Lavender and Wild Orchid Lotion & Oil) If you're in a pinch, a general body cream will do just fine.
3. Provide the Right Pressure
Back massages aren't a "no pain, no gain" situation. You're rubbing someone's muscles, not putting together an Ikea cabinet. Pressing too hard can cause bruises and soreness while stroking too lightly can cause tickle fits. The ideal: "Pressure can be confusing but, for a back rub, most people prefer a touch similar to how you'd gently wring out a towel," says Loncar. "You're looking for just enough weight to compress the muscle partially, rather than fully." Everyone is different. But start with the wet towel technique Loncar described, then listen to your partner's cues to grade your pressure up and down accordingly until you hit the sweet spot.
4. Pay Attention to Your Partner's Signals
As you massage, focus on how your partner's body is responding. Are they tensing or pulling away? Is their breathing becoming erratic? "These can all be signs that the pressure is too much or too little," says Loncar.
A good rule: Combine deep pressure with slower strokes, using fists, knuckles, thumbs, or forearms — all of which have different, specific benefits. The knuckles have nice ridges that can be used to add texture. The thumb's rounded surface can be used to dig. And your broad, flat forearms? They're excellent for compressing large areas. In addition, Loncar says using a steady, broad hand — instead of only fingertips, for example — can help minimize inadvertent tickles.
5. Steer Clear of Certain Areas
Chances are, you know this already. But it bears repeating. "Anything with little padding over the bone — like the spine — will be uncomfortable when pressure is applied to it," says Loncar. "You can touch and work around them, just don't press down on them too hard as there is no give and you might accidentally hurt your partner."
She also advises against pressing on areas with a lot of nerves, veins, or arteries — such as the areas above the clavicle, along the rib cage, or in the armpits — as they are extremely sensitive in most people, and can cause sudden sensations that might spoil your partner's relaxation.
6. Fast Strokes = Stimulating; Slow Strokes = Calming
Massage therapists like Loncar go to school so they can learn the nuances of effective massage techniques. For amateurs, though, she suggests a few simple pointers that will help guide your magic hands.
"In general, fast strokes are stimulating, while slower strokes are calming," she says. "Because the back has long, flat muscles, we tend to use long strokes during massages." A "stroke", Loncar says, is the span of movement before picking your hands or arms up again.
Long strokes like those most effective on backs require consistent pressure to be effective and can be practiced by dragging your palms from your partner's shoulders down to their waist. If your partner asks for more compression or more direct pressure, you can follow the same path using the forearms or knuckles. Loncar adds that pointier applicators, like the elbow, or a single finger can be used most effectively in meatier areas — areas with enough muscle bulk to let them sink in — like the traps and glutes.
So there you have it. Pay attention to your partner's signals, keep pressure in the right place, and learn a few strokes and your massages will be in demand.
This article was originally published on