How Long Does It Take to Close on a House, Really?
It takes time. But paying attention to these 10 factors will ensure the process goes as smoothly as possible.
by Lilian Ogbuefi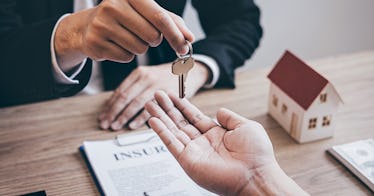 So, you finally decided to ditch the rentals and buy yourself a home. You've shared drinks with real estate agents, groaned through numerous open houses, and probably gave more than a few side-eyes to the viewers who seem to be there only for the cookies. After all the work, you finally put in an offer that was accepted, and now you're waiting for closing and wondering why it's taking so long.
One of the questions most first time home buyers tend to ask is: "How long does it take to close on a house?" The truth is there isn't a definitive answer. Typically, it takes 30-60 days. However, between your offer, loan approval, and escrow, there are a lot of events and contingencies that could occur to disrupt this time frame..
"Once your offer gets accepted, generally speaking, most loan contingencies are about 17 days" says Yawar Charlie, a Director of Real Estate at Aaron Kirkman Group. This means the buyer has 17 days to provide the necessary paperwork to the underwriter in order to get the loan approved".
As soon as the final approval for a loan comes in, the escrow — or third party loan documentation — can close in a matter of days. However, additional occurrences like unresolved property damage, final walk through issues, and last-minute requests for additional documentation by the lender can cause delays. Cash transactions generally tend to move faster because the buyer is not always subject to contingencies like lender approval, appraisals, inspections, or negotiation of repairs. Houses financed through mortgage tend to take a little longer. From the time an offer is made, up until the final closing, Charlie says, "it is important that all parties remain on standby to provide documentation in a timely manner, otherwise, the escrow can be delayed".
Here are 10 factors that contribute to delays in home closing — and how you can get in front of them.
Closing on a House: 10 Factors That Speed Up or Slow Down the Process
1. Cash or Pre-approval Expert Insurance Reviews2. The Appraisal3. The Inspection4. Insurance5. The Title SearchLegal Advice6. Errors and Discrepancies7. A Good Faith Estimate
Tips for preventing delays when closing a house
Start inquiries on homeowners' insurance early on. All lenders require a policy to be in force prior to funding a loan.
Double-check all documents created during the process. Taking a few extra moments to review for spelling errors, incorrect amounts, or missing pages will save you hours or even days of delay.
Do not make any major changes in your life, your finances, or your credit during the closing process. This could change your Debt to Income Ratio triggering a redo, delay, or rejection of your loan application.
Fulfill the request regarding all documents asked for by a realtor, lender, and all other parties. This sounds simple, but it is not common; in fact, realtors and lenders are pleasantly surprised when potential buyers are well-prepared. .
8. The Type of Mortgage FHA loan9. Miscellaneous Contingencies10. Last-Minute Changes
This article was originally published on