6 Tips for Keeping Your Holiday Spending in Check This Season
Because you don't want to be in the red come New Years.
by Douglas A. Boneparth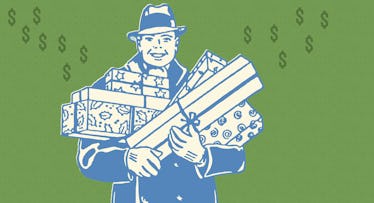 It's easy to overspend around the holidays. According to a survey conducted by Prosper Insights & Analytics, the average person will spend an estimated $967.13 this season. Chances are, this doesn't include travel expenses, holiday tips for babysitters, decorations, wrapping paper, or any of the additional costs that tend to creep up over the season. This makes sense: It's the holidays! It's a time for gifts and cheer and parties with friends. Who cares if your bank account is cursing you out behind your back, right? Well, you will. Or you will come the New Year. Now, no matter how much I encourage you to spend wisely this holiday season, you're likely going to go off the rails. But, I can try. Or at least lessen the damage. So, here are a few tips to keep your spending in check this season.
1. Put It In Writing
It's easy to get carried away with spending when you're in the holiday mindset, which is why getting organized is imperative. For my masters of cash flow, creating a budget (in this case a budget of budgets) should be easy. However, for those of you who are still struggling with spending, I urge you to, just the one time, put something together. Those who write things down end up in better shape than those who don't. It's that simple. This could mean hundreds to thousands of dollars saved in unnecessary, frivolous spending.
2. Break Everything Into Categories.
It's easy to forget that holiday spending goes beyond just the presents we put under or near your respective religious ornament. Tis the season to travel, decorate, tip and be charitable. For example, my wife and I are once again hosting Thanksgiving but making a feast don't come cheap. In fact, it's quite expensive. So we make sure to list every single expenditure we have. Luckily, the kind people over at The Balance have a wonderful "Holiday Spending Worksheet" that you can use to break things down into categories
3. Set a spending limit.
One extremely helpful tip this spending season is to draw a definitive line in the sand. Having a spending limit adds a layer of control to what can easily become an out of control situation.
4. Use only cash.
In its most extreme form, consider using only cash for your holiday expenses this holiday season. Place your limit amount in an envelope with the understanding that once the cash is gone, that's it for you. If you forgot something or someone, perhaps you should return an item or two instead of visiting the ATM once more.
5. Don't forget your financial goals.
Grinch Mode activated! While you're out and about dropping bills and swiping credit cards, keep your financial goals at the top of your mind. Remember, that no matter how much you want to crush gift giving this holiday season, you need to put yourself and your financial goals first. I can assure you that your loved ones are still going to love you if you don't get them that "thing" they really wanted. Only you can determine what's more important when it comes to allocating your hard-earned dollars but, for the love of mistletoe, don't complain that you've set yourself back because you went HAM during the holidays.
6. Review your spending.
When it's all said and done, take a minute to look back at what took place this year, because the only way to change our behavior, or reinforce it, is by looking at what we've done. These tips, when used together, can help you assess where you did a good or bad job. Either outcome should encourage you to do an even better job in the days, months, and years to come.
Douglas A. Boneparth is NYC's Financial Advisor for Millennials. He's the co-author of The Millennial Money Fix and the CFP Board Ambassador for New York.
This article was originally published on