Grief During Coronavirus: How to Be There for Someone When You Can't Truly Be There
The way we grieve has, during Covid-19, changed dramatically. But there are still ways to be there for those who need you.
by Megan Devine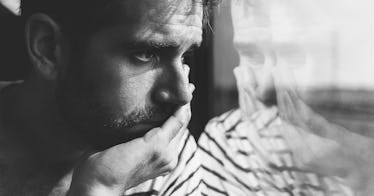 The coronavirus pandemic has changed the way we die in this culture — and it's changing the ways we experience grief. Not only have more than 90,000 people died of virus complications in the US, but other causes of death — from heart disease to cancer to accidents — are happening right alongside the virus. Certain best practices during the pandemic mean that family members are not allowed at the bedside during the dying process, and we can't gather together to mourn those deaths either. So how do we grieve now?
Due to restrictions on the size of both public and private gatherings, funerals have been banned or, at a minimum, severely restricted. People are unable to sit shiva together. We can't gather together at a potluck-fueled wake. There is no receiving line of wordless hugs, no comforting hand on your shoulder when you lose someone. The normal things we reach for during times of difficulty — shared feelings, shared memories, shared food, and shared touch — are unavailable.
What our usual rituals provide in those first weeks after death is a sense of connection: we get to see how many people knew and loved the person we lost. We see evidence of their life reflected in the faces and the stories of those around us. The best gatherings help people feel supported inside their loss — at least for those first early days. We get to literally hold on to each other.
That need to hold on to each other is a big part of what makes us human — and it's a big part of what makes loss survivable. Connection is important. Surviving these times without those connection points makes grief, itself, harder — and it makes it hard to know how to show up for the people you care about.
It's not just the loss of traditional ways to mark someone's death that get in the way of offering support and connection. The pandemic has stretched almost everyone's emotional bandwidth as we juggle parenting, homeschooling, job insecurity, financial uncertainty, and concerns for the health of those we care about. The amount of support you might have been able to give (or receive) in pre-pandemic times might not be realistic during these intense times.
At a time when we really need to — metaphorically rather than physically — lean on each other, we've got to come up with some creative ways to gather and connect, even when we can't do so in person.
Go Virtual
There's a lot of discussion in the media about virtual funerals. While they don't replace an in-person gathering, these online memorials can offer an intimate way of connecting. Some people feel that the novelty of the situation made the experience even more powerful or poignant; it shook them out of the "habits of mourning" they may have felt with traditional funerals.
If you're invited to an online memorial, don't just join the call and lurk. Offer to create a playlist for the event, or help your grieving friend host a virtual memorial brunch or happy hour in which everyone makes a recipe their loved one used to make. Take over some of the memorial planning for your friend, if you're able and they'd like the help. Share stories about the person they've lost in a quick video or voice recording. There's no one right way to memorialize a life or to acknowledge a loss. It's okay to be creative.
Finding Tangible Support in an Intangible World
Even in the best of times, it's hard to know how to support a grieving friend or family member. During these weird times where we can't even offer our awkward condolences, it's even harder to know how to help. Dealing with your own challenges might mean you don't really mean it when you say "Call if you need anything."
One way to preserve your own energy and offer great support to someone else is to offer tangible, practical options. For example, you might say, "I can't take this pain away for you, but maybe I can help lighten your load a little. I'd be happy to do a virtual story hour for your kids a few nights a week if that would give you a minute to yourself. Would that work for you?"
When someone dies, normal life still keeps chugging along for the surviving family members. If you can lessen the burden of "normal life activities" for your friend, that will free up some space for them to process and feel their own loss. Of course, "normal life activities" are anything but normal right now, but there are still lots of tangible things you can do to help a friend navigate their grief without violating social distancing protocol.
Offering clear, tangible support is helpful for both parties.
Have Conversations that Connect
Grief can be an isolating experience. Those with good intentions often try to cheer people up, or help them "move on" from their loss. This leaves many grieving people feeling like they can't talk openly about their grief, which contributes to a deep sense of loneliness. It seems counterintuitive, but the best way to support a grieving friend or family member is to allow them to talk about how they feel without trying to cheer them up or help them look on the bright side. Acknowledgement is really the best medicine: your job as a support person isn't to make someone's grief go away, it's to help them feel heard inside their grief.
Opening honest conversations about grief, loss, and loneliness might feel daunting. This pandemic kind of opened the door to those conversations in a big way. Use this (unfortunate, unwanted) opportunity to reach out to those around you. Ask what their loss or their grief is like for them. Listen without jumping in to fix it for them. See what happens when you make space for things to feel as bad as they do.
Stick Around
Across the medical and funeral industries, there's a lot of focus on what happens to grief if we can't hold memorials or rituals in the same way. While that's an interesting conversation, it's important to remember that grief doesn't end at the funeral. These rituals don't provide "closure" for grief, they simply provide a concentrated dose of connection and support at the start of the long unfolding process of grief itself. Rituals don't mark the end of grief. They mark the beginning.
The way you show up for your friends now is important. The ways you continue to show up – asking about how they're doing without their person 6 months from now, still asking 2 years from now, remembering birthdays and holiday seasons, offering a listening ear on an average, ordinary Tuesday – these are all powerful forms of love and connection.
Finding ways to connect in tangible and intangible ways is what helps us survive whatever happens in this life – now, and in all the years to come.
Psychotherapist Megan Devine is the founder of Refuge in Grief, and the author of the best-selling book, It's OK That You're Not OK: Meeting Grief and Loss in A Culture That Doesn't Understand, translated into 15 languages. Her latest collaborative project, Speaking Grief, is out in 2020 from PBS.
This article was originally published on