Great Wolf Lodge Is the Perfect Vacation for the Family That Never Slows Down
With more than 50 attractions under one roof, there will never be a dull moment.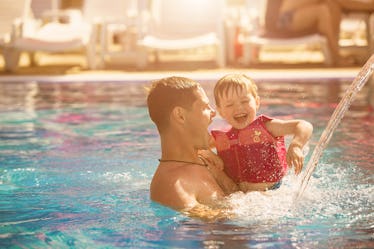 Grekov's/Shutterstock
If you're the kind of family that loves to jam as many activities into a weekend as humanly possible, you probably don't think of vacation as a time to slow down and kick up your feet. Your idea of paradise looks less like a nap on the beach, and more like literally anything that will get your heart rate going. For those who fear the phrase "I'm bored!", there's one vacation spot that is sure to keep you entertained from the moment you arrive through the moment you check-out — and that's Great Wolf Lodge.
With more than 50 attractions under one roof, Great Wolf Lodge is the premiere destination for the pack that never slows down. And with 19 locations across the United States and Canada, it's easy to find a resort that you can easily travel to. (Just think: the less time you have to spend traveling, the more time you have to squeeze in lots of fun.)
Included with each reservation is a water park pass, which could keep anyone busy for days. Packed with one-of-a-kind attractions — Slap Tail Pond, River Canyon Run, Alberta Falls, Totem Falls, and Coyote Cannon, to name a few — each Great Wolf Lodge water park contains anywhere from 38,000 to 105,000 square feet of water park thrills. (And that's only until 2023, when Great Wolf's 20th and largest resort is planned to open 126,000 square feet of water park fun in Baltimore, Maryland). Although the slides and pools are a major part of the Great Wolf Lodge experience, there's plenty of opportunity for adventure throughout the premises. Once your fingers are wrinkled from hours spent splashing around, dry off and head to any of the other thrilling activities Great Wolf offers.
While attractions can vary from location to location, expect to spend your stay exploring things such as adrenaline-boosting climbing walls and ropes courses that will allow your wolf pack to reach new heights, arcades filled with exciting games, arts and crafts experiences to channel your creative side, and an immersive live-action game called MagiQuest. Perhaps you'd like to strike up a game of mini golf, or take home your own Great Wolf Kids character plush toy at Build-A-Bear Workshop. Mirror mazes, mining adventures, and free activities such as Dance Party and Story Time also await, as well as a variety of dining options for when you need to refuel before heading to the next stop on your itinerary. Even bed time is exciting at Great Wolf Lodge, where themed suites serve as the perfect personal den for the whole family.
Whether you plan to take a day trip or stay a while, every visit to Great Wolf Lodge is an opportunity to create endless memories that will last a lifetime. Visit the Great Wolf Lodge website for more information on the resorts in your region.