10 Birthday Cake Ideas Your Kids Will Love
A guide to all the best kinds of birthday centerpieces — from sheet to funfetti to, yes, unicorn cake.
by AC Shilton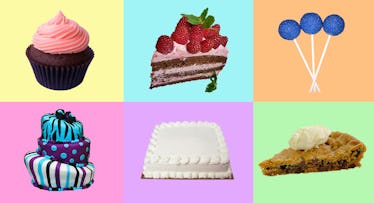 Few things strike fear into the hearts of fathers like hearing their child scream "I want a unicorn cake!" First of all, what the hell is a unicorn cake? Second, how many hours or hundreds of dollars will you be spending on it for your kid's birthday? Before you acquiesce and Google "unicorn cake recipe," you should probably know what you're signing up for. Below, you'll find the definitive guide to every type of kid-appropriate birthday cake, from the mundane (think, grocery store sheet) to the unicorn-horned. Before you pinky swear on what kind of cake you'll get your kid, read up.
RELATED: 14 Fun Indoor Activities for Your Kid's Next Birthday Party
Birthday Cake Type: Unicorn Cakes
These really are having a moment, especially with the under-10 crowd, says Schwarz. Generally this is a round white cake covered in perfect white fondant and topped with a fondant unicorn horn. You can add ears, and a rainbow main cascading down the cake if you're especially talented with piping icing. Pinterest is full of templates, but it's also full of unicorn cake fails (and that fondant horn can look rather phallic if you're not careful). Don't say we didn't warn you.
Birthday Cake Type: Funfetti
There is no more kid-friendly cake. What it generally lacks in flavor, it makes up in color with fun rainbow splotches dotting every slice. Also, it actually doesn't have to be bland, says Jessica Schwarz, owner of Silverwood Bakery, a McKinney, Texas cake shop. You can get those bright colors from adding sprinkles to any light-colored batter — like lemon or almond. Just add the sprinkles in right before you pour the finished batter into the pan, and give it one quick stir.
Birthday Cake Type: Regular Ol' Sheet Cake
If you're having the entire class over for a party, this is the way to go. Generally cheap, semi-customizable, and not needing much in the way of lead time, these cakes won't be memorable, but they will provide the requisite sugar rush. Looking for the best grocery store option? Costco's sheet cakes have a cult following — and they're incredibly affordable.
Birthday Cake Type: Cartoon Cakes
These are always Schwarz's best-sellers. Shaped like characters from Star Wars or Dora The Explorer, cartoon cakes can get pricey, fast. But they're also pretty unforgettable, especially when they're one-of-a-kind creations. If you can't afford a custom cake though, don't despair. Schwarz says that with a few pre-bought cake toppers (check your local party supply store or the Internet), you can turn basically any sheet cake into a cartoon or princess themed cake.
Birthday Cake Type: Cupcakes
For kids who hate sharing, cupcakes — where everyone gets their very own tiny cake — are the way to go. "They can be more affordable too," says Schwarz. They're also great for the indecisive, or for families where one kid hates chocolate and the other hates vanilla.
Birthday Cake Type: Cakepops
"They're definitely not as popular as the were a few years ago," says Schwarz, but they're not gone for good. Cake pops are lollipops of cake that are rolled in icing and speared with a stick. They're practically mess-free (in theory at least), and they make portion control easy because they're bite-sized. Like cupcakes, you can get several flavors in one order, making pleasing a crowd easy.
Birthday Cake Type: Ice Cream Cake
There are two kinds of people in this world: Those that like the co-mingling of ice cream and cake into one soggy delicious mess, and those of us who are above such indignities. Still, if your kid is demanding it, why not? At least it saves you from having to buy both cake and ice cream. Because of cottage industry laws, most small cake bakers, like Silverwood Bakery, cannot sell ice cream cakes, says Schwarz, explaining that her license only allows her to make things that don't require refrigeration. You'll often have to go mass market with something from a chain ice cream shop, but that's probably just fine. Even foodie kids who down fresh octopus and pate are known to lower their standards when an ice cream cake is rolled out.
Birthday Cake Type: Number Cakes
These are new to the scene but Schwarz thinks they'll be the hot new trend. "The real name for them is crème tartes, but people here call them number cakes." Basically, the pastry chef makes a cookie base, molding the cookie into the shape of whatever age you're turning. Then, the cookies are baked and topped with beautiful pastry cream designs, fresh fruit, and really whatever else your heart desires.
Birthday Cake Type: Cookie Cakes
For the kid who hates cake, there's always the cake-shaped giant cookie. Schwarz recently made one of these for a kid who didn't want a cake but parents who wanted something showy they could cut at the table. Plus, it's an excuse to put icing on a cookie, and who doesn't love that?
Birthday Cake Type: Topsy-Turvy Cakes
You've probably seen these on baking reality shows: Cakes where the layers are catawampus, but somehow the cake manages to stay upright. If you see one of these at a kids' birthday party, those parents have cash (or time) to burn, since these are expensive and hard to make. Schwarz says that the real trick is simply having the right support system running through the center of the cake. But, they can still go wrong quickly, and are definitely not to be attempted by first-time bakers.