6 Unique Gin & Tonic Recipes You Should Make ASAP
Gin, tonic, lime. It's an enduring trio. But it can also get pretty dull. Switch things up by making one of these delicious variations.
by Nicholas McClelland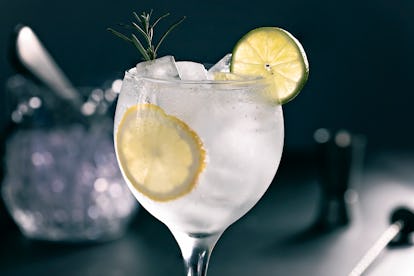 Getty
A classic gin and tonic is a drink so easy to make it's nearly impossible to mess up. Take a glass full of ice and add two ounces of good gin, four-ounces of tonic water. Stir it up and top with a lime. For those who prefer a stronger, less sweet drink, use more gin and vice versa. Is it basic? Yup. But a well-made one is as refreshing and well-balanced a warm-weather drink as there ever was.
The gin and tonic is also a wonderfully dynamic cocktail that begs for experimentation. In addition to varying the type of gin you use ("Tonic is a strongly-flavored enough mixer that you can get away with using even the weirdest, most innovative modern gins," world-renowned spirits expert David Wondrich told us), you can also vary the type of tonic (we love the high-quality options from the Fever Tree or the Q Mixers brand) and garnish (peppercorns, herbs, cucumber, and even the seemingly sacrilegious lemon wedge are all fair game). Each addition brings forth new layers and depth.
Of course, there are countless other gin and tonic recipes if you want to try something new. For those looking for a bit of inspiration, we asked six bartenders to share with us their current favorite gin and tonic recipes. From a simple riff that emphasizes summer produce to a complex take involving aloe liqueur, pear brandy, and celery juice (yeah, you read that right), they all hit the spot.
1. The Garden Gin and Tonic
"Gin and tonics are great for the warmer spring and summer temperatures due to their light, crisp, and refreshing characteristics," says Devin Burns, Vice President of Rooms and F&B at Omni Hotels & Resorts. Burns prefers his gin and tonic in a large wine glass with plenty of ice and a cucumber slice or two. But he also loves adding summer produce and says that strawberry is another flavor not to be missed, which is why he suggests using both in this simple riff.
Ingredients
Directions
Muddle fresh strawberries and cucumbers in the bottom of a glass before building your drink in the glass with ice.
2. The Gin and Tonic and Dill
David Maness, beverage director 1751 Sea & Bar, Houston, Texas uses fresh dill, cucumber tonic, and dry Japanese gin in his gin and tonic. "People should make this because it shows how similar food and drink flavor pairings can be as well as the savorier side of cocktails, especially gin and tonics, which are traditionally thought to be light and citrus-forward," he says. Consider us sold.
Ingredients
Directions
Build in a glass, add ice, and garnish with cucumber ribbon and fresh dill sprig
3. The G&T Italiano
The Italian Aperitivo cocktail bar Brother Wolf in Knoxville celebrates all things bitter. It's no surprise, then, per owner Jessica "Rabbit" King, that their version of the gin and tonic focuses on that flavor profile. Their gin and tonic recipe sees equal parts Italian gin and Cocchi Americano, an aromatized wine, combined with aromatic tonic water, citrus, and fresh herbs.
Ingredients
Directions
Combine ingredients in a red wine glass over ice. Stir gently and garnish with seasonal herbs and citrus.
4. Deke Dunne's Gin and Tonic
Deke Dunne, the head bartender and beverage director of Allegory at the Eaton in Washington, DC, loves gin and tonics. But he doesn't like when they get too busy because, as he says, "the gin and tonic are the stars of the show." For his take, he chose to go with a slightly lower ABV by cutting the citrus-forward Roku Gin with Martini & Rossi Ambrato vermouth.
"The Japanese citrus of the Roku plays beautifully with the chamomile and honey of the Ambrato," he says, calling it a "light, bright, gin and tonic that's perfect for spring and summer."
Ingredients
Directions
Take a chilled Collins and add a clear ice spear. Add the tonic and then add the gin and vermouth. Stir gently to help incorporate and garnish with a fresh bay leaf.
5. Old Duff & Rocky's Liqueur Gin and Tonic
Brendan Bartley, head bartender and beverage director of the prohibition-inspired speakeasy Bathtub Gin in New York City, calls his spin on the gin and tonic "a classic love story of old world meets new." It sees the Old Duff Genever and the herbaceous Rockys Liqueur combined with lemon tonic, fresh pineapple, and lime.
"I love the pairing as it breaks the usual gin and tonic mold and has genever, the birthplace of gin, in a way anybody can appreciate it," says Bartley. "It's interesting enough to be quirky for gin nerds, delicious enough anyone can enjoy it. The perfect romance."
Ingredients
Directions
Add all spirits to a chilled Brandy balloon glass, and add tonic. Top with ice, lightly stir, and add garnishes delicately on top.
6. The BCN Gin and Tonic
BCN Gin hails from Barcelona and is distilled with white wine grapes, Catalan figs, and eucalyptus. Brian Evans, director of bars for Sunday in Brooklyn, enjoys pairing the spirit with St. George Pear Brandy, Chareau Aloe Liqueur, Fever Tree Mediterranean Tonic, and a splash of celery juice. A bit labor intensive? Sure. But he promises it's worth the effort.
"It has this refreshing, cooling effect, with a pop of orchard flavor, and the perfect amount of salinity from the celery juice," he says. If you're up for the unique take, Evans likes to garnish this with sliced pears, ribbons of celery cut from a fruit peeler, and star anise.
Ingredients
Directions
Build the first three ingredients in a Spanish-style, stemmed balloon glass over cubed ice. Carefully place 2 thin slices of Anjou pears, 2-3 ribbons of stripped celery, and two star anise in the glass and top with the Fever Tree Mediterranean Tonic. Float the celery juice on top and add a couple squeezes of lemon or lime if preferred.
This article was originally published on