My Wife Is Away. But Our Dog Helps Me Care For Our Daughter
"Having Charlie around makes things easier for all of us."
by Seth Simons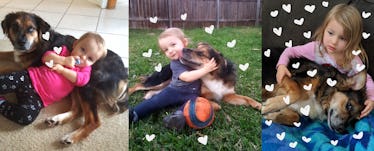 Welcome to The Family Dog, Fatherly's series about dogs and how they make families better. Sure, they might tear up the sofa every once in a while but dogs have an unmistakable impact on both parents and children. Want to submit your dog and their story for inclusion — or just want to show us some great pics of your pooch? Send us a note at thefamilydog@fatherly.com.
His wife may be overseas on deployment, but that doesn't mean Duncan is parenting solo — thanks to his dog Charlie, that is. The probably-an-Aussie-mix-but-nobody's-sure entered the family as a puppy shortly after the birth of his daughter, and the two have grown up together ever since. Both mom and dad were anxious about the prospect of raising a child and a dog at the same time, but Charlie won them over and he's become an integral part of the family. Here, Duncan, tells that story.
My sister lives out in the country and had a stray show up on her property. It give birth to a litter of pups. This was just a couple months before my wife and I were expecting our first child and so we weren't planning on adding any more insanity into our lives. But we fell in love with a little furball and ended up taking her home.
We have no idea what her actual breed is, we're thinking part Aussie mixed with some other things. The mom appeared to be a Catahoula mix of some kind, this pup looked nothing like her though. We named her Charlie.
Both my wife and I grew up with dogs in the house and agreed that it was an important thing for us as kids and wanted to offer the same to our daughter.
Having a newborn and a few-months-old puppy at the same time was definitely a challenge.
But seeing the dog-kid bond from the parent's perspective is a really special thing that I appreciate on almost a daily basis. Our daughter won't leave the house without giving Charlie a hug and kiss goodbye.
They're best buds. Every morning when our alarm goes off Charlie gets up and goes to sit outside our daughter's door waiting for us to open it and wake her up to get ready.
Raising them both at the same time was definitely challenging. We were lucky to be able to utilize a great doggy daycare during the day to keep our pup active during her most intense puppy months, even a couple days a week of hours and hours of play made a big difference in how crazy things were at our house.
The biggest challenge now is trying to make sure they're both kept active enough and have enough time to get their wiggles out. We spend a lot of time outdoors and try and go hiking every weekend the weather permits.
My wife is deployed overseas on Afghanistan. About one month that deployment my daughter asked if Charlie could sleep in her room. This wasn't part of our routine so I asked why. She said "she has to protect me in case you get lost dada."
I think that relationship has been a big help for my daughter in navigating her mom being gone for such a long period. It's my favorite example about how strong that bond is.
With my wife gone, the trials of solo parenting are a thing that's happening. But I don't even take the time to really think about. It's one day at a time. I'm not really taking a lot of space to reflect on my side of it — I'm just charging through.
If I didn't have Charlie to play fetch with out back and keep me company on the couch, I'm sure things would feel a lot lonelier for me after the toddler bedtime routine.
I do think that I see and appreciate the companionship you get with a dog more than I have before. It's great to see our daughter ask Charlie to go with her when she's going to another room and doesn't want to go alone but also wants to be more brave than to ask me to go with her, for example. I think she gets an extra layer of security, support, and routine.
Having Charlie around makes things easier for all of us.
This article was originally published on