My Kid Asked Me if the Divorce Was Mom's Fault. Here's What I Told Her
My daughter asked the question I'd been waiting to answer on a trip out for ice cream.
by Brandon Musick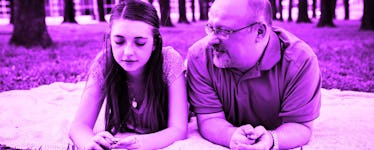 "Is it mom's fault you two are divorced?"
My daughter asked the question I'd been waiting to answer on a trip out for ice cream. This is my chance, I thought. I couldn't hold it in any longer.
"Of course it is! I never wanted to get divorced. I would never break up our family. Your mom put herself first. She gave up on our family. She gave up on our marriage. She quit on us. She quit on you!"
But that's not really what I said — not only because I want to protect my kids, but because after being divorced for some time now, I was able to take a step back and be honest with myself and my children.
The following story was submitted by a Fatherly reader. Opinions expressed in the story do not reflect the opinions of Fatherly as a publication. The fact that we're printing the story does, however, reflect a belief that it is an interesting and worthwhile read.
"Who is the one person in your life you can control?" I said instead.
"Yourself?" my daughter answered, hesitating.
The kids and I have talked about this before, as they've come to me with their complaints: "Zoe is being mean to me!" or "The teacher is unfair!" or "The coach doesn't like me." We've talked about how life isn't always fair. We've talked about personal responsibility. We've talked about taking control over the things in your life you can control.
When my daughter struggled with a "mean" friend, we talked about how she could respond. We talked about what she could do to make the situation better — and what she might have done to make her friend act this way. My daughter ended up killing her friend with kindness. She also stopped responding when the friend was being rude. She started inviting her friend to sit next to her at lunch. Their friendship rekindled. (Or it didn't — she's 12, so the final result depends on the week.)
When my children have complained about a teacher or their grades, we've talked about how much they studied. Had they been prepared for class? Had they paid attention to the teacher? Or had they been distracted? We talked about participating in class and ways to fix the problem. They asked to change seats to a spot where they could focus better, and we even bought the teacher a small gift as a thank you for all her hard work. When my child wasn't getting the desired playing time, we started practicing more at home, got extra training, showed up early, and stayed late. You get the point — and our focus on personal responsibility.
Did I want to get divorced? Absolutely not. But when my wife came to me and said she wanted to separate, I needed to apply my lessons to my own behavior. What had I missed? What could I have done to stop this? How could I keep it from happening again?
I hadn't even realized my wife was even considering leaving me until she told me she didn't love me anymore. Looking back, I can see how she had tried to warn me — but I didn't understand how unhappy she was until it was too late. I hadn't been the perfect husband. With hindsight and a strong belief in owning up to my own weaknesses, I saw how many things I could have done differently.
So when my daughter asked why we'd split up, I answered her honestly. "It is not your mom's fault," I said. "There are many things I wished I would have done differently. But I can't change the past."
"I have learned how to be a better partner," I told my daughter. I knew she would know this was true. I'm dating again. My kids absolutely adore my new love, and she adores them. "I have learned how to show love in the way my partner needs it, not just the way I prefer. We make time to go on dates; we have vacations planned. We talk and we listen to each other. Each one of us puts the other one first."
My kids seemed to take my words to heart, and they enjoyed their ice cream. I knew that what they need most is to go through life knowing that their mom and dad both love them, and my answer acknowledged that.
As fathers, we must lead by example. We must show our sons how to conduct ourselves in a relationship — how to be gentlemen. And we must show our daughters how a woman should be treated — what to expect when it comes to dating, courtship and love. They are watching us.
And as divorced fathers, we must show our children that their mothers deserve respect. And we must prove to them the value of taking responsibility for the things we can control — even, and especially, when it's hard.
Brandon Musick is a father of three and a fitness director from Kansas City, Missouri. When not spending weekends at soccer games, he enjoys poker and lifting heavy things.
This article was originally published on