This CBD Brand Has New Melatonin Gummies For Better Zzz's — And You Can Score 20% Off Sitewide Now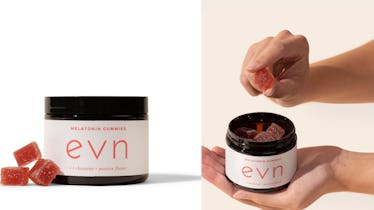 EVN
Ah, sleep. It's either your best friend or worst enemy, depending on how good you are at it. But one thing's for sure — sleep is important. It's so important, in fact, that an adequate amount of sleep can improve your mood, lower your risk for serious health problems like heart disease and diabetes, and even help prevent a nuclear power plant meltdown (or, perhaps more apropos, a toddler one). So if you struggle with falling asleep and staying asleep, Evn's new Strawberry Melatonin Gummies may be able to help. And right now, you can score 20% off everything on the site, including the CBD products the brand is most famous for, with checkout code FATHERLY20.
If you're going to eat a gummy to help you wind down, it might as well be delicious. Evn's Strawberry Melatonin Gummies taste good and they can help you catch some Zzz's. That's a win-win. Made in small batches with all-natural ingredients, each gummy has 3 milligrams of melatonin, 100 milligrams of L-theanine, an ingredient found in black tea that's been proven to relax the mind, and 25 milligrams of passion flower, a wildflower found to naturally reduce anxiety. The gummies are tested and accredited by an independent third-party lab, so you can rest assured they're quality ingredients, too.
How To Use
Evn recommends taking one gummy 30 minutes before bed. Of course, everyone's nighttime routine is different, so that might mean popping a gummy as you cuddle up in bed for 30 minutes of social media scrolling (though really, don't do that), or maybe it means you'll eat one 30 minutes before whatever show you're currently watching ends. However you take it, just know that within 30 minutes, you'll likely start to feel sleepy.
How Do Melatonin Supplements Help With Sleep?
For the uninitiated, our bodies naturally produce melatonin to help control our sleep cycle. Darkness prompts the production of melatonin while light causes the production to stop, but it doesn't work so perfectly for everyone. If you're having trouble falling asleep or staying asleep, your body might not be producing enough melatonin (although, your 30 minutes of doomscrolling might have something to do with it...). Melatonin supplements like Evn's melatonin gummies are lab-made versions of the sleep hormone that add to your body's natural supply.
Side note: Melatonin may help you sleep, but it can also have side effects, so it's important to talk to your doctor before starting any new supplement.
Evn's CBD Products
Evn originally started as a CBD company with a focus on high-quality extracts but recently expanded its product line to include CBD-free melatonin gummies. If you want to try its CBD offerings, check out these popular products now also 20% off with code FATHERLY20.
The CBD Sour & OG Gummy Bundle
Evn's CBD Gummy Bears come in original and sour flavors. This bundle will let you try both so you can determine which you like better for your future CBD endeavors, or if your preference varies, you can mix it up on the regular. Each gummy has 10 milligrams of broad-spectrum CBD with no THC. The gummies are non-GMO, lab-tested, gluten-free, and derived from organically sourced hemp from family-owned farms.
The CBD Tincture
If gummies aren't your thing, check out this vegan Natural CBD oil that can help you stay calm during a stressful day and relax after a long one. This one has 500 milligrams of CBD, which is a good place to start if you're new to CBD (or intimidated by the 1,000 mg bottle). To use, the brand recommends placing one to two full droppers under your tongue and holding it there for 60 seconds before swallowing.
The Topical CBD Cream With Soothing Menthol
Sore muscles can majorly benefit from CBD cream. Evn's CBD Cream with Menthol is a specially formulated cooling and moisturizing cream that promotes both recovery and relaxation. It's formulated with 500 milligrams of CBD and all-natural ingredients, including shea butter, and soothing botanicals like camphor and cucumber extract.
You can find more products on Evn's website — all of which are 20% off right now with code FATHERLY20.