If Your Date Nights Aren't Working, Read This Immediately
by Jonathan Stern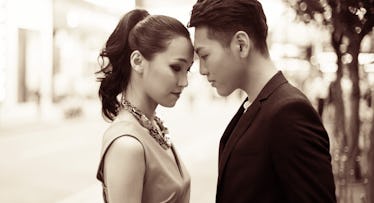 2-Minute Therapy is a regular series providing simple, effective advice on how to make sure your spouse thinks you're as awesome as your kid thinks you are.
You probably already know the 9 Stages Of Date Night: Book a table. Get dressed. Greet the sitter. Pay the pizza delivery guy. Get in the car. Eat dinner. Talk about worrying about kids. Worry about the kids. Pay the sitter. Fall asleep. None of these steps are getting you closer to your end goal: Connecting with your spouse — in the naked sense.
Esther Perel, whom you may know as one of the country's foremost sexperts and whose TED talks on maintaining desire in long-term relationships or how a couple can survive an affair have been viewed millions of times, also thinks your date night could probably use a tune up. "Date night for most people, when you have little ones, is actually really not fun. Many times you find that they are exhausting to both people," she says, to which you nod exhaustedly.
How can you turn that date night routine into something that makes you feel decades younger and infinitely sexier? Perel has some ideas on how to turn back the clock — including turning back the clock.
Nighttime Is Not The Right Time
It doesn't matter if it's a weekday or weekend, nights aren't great a time for the chronically sleep-deprived. "The most important thing I understood is that I didn't care about the evening. I cared about the morning," says Perel, who would be awoken, like all of us, by her young kids between 5 and 6 AM. "It's much better to have breakfast then dinner, because you're actually awake, dressed, and you still have something to say. Most of us do date night when we're depleted."
Call Up Your Friends
Where are these babysitters who will be there at 6 AM to enable a pre-breakfast bump and grind? For those that can't afford night nurses or are reluctant to have the grandparents sleep over, there is another way. They're called: Friends.
"It's breaking the rules. It's why people get stoned."
In Perel's own experience, she got together a group of her besties and traded playdates and sleepovers so everyone could get a little literal free time. "Friends were happy to help," she says. "In this country, you first pay for help, and only when you can't find someone to pay then you're going to go bother a friend. The fact is that people love to be helpful like that. If people do this for each other then we can actually go to a movie and not pay 100 dollars."
Play Hooky, Get Nookie
Now that the kids are with a trustworthy friend, or better still, at school, now what? "I want you to do illicit stuff at home," says Perel. "Why don't you, on occasion, stay home a few more hours in the morning? Is it just because you're going to not do what you're supposed to do? You do that with your partner, you start to get erotic energy. It's breaking the rules. It's why people get stoned. It's why people drink. There is something about doing it together like that, actually don't do what's expected."
Switch Up Your Activities
How did dinner and movie become the standard bearer for going out? Eating and watching movies is what you spend 90 percent of your evenings doing anyway, so try something a little more unique.
"Meet at 4 o'clock and go take a walk or go take a bike trip," says Perel, which isn't a half-bad idea. "Go do something different. There is nothing that brings in more energy than novelty. Any kind of novelty, not positions in the bed. Do something new together."
No Sleep Till …
You know what you didn't do at 20? Worry about what time you were going to get home — if you got home at all. As Perel says, "Go out once in awhile without a curfew. It gives you back a sense of openness and possibility."
Just like in Cinderella, if her fairy Godmother wasn't so short sighted and set a midnight cutoff, there might have been more glass slipper knocking in the story. "I'm much more looking at how people create an erotic space. If you had an erotic space, you'd probably have sex one way or another."
Finally, No Baby Talk
Yes, most of your waking life is spent with, or talking about, that kid. But you're getting out of the house to see if there's anything else still going on in the world. Try to elevate your discourse with your spouse beyond, "Did he poop today?" Perel says, "That level of conversation is what partners often lose: Dreaming together. Not planning together. Not managing together. That's a different level of intimacy."
Basically, the only thing that you were doing wrong when you went out every weekend was everything. Flip the script, change the results and prepare for better dates (and possibly a pissed off boss).
Get more ideas and insights about relationships from Esther Perel at her website.
This article was originally published on