Dulé Hill: A Letter to My Son About Carrying Lightness Through Life
A two year old is full of joy, love, and lightness. He will need to work to hold onto that. But it's a worthy effort — the only one that truly matters.
by Dulé Hill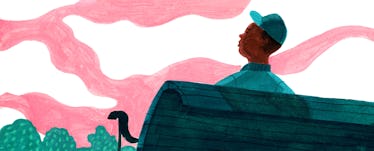 Jonathan Muroya for Fatherly
Fatherly's Letters to Boys project offers boys (and the men raising them) guidance in the form of heartfelt advice given generously by great men who show us how to take that crucial first step in confronting seemingly unsolvable issues — by offering honest words.
Dear Levi,
You are two now. You are at home in Los Angeles, thousands of miles away. I make the long flight home every weekend because I cannot stand to be away from you.
You are so full of joy and beyond brilliant, just beginning to hold on to memories. Connections are starting to form. You pay so much attention and are aware of everything!
And what you see now is love, joy, and lightness. The lightness matters. That's where I try to put energies. You have lightness inside of you and lightness on you so that you can soar. I want it to be a given, "Of course I'm going go and accomplish this." Whatever it is, I hope that is what's inside of you.
But as you grow older, I grow in concern.
I am concerned about the way the world will look at you. When they see you not as a beautiful baby boy, but as a threat. It will happen. That's how it goes for black men in this country. How's that going to make you feel and how are you going to respond to that. Will you lose the light?
That's what I'm concerned about.
Look at Philando Castille. You won't remember his story, so I want to tell you about him. He was a cook. A young man, just 32-years old. One day while driving his car in Minneapolis, Minnesota a police officer pulled him over. Philando told the police officer he had a gun in the car; he had a permit to carry the gun. Philando Castile also had his wife and baby in the car with him. He was not a threat. But he was killed anyway. The officer really didn't see him — or his family — as human beings.
And people won't always see you as a full human being. But you mustn't let that burden you. You need to seek the lightness even when the facts of life are so very heavy.
Lightness comes from knowledge. The right kind of knowledge.
I want you to know who you are. If you know yourself, find confidence in yourself and your unique beauty, you can become the thermostat rather than the thermometer. When you enter a room knowing who you are, you can set the temperature in the room. If you know your worth, you know that you are loved, and capable of spreading that love, effortlessly.
I want you to know that there is an endless supply of love, light, and joy. As long as you keep giving love, love will find its way back to you. As long as you keep giving light, light will find its way back to you. As long as you keep giving joy, joy will find its way back to you.
I want you to know generosity. I want you to live generously. Keep sowing it out there. If hate comes your way, give love and joy back. Because life is not a sprint or marathon. It's more like a relay. You received the baton and at some point, you need to hand it off. It goes on like this forever. Live generously and acknowledge the race, to give thanks to those who came before you, and to give your all for those who come next.
I want you to know that it is OK to be fierce, to be angry, to stand up for yourself in the name of protecting your light. When I was in middle school. I was in 6th or 7th grade, I had a teacher who said, 'Dulé, I can tell by the way that you go about your business that you are never going to amount to anything in this world.' I was so taken aback. I had already been on Broadway, I knew my talent, I knew my worth. My quick, sharp response rejected the teacher — and, sure, got me sent to the principal's office. That was for the best. There was no way I was going to allow that teacher's negativity to encroach on me. Negativity is like a cancer. It starts small and keeps spreading in your mind. You have to reject it. You have to cast it out.
This world can be harsh. Society doesn't always give the megaphone to the goodness of the world. But it's also lovely if you take the time to look. There's so much joy, unity, kindness. You're part of that and I'm part of that and together, we may give this world a little more hope, a little more lightness.
Love,
DaDa
Dulé Hill is an Emmy-nominated actor known for his roles as a presidential aide on The West Wing and pharmaceutical salesman-private detective on Psych. In "The Wonder Years," the new series inspired by the beloved award-winning series of the same name, Hill plays the father of 12-year-old Dean a character recalling the ups and downs of growing up in a Black middle-class family in Montgomery, Alabama in the late 1960s — and the friendship, laughter and lessons along the way.
This article was originally published on