Shark Tank's Daymond John Strikes A Balance
The FUBU founder and Shark Tank mainstay talks fatherhood, finding work-life harmony, and his quest to help kids learn financial literacy.
by Mike Diago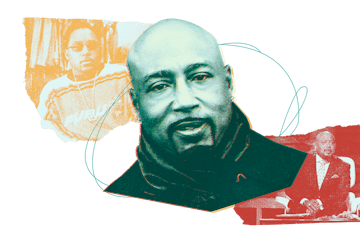 Ariela Basson/Fatherly; Getty Images, Shark Group
We may receive a portion of sales if you purchase a product through a link in this article.
Daymond John, the founder and CEO of FUBU, always dresses the part. In the '90s, he was famous for posing in sunglasses, a leather FUBU racing bomber, and a dazzling FB chain, alongside A-list brand ambassadors like L.L. Cool J. On Shark Tank, which he's been a part of since 2009, John studies sales pitches with his clasped hands, wearing crisp pinstripe suits and 4-carat diamond earrings. So, it's a bit startling when, on our recent Zoom call, John takes a moment to methodically position a huge, Monopoly-man-like tophat on his head. "Is this an audio interview?" he asks with a smirk. "Because if it is only audio, you wouldn't be able to see my beautiful hat."
While the man is as smoothly assertive as ever, it's easy to see that fatherhood has pushed him into silly dad territory.
John hasn't always had that sense of balance — or sense of humor. He was raising his two eldest daughters, Yasmeen and Destiny, now in their 20s, during the early days of FUBU. As he bootstrapped the legendary apparel company from a street corner in Hollis, Queens, to an internationally known global brand valued at $6 billion, family life was often pushed to the periphery. After a divorce in 2003, and a thyroid cancer scare a year after his third daughter, Minka, was born, in 2016, he was motivated to change.
He recalls words from a co-worker that struck him: "I was someplace on business, and one of my guys kept saying, 'I gotta get to San Diego tonight. I have to take my two daughters on dates.' He said, 'If I don't show them how a man is supposed to treat them, how will they ever know?' He was very intentional about that. I felt like shit when I heard that. Because I remember my oldest girls, I didn't do that for them."
John reprioritized a lot in his life. As a veteran investor and entrepreneur worth $350 million, his days are still very full. He's just more prepared to do the hard work and adjustment required to find the balance he seeks. Scratch that, harmony.
"People often ask me about work-life balance," he says. "There is no work-life balance. There's work-life harmony. You can have the greatest job and no family and the greatest family and no money. Understanding how to run your schedule. It's not something that you just randomly do. It's something that I adjust probably quarterly," John says.
He continues: "If I'm spending too much time on the road, well then now I start slowing that down. But prior to cutting down my time on the road, I start increasing my time with family. If I'm spending too much idle time, I have to find a way to maximize getting some form of education."
John sleeps just four hours a day, on average, and is always strategic with his waking hours. "For example, I didn't know you weren't recording the video, or I would have scheduled it between 9 and 1," he tells me. "I drop my little girl off at school, and then I walk casually 10 miles [and take my phone calls]." That's how he logs 25,000 steps a day while managing his businesses and brand.
When he's not brokering deals, running his investment firm, or dressing up like a fortune teller on The Masked Singer, John makes time to walk Minka to school and hang out with her at one of his hometown Miami beaches alongside his wife, Heather Taras. He's also determined to teach Minka the financial lessons he's picked up over a long career.
After reading her one too many books about princesses, John decided she needed something different, so he wrote a children's book of his own: Little Daymond Learns to Earn, which he hopes to empower kids with the financial lessons he learned through trial and error.
"I didn't want [Minka] thinking that somebody would come around to give her a glass slipper or save her from some dragon," he says. "I want her to make as many glass slippers as she wants to wear for her and her friends and to sell them if she wants."
When starting FUBU, John worked late into the night, trying to fill orders after day shifts at Red Lobster. He opened and closed his business three times before eventually receiving $300,000 in orders at a trade fair. However, he didn't have the initial investment to fill those orders. Twenty-seven banks turned him down. To help, his mother took out a loan against her mortgage. They sold their furniture and bought more sewing machines. John learned to sew and turned the family home into a factory.
"There is no work-life balance. There's work-life harmony.
"I was waiting for Macy's and these people to pay me for 30, 60, 90 days," he says. "I was late, and I didn't have any capital. I was about to lose the biggest investment [my mother] ever had to be homeless and lose the business. It's because I didn't have financial intelligence."
Fortunately, he found the funding and FUBU took off just in time. Today, John's legacy is solidified as an entrepreneur and a savvy investor. And if he can do his part to pass some financial intelligence to the next generation — a topic that's easy in practice but tough to nail — he'll be satisfied. "This is my three-peat legacy," he says. "I hope it will overshadow anything I've done in my life prior."
What's your favorite thing to do together as a family?
Go to the beach or do something in nature. We go to Miami Beach and to the Bahamas. Both my daughter and I are Pisces, so we love the beach.
What's your favorite piece of clothing or accessory that you own?
The most special possession of my FUBU apparel is going to be my FB chain. Other than FUBU, it's gonna be Adidas; it's gonna be the shell toe. I'm from Hollis, Queens. Run DMC instilled a couple of things in me: leather jackets, Lee's and Levi's jeans, and my Adidas. I usually wear white shells, but I'll wear black shells, and I'll wear white with black stripes. And sometimes black with white stripes — they go with everything.
Name the most important skill you're passing down to your kids.
Common sense problem-solving. Drilling down to the bottom. Taking a beat to notice where someone's emotion is coming from.
Give us a book, record, movie, or TV recommendation.
Think And Grow Rich by Napoleon Hill. I've read it 27 times since I was 16. Sometimes two times a year. I think that either I needed a refresher course to bring me back to the basics or maybe I just didn't grasp something the right way as a dyslexic kid. Or maybe I didn't grasp something as well as an adult because I hadn't experienced some of the things that they were talking about. Think and Grow Rich laid out a method for setting goals. It's the most powerful book that has created the most successful people in the world.
If you could give one piece of advice to your former kid-free self, what would it be?
Gain financial intelligence and keep learning it. That is the only thing that we are going to need to trade for the rest of our lives. The ability to understand, not necessarily how to make, but how to use money when it comes in.
When $3, $300, $3,000, or $30 million come in, the best way to manage that is something very few people do. The first dollar, you take and pay off what you must pay off: your home, your car, your medical bill, whatever it needs to be. The second dollar, which is the most important, is invested — in education, a stock, a bond, a business. Number three is you spend it on what you would like to have, but you don't have to have.
And if you don't spend all of it, you put the rest in number two. Now by nature, when you work hard, you wanna treat yourself, and you wanna treat your family; you earned it by nature; most people spend on number three. But you never get the number two when you spend too much on number three.