Coss Marte: A Letter to My Son About How Very Far the Wrong Path Can Take You
When you pursue something at all costs, you are letting yourself get swept up in something bigger than you, something that can imprison your body and soul.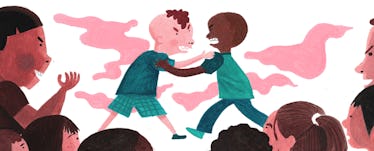 Jonathan Muroya for Fatherly
Fatherly's Letters to Boys project offers boys (and the men raising them) guidance in the form of heartfelt advice given generously by great men who show us how to take that crucial first step in confronting seemingly unsolvable issues — by offering honest words.
Dear Son,
You're 13 now and I know you're feeling more independent since you're going to High School. I want you to know that the decisions that you make now, may affect you for the rest of your life. We call these collateral consequences — a legal disability imposed by law as a result of a criminal conviction regardless of whether a convicted individual serves any time incarcerated.
See, I was raised in a heavily drug-infested community. I remember people shooting up heroin in my building and seeing drugs before I even began going to school. When I was six, my two older sisters came from the Dominican Republic to live in my home. This meant more people, fewer resources. We lived in a tenement apartment in the Lower East Side section of Manhattan and space was limited. We had six people living in a constrained space. My mom would dress me up in my sisters' hand-me-downs, which was embarrassing.
As a kid, my goal was to break the cycle of poverty. People would ask me, "What did I want to be when I grew up?" I would tell them that I wanted to be rich. The first opportunity I had to get out of poverty was through the world of drugs. I started smoking at the age of eleven; at the age of 13, I made my first sale. My role models were guys on the corner who wore big chains, dressed in the best clothes, and had fancy cars. I thought this was a true success.
I purchased my first ounce of weed and took it to school. I knew the smoking crowd would buy my product because of the convenience and quality. This led me to my corner where I began to pitch other drugs with the local guys who respected my motivation in hustling all day and night. I eventually became a leader of a cocaine distribution ring in New York City, which led me to reach my goal of becoming rich. By age 19, I was making over $2 million a year.
Of course, this didn't come without trouble. I was only 13 when I was first arrested by the NYPD. I received a slap on the wrist for smoking weed in my local park. But for the next ten years, I was in and out of jail. I was charged as a ringleader for running a cocaine distributing service in NYC. I had over 20 people working for me, where I developed routes to deliver illegal substances 24 hours a day, seven days a week. I thought I had everything under control and nothing could go wrong. Until I was caught by federal agents and was sentenced to seven years in prison.
My personal transformation happened in a nine by six cell where air was thin and felt like gold. I was sent to the box after an altercation with an officer in prison. After I was beaten, I was shoved into the cell and forced to do nothing but think.
"Why?" was the question I asked myself. Why did I end up here? Meals and showers were minimal because the officer put the word out to punish me. I developed a routine of reading books, sleeping, and writing letters all day. I wrote a ten-page letter to my family but realized I didn't have a stamp to send it out with, which was frustrating and humbling.
After I had been in solitary for two and half weeks, my sister wrote to me and suggested that I should read Psalm 91 from the Bible ("He that dwelleth in the secret place of the most High shall abide under the shadow of the Almighty…") I wasn't as fond of religion as she was. But after sitting in the cell with nothing to do for a couple of days I turned to the Bible and began reading Psalm 91. As soon as I began reading it, a stamp fell out of the Bible. This made me a believer. I read the whole Bible and from that point on I received a sense of peace and calm. My whole perspective on life changed. I began to believe that my purpose was to give back instead of destroying individuals around me.
It took me 16 years of incarceration and parole to finally redeem myself
I wanted to give back and do good, and found a way to do so through fitness. See, early on in my sentence doctors told me that I might die in prison because of my cholesterol levels. I decided to commit to working out and lost 70 lbs in a matter of six months. I went on to help fellow prisoners and eventually helped over 20 inmates lose over a thousand pounds combined during my time incarcerated.
Now, I run Conbody and provide prison-style fitness workouts to clients looking for a new type of bodyweight training. I hire formerly incarcerated individuals to teach fitness classes. As of this date, I've been able to hire 51 employees, and we've been able to maintain a zero percent recidivism. We've also gained 65,000 clients.
It took me a long, long time to find what I was searching for: a way to help my community and provide a positive service to as many people as possible. And I am so happy to be able to do what I do. Son, as you enter high school, I know how easy it can be to get swept up and make bad choices. It's normal to make mistakes, but with faith and family by your side, you'll stay on the right path.
Love,
Dad
Coss Marte is a father and founder of CONBODY, the first fitness method born in prison. Coss developed the bodyweight training method while in solitary confinement. Today, CONBODY hires former inmates as instructors and has helped more than 65,000 clients lose weight and grow stronger. He lives in New York.
This article was originally published on