Coolest Dads 2019: Anthony Anderson and the New TV Dad
The medium that gave us the doofus dad cliche is now populated with fathers at the absolute top of their game.
by Fatherly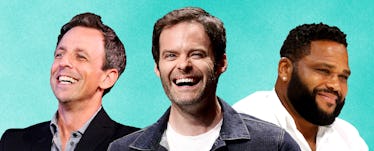 GETTY
Critics seem shocked that the quality of TV has spiked over the last decade. Why? Have they met the people making TV? It's a murderers' row of talent out there. The best actors. The best writers. The best showrunners. The best talkers. It's not that there's something special about the medium — hell, you can jam it into your laptop or stream in a browser window while answering work emails. It's that there's something special about the community of people working in the medium. Good attracts great. Great attracts genius. Genius attracts viewers.
The men on this list are not just talented practitioners of the televisual arts, they are envelope-pushers and visionaries. They are willing to try new things that might not work. The willingness to take risks so publicly is what's going to make sure that the Golden Age of TV stays golden.
Peter Dinklage
Cool Dad Job: Actor
Latest Cool Dad Achievement: Surviving the critical carnage of GOT's last season.
On more than one occasion, Dinklage has said that he doesn't think the world "needs another angry dwarf." So, he isn't that. What is he? A generational talent respected for his stage work (his Cyrano adaptation with The National is wild) as well as his peak TV icon status. Also, a dude who makes interesting and considered choices. He's a vegetarian and a punk singer. He chooses roles that can be a shade or two darker than you might expect. Witness O'Lucky Day, in which he plays a con man who makes people think he's a leprechaun. In real life, the most impressive trick he's pulled off is keeping the names and identities of both his kids a complete secret. In fact, no one in the press even knows the sex of his second kid. Peter Dinklage knows things about his family. That's enough.
Anthony Anderson
Cool Dad Job: Actor
Latest Cool Dad Achievement: He's on Extreme Makeover: Home Edition?
On Black-ish, which is going into its seventh season, having inspired a broader "ish" universe (Mixed-ish, Grown-ish), Anderson plays a privileged but woke paterfamilias straddling two cultures. In real life, Anderson grew up in Compton, graduated from Howard University (where his son now goes), and studied acting with luminaries including Ossie Davis and Ruby Dee before gaining renown thanks to day-player roles on cop shows and a star turn on The Shield. Today, he might be the closest thing America has to stable sitcom dad, but his priority is his real role raising his kids. And he seems to have nailed that one, as well. "They came out all right," Anderson brags of Nathan, 19, and Kyra, 23. "They're cool to hang with."
Bill Hader
Cool Dad Job: Former Nightlife Reporter
Latest Cool Dad Achievement: Winning a second Emmy for Barry, killing an evil clown.
Hader is having a moment. His second Emmy for Barry was well deserved, he stole a scene from a rampaging lumberjack in It 2, and he still gives off friend-of-a-friend vibes. Hader's post-SNL ascent can be credited to his ability to deliver humor without undermining the emotionality of his characters. In Barry, that means breaking good without losing his menace. In Noelle, Disney's big 2019 Christmas movie, that will mean embracing the holiday spirit without being saccharine. It's an odd pairing of roles — one that Hader might be uniquely capable of pulling off. Off-screen, Hader is a father of three children — 4-year-old Hayley, 7-year-old Harper, and 9-year-old Hannah — whom he publicly credits for his success. Why? He says the best advice he ever got was to make a TV show so he could go home at night and be with his family.
Seth Meyers
Cool Dad Job: The Next Lord of Late Night
Latest Cool Dad Achievement: Hosting a fake democratic debate: "You all are full-on freaks!"
When the former Saturday Night Live head writer moved over to late night, Barack Obama was in office and naysayers wondered whether America really needed another acerbic talking head fawning over celebrities. Well… yes. With the country under new "leadership," Meyers has set the bar high for himself and cleared it, becoming a moral reference point and a source of cultural kindness. There's a reason that Meyers's show consistently wins its time slot (and the coveted 18–49 demographic): Meyers is smart, real, never obsequious, and remarkably generous about yielding his time and creating opportunities for the talented members of his staff. In his daytime hours, he chronicles the adventures of his sons, Ashe and Axel, famously born in the lobby of his parents' building.
Mike Schur
Cool Dad Job: Moral Center of the Television Universe
Last Cool Dad Achievement: Delivering on the promise of The Good Place.
As a writer, producer, and even an actor, Schur seems to have a magic touch. He brought The Office to America, Parks and Recreation to the masses, and The Good Place to a dramatic place that no one saw coming. Schur's deeply humane vision and empathy for his wacky characters imbues his work with nothing short of love. It's telling that behind-the-scenes videos of actors working on his shows are popular on YouTube. He creates communities, and those communities create truly great television. Now, as Schur brings The Good Place to a close — because it's the right thing, not because it's what the network wanted — America is learning a new moral vocabulary. Schur, a father of two, is offering nothing short of a roadmap to goodness.
This article was originally published on