Coolest Dads 2019: Ryan Reynolds and the Rise of Superheroic Dads
Being a hero isn't enough any more. You've got to fly (or shoot straight).
by Fatherly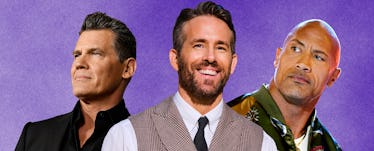 GETTY
We live in the age of the superhuman. Not content to look up to our heroes, we look skyward for hope and find it in fiction. But the real people in the CGI suits still have to deadlift the profound weight of expectations. In dressing like saviors, they volunteer for a bigger job. The men on this list, each gifted with charisma, humor, and biceps for days, make saving us from ourselves look fun. We've watched these men do the impossible and believed our eyes because we understand that they have something a bit extra, a bit more glint in the eye and a bit more strength in the jaw.
All that said, the dudes on this list aren't just gym rats. They're huggers. Seriously. Google any one of them and you'll see a cascade of embraces. Why? Because being the best of us requires liking the rest of us. And these guys do. They really do.
Ryan Reynolds
Cool Dad Job: Actor, Honorary American
Latest Cool Dad Achievement: Pulling off the schtick.
Ryan Reynolds, 42, is a cultural institution, a social media mainstay, a Hollywood heavy hitter, a Canadian nutjob, a hospital visitor, a wife troller, and generally a guy who seems like he's having a very good time. Why not? After Reynolds stopped pretending to be a movie star in schlocky rom-coms and embraced his chaotic good, Deadpool made him famous and he made himself culturally indispensable. Hell, he played Pikachu and it worked. And it's not just Reynolds's humor that makes him so compelling; it's the direction he punches. Even when he's in his ball-hugging supersuit, the dude does not punch down. He may be an overdog, but he acts like he's the under. And it doesn't hurt that he's clearly a fantastic father to his children with Blake Lively. "I try to hold on to each moment with them," he says. "It's drawn me to the present moment as opposed to the future and past. You see how fast it goes. I want to be around them as much as possible."
Dwayne Johnson
Cool Dad Job: Icon
Latest Cool Dad Achievements: Welcoming Elizabeth Warren to the Ballers universe, starring in Fast & Furious Presents: Hobbs & Shaw, and launching a tequila brand.
Johnson, 47, went from a defensive tackle at the University of Miami to trash-talking wrestling star to mummy to world's highest-paid actor without losing his humanity along the way. He may be one of the most recognizable men on the planet, but he is, paradoxically, not over-exposed. Why? Because he values his family's privacy and his own. A certain amount of discipline — the guy is not starting Twitter beef — affords him the space to be the person he wants to be at home. And who is that person? A nice guy, basically. A happy dad. A gym rat. A goofball. There's a reason that everyone likes "The Rock." We smell what he's cooking and its organic. "Lead with love," he coaches parents. It's a strategy that's paying off for him.
Chris Pratt
Cool Dad Job: Nice Harrison Ford
Latest Cool Dad Achievement: Saving the universe and his relationship with his ex-wife.
Chris Pratt gets press. The celebrity rags write about the guy. But anyone looking for a scandal is unlikely to find it. Even as Pratt's marriage to Anna Faris ended, the two were publicly supportive of each other and talked about the value of co-parenting. As if that weren't impressive enough, Faris officiated Pratt's wedding to Katherine Schwarzenegger. How does he stay so grounded? He farms. Seriously. Hollywood's most in-demand actor, now 40, raises cattle and Kune-Kune pigs (named after Faith Hill and Tim McGraw) on a farm he bought in part because he wanted a place to teach his son Jack to fish and enjoy nature. "Parenthood is not for everyone," Pratt says, laughing. "Those of us who are lucky enough to be parents and really love it and are passionate about it — the coolest part would be how your life's priorities are completely re-shifted. Your sense of purpose is crystallized."
Jason Momoa
Cool Dad Job: Protagonist
Latest Cool Dad Achievement: Starring in See on AppleTV.
Momoa rides waves. He rides motorcycles. He hangs with Slayer and Anthrax. He's played gods and married Lisa Bonet, who deserves a shrine. He's an environmental activist and a model and a guy who can take a joke and do something with it. Want evidence? After being body-shamed for having actual fat and eating an actual Guinness cake on his birthday, Momoa, 40, didn't start lifting or going on some insane Keto diet. Instead, he used his beefy chest to protest against the construction of a massive observatory and telescope in his birthplace of Hawaii, writing "Please leave our mauna alone" on his chest. Because he's not content to just protect the natural world (and the oceans), he is, famously, raising his "feral" children, Lola Iolani, 12, and Nakoa-Wolf Manakauapo Namakaeha, 10, to enjoy it. Damn right.
Josh Brolin
Cool Dad Job: Being Intense
Latest Cool Dad Achievement: Finding a new universe to dominate.
The fact that Brolin remains beloved despite repeated attempts at mass murder is tribute to his cosmic charm. The man behind the big purple baddie, Thanos, he of the Marvel Universe-destroying Infinity Gauntlet, Brolin has been a staple of American films since The Goonies and a heavyweight since No Country for Old Men. Today, he balances playing future-shocked Cable in the Deadpool franchise (which is set to expand with X-Force) with an array of other roles, including Gurney Halleck in next year's hotly anticipated Dune reboot from Denis Villeneuve. But the reformed bad boy isn't always working. A father of two from his first marriage, Brolin recently had a third child with his wife, designer Katherine Boyd. "I will have lived a lifetime of children and that's wonderful to me," he says. "I don't think we're done."