Coolest Dads 2019: Russell Westbrook and the Next-Gen Sports Dad
Faster. Higher. Stronger. Nicer.
by Fatherly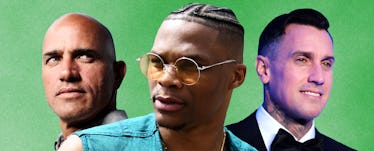 GETTY
Nearly every society in human history has had gladiators, but no society has ever demanded more of them. We don't just look to athletes for physical transcendence, we look to them for moral guidance and their unique ability to sell cereal. We ask not only that they chase the Olympian ideals (faster, higher, stronger), but also that they be handsomer, funnier, cleverer, sweeter, and more charitable. In the age of the one-year contract, we root for laundry less and less and individuals more and more. The talking heads might bemoan it, but maybe it's a good thing — so long as there are individual athletes truly worth rooting for.
And there are. The men on this list are not only good at sports, they are good at being good and looking good doing it. They are fashion plates and side hustlers. They know how to play smashmouth and then delicately hand a ball to a kid. Faster. Higher. Nicer.
Kelly Slater
Cool Dad Job: Professional Surfer, Entrepreneur
Latest Cool Dad Achievement: Trying to turn the World Surf League into the NFL on water.
The fact that Kelly Slater is still winning Pro Tours surprises no one. He's the GOAT. He's Tom Brady with a tan and superior facial symmetry (and without the goofball haircuts). Give him a board and he's perfect — thus the 11 World Championships and the 55 tournaments. But 47-year-old Slater isn't done disrupting his sport. Having perfected wave pool tech at his Surf Ranch that allows for competitors to hit consistent breaks, he's pushing to build a billion-dollar surfing stadium in Australia, the first of its kind. If he succeeds, he'll have changed his sport for ever. If he fails, well, he'll still have changed his sport forever. In the meantime, he spends his days enjoying landlocked hangs with his 23-year-old daughter and his buddy Chris Hemsworth. He's also coming up with new lines for his sustainable surf company, Outerknown.
Russell Westbrook
Cool Dad Job: Point Guard, Inspiring Weirdo
Latest Cool Dad Achievement: Joining forces with old teammate James Harden in Houston.
It's easy to forget now, but there was a time when the idea of an NBA player averaging a triple-double was laughable. Westbrook did it for three straight years. Though he didn't win any rings in that time — not that his accessory game isn't admirable without them — Westbrook did become one of the most reliably entertaining athletes on Earth. He attacks the hoop like it said something about his mother. Now in Houston with fellow MVP, James Harden, Westbrook might have the chance to win. And you better believe that he's preparing to take a run at the championship. Westbrook is not one to hold back. The only time his opponents don't have to fear him is when he's prepping for games with his son, Noah, a top-10 adorable NBA kid who will end up going in the first round if he has half his father's skills.
Mike "The Miz" Mizanin
Cool Dad Job: Professional Wrestler, Star of USA's Miz and Mrs
Latest Cool Dad Achievement: Welcoming his second daughter into the family.
WWE superstar Mike Mizanin didn't make his debut in the ring. He got famous as the most compelling cast member on The Real World: Back to New York, then leveraged his notoriety to make himself an opportunity inside the squared circle. Since debuting on WWE in 2003, The Miz has become a mainstay and a winner, taking home the Intercontinental Championship, the Tag Team Championship, and WWE Heavyweight Championship (also, headlining WrestleMania). Fatherhood has brought him back to his reality show roots as he and wife, former wrestler Maryse, star in USA's Miz and Mrs, which documents their life as parents. No longer the cocky, faux-hawked villain he once was, Mike is shockingly vulnerable on the show and seems to be doing a fantastic job with real-world fatherhood.
Cary Hart
Cool Dad Job: Motocross Racer, Motorcycle Designer, CBD Entrepreneur
Latest Cool Dad Achievement: Pissing off Instagram's parenting police.
The first person to land a backflip on a 250cc motorcycle in competition, Hart is a specific kind of famous. He can walk around without attracting much attention — aside from the usual amount focused on handsome dudes — but the people who know who he is absolutely freak out. Why? He's a motocross icon (the "Hart Attack," an inverted Superman seat grab, was named after him) and Instagram mainstay. Hart, who is married to the singer Pink, often attracts criticism for letting his young children participate in dangerous activities, but he's not thoughtless or cavalier. He just wants to give his children to have the kind of fun that has, in many ways, defined his personal and professional life. "People are taking so much away from their children by coddling them," Hart says. "I don't want to rob them of the amazing experiences I've had." Lately, he's been teaching his daughters, Willow, 8, and Jameson, 2, to shoot guns. It's unusual, but not unsafe. Dad is right there with them.
DeAndre Hopkins
Cool Dad Job: Wide Receiver for the Houston Texans
Latest Cool Dad Accomplishment: Being the NFL's most likable star.
People who care about football know that DeAndre Hopkins, Houston's 27-year-old, 6-foot-1-inch WR1, has great hands, an amazing vertical, and the ability to find the end zone. Here's what they don't know: everything else about the guy. Hopkins is a low-key presence in professional football, the rare mega-talent that doesn't beef or scandalize. Is he the best-dressed man in the game? Absolutely, but he looks good, not look-at-me. He is, in short, the anti-Antonio Brown, a guy who does back-to-school giveaways instead of spazzing out on Twitter. Could he pursue icon status? Sure, the guy is comically handsome. But he's too busy playing football and taking care of his daughter. That's more than enough.