Coolest Dads 2019: Roy Wood Jr. and the Dads of Comedy
There's nothing wrong with a good dad joke. But these guys have a slightly more sophisticated approach.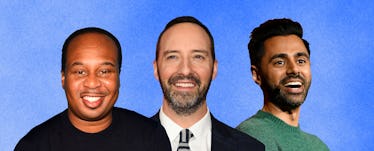 GETTY
What do we still make in America? Cars in Michigan. Washers and dryers in Ohio. Jokes everywhere. The great American export is and always has been humor. That's what we manufacture. That's what we package up and ship out to the waiting world. Why are we so funny? Why do we have the edge on everyone in the laughs category? Well, for one, we're ridiculous. In a country built on good intentions, hubris, and contested soil, it makes sense that comedians would rule.
The men on this list, honest and mischievous and just a little bit mean, do exactly that. They unite us with punchlines and bits. That feeling of laughing together? Yeah, we still make that.
Roy Wood Jr.
Cool Dad Job: Talker, Comedian
Latest Cool Dad Achievement: Signing a Comedy Central development deal that smells of talk show.
It's not hard to understand Roy Wood Jr.'s success. At a time when it feels like comedians are too busy fighting about what's funny to make jokes, Wood, who grew up in Birmingham, Alabama, takes an uncomplicated approach. He tells jokes. He slays. His new development deal with Comedy Central is a tribute to hard work, discipline, and the timeless power of punchlines. And also that one Daily Show bit where he turned a Trump voter focus group into a referendum on our national sanity. The father of a boy he describes as rambunctious, Wood is warm, kind, and thoughtful. He's not the type to overreact or hover. He's got timing.
Lonely Island
Cool Dad Job: Being Funny, Menschy
Latest Cool Dad Achievement: Releasing The Unauthorized Bash Brothers Experience, the strangest Netflix film ever made.
The Lonely Island has been crowded with fans for over a decade, ever since the trio, formed in Berkeley by Akiva Schaffer, Andy Samberg, and Jorma Taccone, broke on Saturday Night Live and into America's hearts. Today, Schaffer, Samberg, and Taccone frequently work separately (Samberg, the most committed actor of the group, has wrapped Season 7 of Brooklyn 99) and unite occasionally. This year, the boys released a rap-based "visual poem" about Jose Canseco and Mark McGwire to celebrate the 30th anniversary of the A's 1989 championship season. Why? Because they could. The batshit result was incredibly memorable for two reasons. First, it existed. Second, it showcased the group's charm, namely the joy of watching old friends laugh together. When they aren't cooking up Hollywood's weirdest elevator pitches, all three comedians are fathers. Samber has a daughter with singer Joanna Newsom, Taccone has a son with director Marielle Heller (who helmed the Fred Rogers–Tom Hanks joint A Beautiful Day in the Neighborhood), and Schaffer has two kids with actor Liz Cackowski (known for playing Bill Hader's wife in Forgetting Sarah Marshall).
Hasan Minhaj
Cool Dad Job: Anchorman
Latest Cool Dad Achievement: Dropping Patriot Act, Volume 4. Annoying tyrants.
As the host of Patriot Act, which is like 60 Minutes for people who are awake, Minhaj leverages his comedy skills and personal charisma to tell stories about hypocrisy and hold the powerful to account. At a time when the powerful and unscrupulous hide behind complexity, Minhaj offers clarity and righteous outrage. He also doesn't engage in news chasing, which makes his work all the more powerful for its sustained relevance. Minhaj, who broke out with the stand-up special Homecoming King, seems like your buddy who just wants to play pick-up basketball and also like the guy that you wanted to be paired with on school projects. He's smart, funny, hardworking, and maybe not someone you'd want to mess with. Just ask Saudi Arabia about it. When he's not on his psychedelic stage, he's at home with his wife, Beena Patel, a doctor who works with homeless patients, and their daughter.
Tony Hale
Cool Dad Job: Third Fiddle
Latest Cool Dad Achievement: Making Pixar weird again.
After fully animating two of the funniest TV characters of this young century — that would be mother-oriented Buster Bluth on Arrested Development and boss-oriented Gary Walsh on Veep — Hale made his Pixar debut in 2019, playing Forky in Toy Story 4. Was his performance in a major children's movie a weird meditation on the fundamental horror and purposelessness of existence? Sure was. One would expect no less of Hale, a comedic actor who doesn't have to steal scenes because they just follow him home. What's Hale working on now? Helping his daughter through high school, transforming himself into an unlikely red carpet fashion plate (the dude wears the hell out of a suit and a beard), and picking the projects that give him joy — a privilege he didn't expect to have when he was a struggling actor on the wrong side of 30. "I'm so grateful for the gig," he laughs. "The entitlement is not there. I can't believe the craft services food is free. I don't have to pay for it!"
W. Kamau Bell
Cool Dad Job: Comedian, Activist, and Writer
Latest Cool Dad Achievement: Scoring an Emmy for his acclaimed CNN docu-series, United Shades of America.
Coming up in Oakland, Bell honed his comedy skills and worked out his activism muscles with Laughter Against the Machine, a guerrilla stand-up group associated with heavy hitters like Hari Kandabolu and Nato Green. He hasn't strayed far from those rabble-rousing roots. As a thoughtful commentator and an even more thoughtful comedian, he explores issues of race in the U.S. and what they mean to both him and his family. The results are often profound and personal, like the story he tells about being harassed at an Oakland cafe by an employee assuming he was behaving inappropriately towards a white woman (that would be his wife). Despite the seriousness and sadness of the stories he tells, Bell retains his sense of humor. Good thing, too: He's raising three daughters.