Coolest Dads 2019: Scooter Braun and the Nice-Guy Business Bros
There's nothing wrong with wearing a suit if you can pull it off.
by Fatherly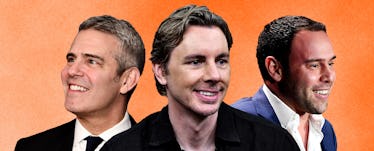 GETTY
The suits aren't getting the best press these days. It's no wonder. Corporate culture seems at odds with human well-being. But it doesn't have to be. The men on this list are using business as a tool to, yes, make money, but also to help others. Joy and inclusivity aren't visible on a spreadsheet documenting profit and loss, but that doesn't mean they can't be modeled into a business plan. These men are succeeding at that, providing their communities with employment opportunities, great products, and a grander vision of what entrepreneurship can mean.
They are also, as the bros on the street say, crushing it. And there's something to be said for that, too.
Scooter Braun
Cool Dad Job: Svengali
Latest Cool Dad Achievement: Putting his finger in all of the pies.
In his role as Justin Bieber's manager and spirit guide, Scooter Braun, 38, may be the most prominent and public surrogate father figure in America. And Bieber, now married and seemingly happy, has every reason in the world to listen when his dude passes down some advice. Braun helms Ithaca Holdings, which is valued at $800 million, SB Projects, School Boy Records, recently acquired Big Machine Label Group. He's also making TV deals all over the place — including, no joke, a YA update of Anna Karenina while still looking after the interests of clients like Ariana Grande and Demi Lovato and J. Balvin. Still, Braun makes time to help those in need. He worked hard to support the March for Our Lives movement and mobilized to help people suffering in the aftermath of storms in Houston, Puerto Rico, and Florida. Married to Fuck Cancer founder, Yael Cohen, he has two boys and a daughter and his hands full even at home. Could he be the next Shep Gordon? Maybe. He's on his way.
Dax Shepard
Cool Dad Job: America's Little Brother
Latest Cool Dad Achievement: Turning his Armchair Expert podcast into a phenomenon.
Dax Shepard is the youngest 44-year-old in America, but that doesn't mean he's immature. He's just excitable. He wants to learn new things, an impulse that informs his compulsively listenable podcast, Armchair Expert, (witness him speaking to Dr. Steven Gundry about heart transplants), he wants to have fun (witness him chewing the scenery on the charming show Bless This Mess), and he wants to get weird (witness his IMDB page). So why is he on this business list? Along with his wife Kristen Bell, Shepard launched Hello Bello, an intentionally affordable baby line for Walmart the couple felt would resonate with people who shared their values but not their income status. Sure, it's a celebrity product. But it's a good celebrity product — one that comes from a personal place of kindness. After all, Shepard and Bell are in the thick of it. Their kids, Lincoln, 5, and Delta, 4, are at the center of everything they do.
Eric Wilhelm
Cool Dad Job: Co-founder of Instructables, CEO and Founder of SafeConnect Solar
Latest Cool Dad Achievement: Empowering homeowners to go solar.
Eric Wilhelm is one of those guys who went west and struck gold in Silicon Valley by chasing his own ideas. One of them, Instructables, became a crowd-sourcing DIY site that in turn became a movement. But Wilhelm didn't rest on his digital laurels. The MIT Ph.D. took on a VP role at Autodesk, the engineering software company, then founded SafeConnect Solar, which aims to make solar panel installation DIY-able. The rare Silicon Valley mainstay that doesn't disappoint, Wilhelm spends his free time (such as it is) tackling projects with his two kids (including the greatest Mad Max costume ever seen) and authoring children's books in which Roman leader and legendary stoic Marcus Aurelius visits places with his best friend, a highly destructive giant frog named Musa. Hard to explain? Sure. But like everything Wilhelm touches, the books work.
Andy Cohen
Cool Dad Job: TV Executive and Presenter
Latest Cool Dad Achievement: Becoming a single father.
Cohen did the near-impossible by transitioning from behind the scenes as the executive producer of Top Chef and Bravo's head of talent to becoming a key component of the network's most talked-about shows. To this day, Cohen, 51, still casts each Housewife in every city, but he's better known for his dishy show Watch What Happens Live with Andy Cohen. But that's not all that Cohen is doing. He's also campaigning to change surrogacy laws in New York state that make it hard for single people and gay couples to adopt. In the wake of bringing home a baby boy, Cohen has become an activist. "It's changed how I view everything," he says. "Everything."
Bill Simmons
Cool Dad Job: CEO of The Ringer
Latest Cool Dad Achievement: Launching a book imprint for his site and roughly 1000 new podcasts.
Simmons's sequel to the Hall of Fame shuttered digital media venture Grantland, has steadily improved in exactly the way that Markelle Fultz's shooting form has not. The Ringer Podcast Network drives massive listenership, but the thing really pushing the business forward is Simmons's remarkable ability to recruit. His writers become editors and his editors become commentators and his commentators become stars (or, in the case of Andy Greenwald, showrunners). Meanwhile, Simmons continues to speak honestly about his struggles and successes raising two kids, and does it in a way that demystifies fatherhood without trolling anyone. (Worth noting: Simmons was mocked on Twitter last year by Shea Serrano, his employee, who boasted a higher Coolest Dads ranking. This year Shea Serrano has been removed from the list because the Spurs are mediocre and boring.)
This article was originally published on