Coolest Dads 2019: Alexis Ohanian and the Dad Activists
These guys want to leave the world better for their kids. We're with them.
by Fatherly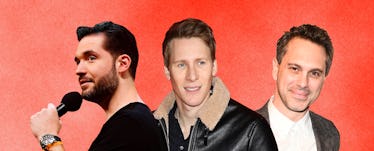 GETTY
There's an old and silly saying that parents tend to deploy when their kids are taking it too far. "Enough is enough," they say. But this isn't true. Enough is rarely enough. Just ask the men on this list, who keep finding news ways to help and new problems to both illuminate and solve. It's not righteousness, much less single-mindedness, that makes these men impressive. It's tirelessness. Also, patience. They help others without making it about themselves. And they seem to be having a good time doing it.
The world could use more activists, and these men model selflessness to the next generation. They make civic-mindedness look cool, which it really is. It really, really is.
Thomas Sadoski
Cool Dad Job: Actor
Latest Cool Dad Achievement: Getting elected TV mayor of Los Angeles.
Best known for his role on Aaron Sorkin's The Newsroom and his stage work, Sadoski is one of the hardest-working actors in the game. He survived John Wick 2 (he's the cop that knows better than to ask questions) and charmed America as Matt on Life in Pieces. Now, with that show ending, he's set to take on a new role on the much-hyped Tommy, playing the mayor of Los Angeles. The role isn't exactly a reach. A natural leader, Sadoski is as devoted to activism as he is to drama. The Tony winner works with the charity War Child and frequently speaks on behalf of both survivors of ISIS atrocities and, domestically, over-sentenced felons put away for nonviolent drug offenses. His goodness has not gone unrewarded. When the Texas-born actor isn't working or volunteering, he goes home to a farm in the Catskills where he lives with wife, Amanda Seyfried, and their daughter.
Dr. M. Sanjayan
Cool Dad Job: CEO of Conservation International
Latest Cool Dad Achievement: Keeping hope alive in a world on fire.
Sanjayan has been a leading voice in conservation for decades. A peer-reviewed scientist, former host of Earth: A New Wild, and a Disneynature Ambassador, Sanjayan now helms Conservation International, an organization that stands out for its clarity of purpose in the face of myriad and multiple threats. And having a daughter has only made him more determined to advocate for the preservation of the natural world. "I am struck with a great sense of hope, despite all the dismal, catastrophic things that are happening to our planet," he says. "Being a parent is the ultimate expression of hope."
Alexis Ohanian
Cool Dad Job: Reddit Founder, Investor, Tennis Fan
Latest Cool Dad Achievement: Penning a beautiful essay for The New York Times on the importance of paid family leave.
Ohanian co-created Reddit, the front page of the Internet, when he was 22 years old. It was sold for millions just 16 months later. But Ohanian didn't stop there. He launched breadpig, a social good platform, helped found the travel-site search engine Hipmunk, and the startup investment firm Das Kapital. A proud, vocal supporter of his wife, Serena Williams (yeah, that was him wearing a D.A.R.E shirt to troll her opponent Maria Sharapova during this year's U.S. Open), Ohanian is a vocal advocate for family leave (specifically paternity leave, a massive issue) and an attentive father to his young daughter Alexis Olympia. For evidence, just check his Twitter feed, where he regularly posts about that #dadlife. This makes him the rare Silicon Valley success exposed as… a decent human being.
Dustin Lance Black
Cool Dad Job: Writer
Latest Cool Dad Achievement: Releasing his memoir, Mama's Boy, about growing up gay and Mormon in Texas.
Most famous for screenwriting Milk and Big Love, Black led the fight on overturning Prop 8 and legalizing gay marriage federally. Then he moved to England and married Tom Daley, the famously attractive and charming British Olympic diver. Black keeps his oar in as both a writer (his book is terrific) and an activist, but he's also spending more time with his family these days. He gets parenting advice from Ron Howard and refuses to get a babysitter. Solid stuff.
Matthew Reeve
Cool Dad Job: Filmmaker and Medical Activist
Latest Cool Dad Achievement: Writing the upcoming Swedish detective series, Hamilton.
The son of Christopher Reeve, Matthew inherited not only his father's matinee idol looks but also his dad's indefatigable optimism. As the vice chairman for international development of the Christopher and Dana Reeve Foundation, Matthew has helped support research into epidural stimulation, a technology which helps restore movement to those with spinal cord paralysis. All the while, Reeve, who graduated NYU with a joint degree in film and business, has been making killer films (the kiteboarding documentary Over the Water is riveting, and the upcoming thriller The Land That Never Was looks excellent). Currently, Reeve lives in Sweden, the land of good dads and dark procedurals, with his partner and their two sons.
This article was originally published on