These Are Coolest Dad Chefs in America
Bringing sustenance for the mind, body, and soul.
by Fatherly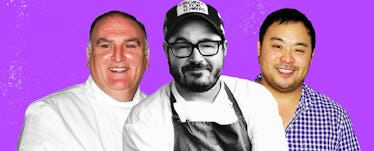 Great chefs no longer just cook great food. They must do this, of course, but that's just an entry point. The best chefs step out of the kitchen and into the public sphere. They historians and community organizers, sociologists and disaster relief. These men do just that – bringing people together to share ideas, values, and, yeah, delicious food.
Jose Andres
Cool Dad Job: Founder, World Central Kitchen
Latest Cool Dad Achievement: Delivering five million meals, and counting, to hungry folks in Newark, Chicago, New York City, and Navajo Nation.
Barack Obama calls him a friend. Guy Fieri describes him as a "philanthropist warlord." But rather than bask in praise, gratifying though it may be, celebrity chef Jose Andres remains focused on his singular mission: Providing beautiful meals to people who need them most. The father of three has marshalled his "first food responders" to fill the bellies of the millions pushed into food-insecurity by the pandemic. World Central Kitchen gives out more than 100,000 meals per day sourced from local restaurants. It's an inventive and nimble concept that keeps eateries open while also getting sweet potato, quinoa, bean, veggie, and parmesan grain bowls, or jerk kitchen with rice and peas, to those who need it most. Andres has had food buses serve senior centers and transformed sports arenas into massive outdoor bistros. Still, he finds time to cook blowtorch eggs, and strawberry and tomato salad with daughter Carlota.
In a way, this all feels inevitable. Andres has a habit of rising to meet the moment. The Spanish-American chef had planned to open a restaurant in Washington's Trump International Hotel in 2016, but pulled the plug after Trump called Mexican immigrants "rapists," saying immigrants like himself demanded respect. He has ours.
David Chang
Cool Dad Job: Chefcaster
Latest Cool Dad Achievement: The launch of Breakfast, Lunch, Dinner on Netflix
Before the birth of his son Hugo, David Chang turned the second season of his culinary video essay Ugly Delicious into a meditation on what it means to become a dad. His trepidation was clear. "I have a picture of me being a bad parent. I have a picture of me not being able to be present, me being on planes," he said. "The alternative is, I just want to make bento boxes for their school lunches. That would give me a lot of pleasure." What's been clear since his son's birth is that Chang had nothing to worry about. He's found private and public joy in cooking for his family. Still, he was right to be nervous. Fatherhood is hungry work.
Danny Meyer
Cool Dad Job: Restaurateur
Latest Cool Dad Project: Taking care of his people.
As the head of New York's sprawling Union Square Hospitality Group, Danny Meyer has long been in the business of gatherings. Coronavirus severely changed that business. Unlike many of his competitors, Meyer, the mastermind behind Gramercy Tavern and Shake Shack, has been resolutely responsible in the face of crisis. He has stated that he will not open seated restaurants until there is a vaccine and he can ensure the safety of his staff and customers. After laying off nearly 2,000 people due to "a near-complete elimination of revenue," the father of four has donated his entire salary to workers, created a relief fund for all Union Square Hospitality Group staff, and committed to helping the community by working with food distributors to provide food to those who need it. When life gave Meyer lemons… he did what he could.
This article was originally published on