I'm An Adult Cam Performer And A Dad. Here's How I Manage Both Worlds.
Steven's particular career allows him to work from home and pay the bills. But, as with all jobs, it has its ups and downs.
by Carrie Weisman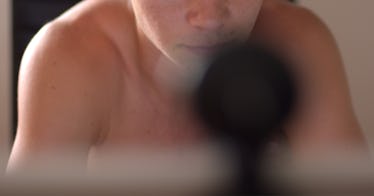 Ten years ago, Steven (not his real name) was struggling. He was living with his parents, and going to school full-time. He needed money — and he needed a job, preferably one that offered flexible hours, maybe even one he could do from home. That's how he learned about sex camming and why he decided to give the porn job a try. For four to five hours a day, Steven would, from a space in his home, perform erotic stunts in the nude (muscle flexing, masturbation, etc.) via webcam for fans scattered across the globe.
Now it's 10 years later. And Steven's life is a bit different. He is 32 and married. He no longer lives with his parents. And he's no longer broke. He also has a 4-year-old daughter. What hasn't changed, however, is his occupation: Steven is a full-time cam model. His wife also works, though she's landed a "normal" job. Together, their income allows them to live a comfortable life and provide for their daughter.
"I can actually support my family now," Steven says.
Unlike more traditional forms of adult entertainment, the camming industry operates around the idea of live-streaming content. Models perform for fans remotely, either from home or from a studio. The more money the fans give a performer, the more specific they can get in their performance requests. Certain times, models might agree to private chats with fans willing to pay extra. The nature of cam performances makes piracy almost impossible — something that has hit the world of porn jobs particularly hard. Though the studios and online platforms take a hefty chunk of the profits, lucrative cam performers have reported earnings of upward of six figures. As of 2013, the industry said to have brought in more than $1 billion in revenue.
Since Steven can perform from home, he's available to take care of his daughter, who's in kindergarten now. Every day, Steven takes her to school, and picks her up. He's also around to take care of her when she has to stay home sick.
"I don't think I'd be able to do that with another job," he says.
Despite the perks, camming isn't always as flexible as one might think. Models make their money through tips. The more people they have watching their performances, the more they can make. That's why it's important they log-on during peak hours. Often, that means Steven must work weekends.
In the beginning, that meant Steven had to sacrifice days out with his wife and daughter. But he soon felt out of place in his family.
"They would do things on the weekends, or go to the park while I work," he says. "They ended up spending a lot of time together without me." Steven's daughter got used to this arrangement, so much so that she started to hesitate spending time alone with him. "She wanted her mother there," he explains.
Eventually, Steven made the decision to cut back on his weekend shifts. Now, he works more at night, after his daughter has gone to bed. This has allotted him more hours to "be a dad," help around the house, and get all the other everyday responsibilities out of the way.
Odd hours aside, it can be complicated doing cam work from home, especially when there's a child around. Although Steven performs privately, away from his wife and daughter, he isn't immune to interruptions.
"We had some problems when she was a baby. It was kind of complicated when the people watching me could hear her screaming and crying." Now that his daughter is a little older, however, she knows to whisper when she's around "Daddy's door."
Steven's line of work raises another question: What will he do when his daughter eventually asks about what he does behind that door? For now, Steven has no plans to tell her. He does understand, however, that the truth will emerge.
"I don't think she'll judge me," he says. "Actually, I hope she'll be proud of me." Steven even says he'd be okay with his daughter testing out the waters herself one day. "You'd expect a father to want his daughter to become a doctor, a lawyer, an accountant, a teacher, or something like that. But for me it's different," he says. "I'd be all right with her trying it out one day."
Though, there is one part of his job that he worries might take some time to digest. Steven is straight. He and his wife have been married for six years. But the clients for whom he performs are overwhelmingly male.
"At first, it was weird for me to talk about sexual things with my fans," he admits. "But I'm perfectly okay with performing for homosexual men." Though, he notes, it can be hard to maintain an erection when the microphone is on and he can hear all the mumblings from his audience.
For now, the only people who know Steven's line of work are his wife, mother, brother, and a few close friends. Everyone else thinks he works a typical nine-to-five. "I have a story I tell them," he says. "I don't talk about it much, I don't want anyone to get any more curious about what I do."
Sometimes, however, Steven thinks it would be worth it to just come out with the truth. "I would probably have less friends, but they would be true friends," he says.
Should he eventually reveal to those around him how he makes his money, Steven hopes they'll appreciate how the job affords him the ability to tuck his daughter — and her dolls — into bed every night. That, he says, isn't exactly a privilege all fathers get to enjoy.
This article was originally published on