The Biggest Parenting Lesson I Learned During COVID
Time moves too quickly for parents. But during quarantine, for so many like myself, time moves very slowly. I've learned to simply exist in it.
by Ryan Croken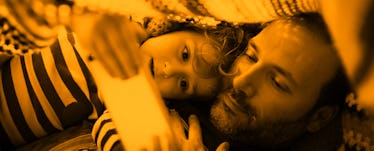 It goes by so fast—enjoy it. regretfullong — pandemic-induced quarantinefasternap timeThis story was submitted by a Fatherly reader. Opinions expressed in the story do not necessarily reflect the opinions of Fatherly as a publication. The fact that we're printing the story does, however, reflect a belief that it is an interesting and worthwhile read.
It goes by so fast.climate clockbe enjoy it, tomorrow,Deathso consumed by workforgiving of myselfenjoying itplenty Ryan Croken is a writer, educator, and father. He teaches at the University of Illinois, Chicago, and is currently working on a book of poems written in the voice of his cat, Zams.
This article was originally published on