Best Places to Work Honor Roll
The inaugural class of companies certified under Fatherly's Best Place To Work for Dads program represent a wide variety of sectors and a shared and singular commitment to ensuring the wellbeing of working parents. Though each of the companies below has put together a different benefits offering for new and working fathers, all of the... View Article
by Fatherly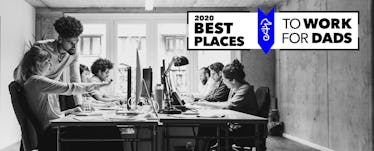 The inaugural class of companies certified under Fatherly's Best Place To Work for Dads program represent a wide variety of sectors and a shared and singular commitment to ensuring the wellbeing of working parents. Though each of the companies below has put together a different benefits offering for new and working fathers, all of the companies have put tremendous focus on ensuring the participation in programs by their employees and fully understand the profound ways in which this can and will affect workplace culture.
Each of the companies on this list deserves congratulations and thanks for adopting progressive workplace policies that provide parents with the ability to be their for their children and their families — and to continue developing into the strongest employees they can be.
Bank of America
A financial services titan based in Charlotte, North Carolina, Bank of America has invested heavily in perks for working parents, including fathers. The banks 88,882 salaried employees have access to an impressive suite of benefits including flexible work hours and a myriad of childcare options. A standout on a list of standouts, Bank of America stands apart for the impressive care the company takes in helping fathers make both short- and long-term arrangements in the best interests of their families.
BDO
The Chicago-based accounting and advisory partnership, BDO, attracts and retains highly skilled working parents with a wide variety of flexible work options that provide significant additional value to new parents. With 5,978 salaried employees, BDO is exerting pressure on its sector, not historically the strongest for parental benefits, to do better in the future.
Chobani
The beloved Norwich, New York-based Yoghurt company famously treats all of its workers with profound respect. But with a total of 2,026 employees of which 1,384 are hourly, Chobani really stands out for offering perks normally available to only white-collar workers to its entire workforce. The company deserves additional credit for holding itself to account by tracking employee benefits usage to ensure that good policies create great culture.
Deloitte
One of the so-called "Big Four" accounting institutions, New York-based Deloitte is an institution among institutions. And it invests in its institutional values, which include providing flexibility and support for new and working parents. Deloitte stands out among its competitors for the range of perks it offers employees and its longstanding commitment to ensure that they are deployed for the betterment of corporate culture.
Deluxe
The Shoreview, Minnesota-based payments company Deluxe boasts some 5,685 employees, who have access to some a suite of impressive perks. Fittingly for a company in the detail-oriented payments business, Deluxe carefully tracks employee perk usage to ensure that its full time staffer are taking advantage of the excellent policies created by its human resource department.
Diageo
The London-based beverage behemoth runs its American operations from Norwalk, Connecticut and offers a generous pouring of perks, including backup childcare and eldercare — and a concierge to help arrange for that assistance. Notably, Diageo offer the same perks to its part-time employees as it does to salaried staff members, making for a constructive and consistent corporate culture.
eBay
The San Jose, California-based online auction giant eBay may be best known for revolutionizing online shopping. The now public business, which boast just north of 4,800 employees, has more quietly revolutionized benefits offerings for parents. With an highly competitive leave program offering employees 12 weeks paid and a broad offering of additional benefits including backup childcare and eldercare as well as caregiving leave, eBay is part of the herd of Silicon Valley unicorns revolutionizing the employee-employer relationship for working parents.
Future State
As one of the smaller companies on this list, Future State punches above its weight, particularly when it comes to gender equity. Fathers across this women-led, employee-owned management consulting firm based in San Francisco affirmed the company's generous support for non-traditional and traditional forms of fatherhood with utilization rates for parental leave hovering around 12 weeks, a rare accomplishment for a company of only about 100 employees.
IBM
The legendary, Armonk, New York-based computer computer and technology company employs some 350,000 workers and offers each of them an incredibly competitive range of perks, including above average (even for this list) parental leave, and a wide range of programs designed to make the return to work easier for new parents. Even in the highly competitive technology sector, IBM is a standout.
KnowBe4
With 682 full-time employees and its security awareness training programs, Clearwater, Florida-based KnowBe4 is a leading company in the anti-phishing space. The company is also committed to providing corporate leadership on the issues that affect working parents. Despite being located far from the Northeast and California, where these perks are far more common, KnowBe4 offers a strong leave program for new fathers, student loan assistance, bereavement leave, and financial planning resources. Going even farther, many of the perks available to full-time workers are also available to part-time employees.
LINK Strategic Partners
The small but well-known DC-based public relations and marketing firm LINK Strategic Partners offers big company perks within in a boutique work environment. Despite its relatively small staff of 13 full-time employees, LINK boasts a strong parental leave program and offer ramp-back time, which is unusual in a non-corporate environment. Going further, LINK helps cover adoption expense, a very rare perk outside of large tech and law firms that demonstrates an ongoing commitment to helping employees become parents and thrive in that new role.
L'Oréal USA
The esteemed New York City-based cosmetic company behind Lancome and Kiehl's has long offered excellent perks for working parents, all of which have been extended to working fathers. The company works hard to ensure that new parents can maintain flexible schedules and provides a variety of assistance programs designed to alleviate the financial and personal burden of childcare.
Liberty Mutual
The well-respected, Boston-based insurance and financial services company Liberty Mutual offers its nearly 36,000 employees profound flexibility in the early days of parenthood. The privately held company puts a significant emphasis on programs that help new dads handle the stresses of new demands while also remaining engaged and productive at the office.
Nuance
Burlington, Massachusetts-based software company Nuance has set a new standard for benefits offering along the New England Tech Corridor. Working parents at Nuance have access to an extraordinary leave offering as well as a variety of other programs that make the post-leave transition easier. Nuance has brought the progressive policies more common in Palo Alto east.
Nvidia
Santa Clara-based software giant Nvidia, the folks behind some of the world's most popular graphics processing units, take a studied approach to offering working parents generous benefits. The company frequently surveys its 7,000+ employees and ensures that it manages engage in anti-discriminatory practices training. It should come as no surprise that Nvidia's leave offering is also exceptional.
Predictive Index
Predictive Index, the Westwood, Massachusetts-based tech firm known for its behavioral assessment software, boasts 160 full-time employees and offers a broad range of perks competitive with other companies operating in the New England Technology Corridor. Impressively, the company pays particular attention to new fathers, tracking paternity leave and encouraging employees to spend time with their families. The result, a parent-friendly corporate culture. (The financial planning benefits help as well.)
Reddit
Perhaps it should come as no surprise that the company founded by Alexis Ohanian, the most vocal advocate for paternity leave, offers excellent perks for new dads. The social media juggernaut's 500+ employees can take advantage of a wide variety of flexible work programs. They can also lurk on Reddit while at work without getting in trouble.
S&P Global
New York City-based S&P Global is probably best known for its analytics offerings, but the company should also be known as the rare financial services company ensuring its employees' access to meaningful benefits for working parents. The company, which has just over 5,600 U.S. employees, has a long menu of offerings for working parents and, unlike many of its competitors, pushes for employees to take full advantage.
Salesforce
The company behind the most ubiquitous sales software in use, Salesforce has long had a commitment to employee well-being thanks to founder Marc Benioff. Based in San Francisco, the company offers its 24,000 employees a variety of assistance programs in the days after childbirth and a lot of flexibility after that. Salesforce, among a few other large companies, has created real competition for perks for working fathers.
Skillshare
Based in New York City, Skillshare offers its 82 full-time employees the kind of perks normally available only at larger companies. The beloved online education company known for its tutorial videos has a profoundly impressive leave offering and a friendly corporate culture that encourages new dads to take full advantage.
Thermo Fisher Scientific
Waltham, Massachusetts-based Thermo Fisher Scientific is one of the leading biotechnology companies on earth, one parents may be familiar with thanks to their genetic testing offerings. With 70,000 employees TFS is also one of the heaviest hitters in New England's booming technology sector. Though the company does not monitor the degree to which new fathers take advantage of its standard leave offering, TFS does offer a variety of perks, including internal support groups for working fathers and a meaningful childcare subsidy.
TIAA
The financial services firm based in New York, with almost 14,000 employees, recently expanded its paid parental leave to 16 weeks, up from 12 weeks of partial paid leave, and eliminated the distinction between "primary" and "secondary" caregivers. TIAA reports that fathers in their organization take an average of 13 weeks of parental leave. TIAA also provides benefits coverage for surrogacy and adoption as well as back up elder care, providing more holistic support for an employee's entire family.
Very
The internet of things app development company Very doesn't have a home office because all of its 53 full-time employees work remotely. This builds in some flexibility for parents, but doesn't mean the private firm doesn't engage in real oversight. Not only are managers within the company trained to handle a diversity of employee issues (remotely, no less), the company carefully tracks employees' use of parental benefits to ensure they prove truly beneficial.
Weave Communications
The Lehi, Utah-based business technology firm Weave Communications, which creates communication tools, offers its 528 full-time employees a broad range of parental perks, including but not limited to competitive leave programs, ramp-back time, unlimited sick days, financial planning resources, and bereavement leave. A company committed to fostering healthy work/life balance for fathers and mothers in the office, Weave also offers anti-discrimination training that help managers handle concerns unique to working parents.
Wynn Las Vegas
Long a Las Vegas mainstay, the Wynn bets on its 12,100+ employees by providing outstanding perk packages for new and working parents. Ever attentive to the number, managers within the Wynn organization keep careful track of who takes advantage of those perks and have documented more and more new fathers taking full advantage of their paternity leave offering.
This article was originally published on