The Best Coolers and Ice Chests For Hauling Beer, Burgers, and Plenty of Juice Boxes
From a soft cooler perfect for schlepping kids' snacks to an ultra-rugged, bear-proof chest that keeps ice cold for weeks.
by Berne Broudy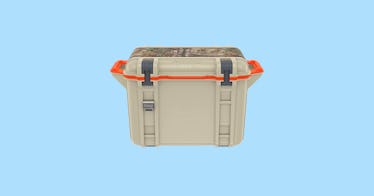 Beach trips. Pool days. Long car rides. Those woefully rare afternoons when the kids are away and you want to drink cold beer without walking to the fridge. Coolers and ice chests are ubiquitous devices, and — our apologies to sunscreen, pool noodles, and boardshorts — the ultimate summer accessories. So please, pony up for a proper portable cooler.
RELATED: The Best Grills, Coolers, and Gear For You Game-day Tailgate
Now, before you start shopping, think about your summer plans. How long you need to keep cooler contents on ice will influence which model is right for you. Will you be gone for a single day of fun in the sun, or for a multi-day expedition? Will you be packing the cooler for a crew, or for a family of three or four? Remember that coolers keep contents cold best when they're full, so it's better to stuff a smaller cooler than to have a lot of extra space — unless you fill that space with ice. Having a good idea how and how far you'll carry your cooler until you crack a cold one will also help you hone in on a model. If it's a long way to lakeside from your car, you might choose a cooler with backpack straps or wheels. So think hard, and then choose one of the below models that's right for you. Each is well-equipped for summer fun.
Stash Cooler C75 Inflatable
Short on storage space? Recruit this 75-liter soft-sided vinyl cooler. Once blown up using the included high volume pump and packed with goods, the Stash has as much insulating power as a high-end, hard-sided cooler at a fraction of the weight. The leak-resistant cooler is made from military-grade materials that will survive extreme weather and rough water on land or at sea. Side and foot tie downs help secure it in boat and car, and it has a burly zip to secure its top. And because it has soft sides, you can overstuff it — the actual volume is 79 liters, not 75.
Stanley Adventure Cooler
Stanley's 7- and 16-quart coolers are ideal for simple hauls of sandwiches and sweaty beer cans. The coolers are about half the weight of other rotomolded models of the same capacity, with 2.5 times the insulation. While not designed for remote expeditions, the Adventure Coolers will see you through 27-36 hours at the beach or on a boat. A leak resistant gasket and sturdy latches help keep the cold in, while an adjustable bungee tie down on top held a towel or toys.
Otterbox Venture 45
More of a portable kitchen than just another cooler, the Otterbox weekender not only keeps 48 juice boxes plus ice cold for up to 14 days, but it has customizable internal storage with internal divides and a dry storage tray separate meat from veggies and drinks from food. Outside, tracks let you mount accessories, including bottle opener, double cup holder, side table and more. As with all things Otterbox, the cooler is ultra rugged, with a waterproof seal and heavy duty construction that can survive all the bumps of the trail, as well as the abuse of decades of family outings. Rubberized feet and tie down strap cutouts keep it from slipping and sliding. With a lock, it's also certified bear proof.
Mountainsmith Crosstown Cooler Tote
Sling the Crosstown over your shoulder and this cooler looks and feels like a tote bag, not a bulky cooler. Wide webbing shoulder straps support the load to make carrying sandwiches and drinks a comfortable proposition. If you need your hands free, tote straps pull through so that you can wear this cooler as a backpack. And when something spills inside, the waterproof, seam-sealed lining is easy to wipe clean. One feature that's different from other totes: a compression molded EVA bottom gives the bag structure, which kept it and its contents, standing up. Note that it's not as insulated as rotomolded options, but it's a fraction of the weight.
Kula Cooler
Buckets are generally easy to carry because you only need one hand. And a five-gallon bucket was the design inspiration for this rotomolded round cooler that holds 10 ham sandwiches, eight juice boxes, five apples and three beers. A stiff plastic handle makes it easy to carry one-handed — it also comes with a shoulder sling, and once you set it down, sticky rubber feet kept it from sliding around. Closed, it's a stool, with a spongy padded top for impromptu sitting. And while it's not rated bear-proof, it has been certified gator proof. The 2.5-gallon version comes with a tap, and both are available in a variety of colors.
Rovr Rollr 80 Bike Edition
The high-end yacht of bike coolers, this 80-quart-er rolls wherever you go — pavement, sand, or trail — on 8" tires on nylon-spoked rims. Slots molded into the cooler perimeter support drink holders and a cutting/prep board — both included. Inside, a storage area sequestered dry food from melting ice. Speaking of ice, Rovr holds the frozen stuff for up to ten days. The included Wagon Bin oversized haul bag held everything the cooler couldn't then folded into a seat pad. The Bike Edition includes a tow hitch that connects the cooler to a bike.
Alite Bucket Cooler
The smallest and lightest cooler here, Alite's Bucket is the perfect playdate cooler. This 10-can capacity, bucket-shaped soft-sided tote provided refreshments from park to playground, beach and beyond. We carried it with both the shoulder sling and the stiff, webbing-covered handle. The waterproof inner bucket pulls out for easy cleaning. It also doubled our storage space when used the ice-filled bucket, which has its own haul handles, separately from the bag. Two external pockets and an internal zip pocket hold utensils and more. Empty, the cooler packs flat and takes up about the same space as a couple of cloth grocery bags.
Dometic CFX-65
A plug-in, dual-zone portable refrigerator/freezer, the CFX-65 is the most advanced mobile food and drink cooling system you can own. Plug it into your car cigarette lighter — or the wall — set your temp and the thermometer starts to drop. Inside, three zones give you different chilling options. The 1.5 cu. ft. fridge has two baskets deep enough to hold a bottle of white wine and spacious enough for 60 soda cans. There's also a deep and narrow, lidded 0.67 cu. ft. freezer and a "dairy compartment," which is cool but not quite as cold as the fridge. All zones function simultaneously, powered by a high-performance compressor and chilled to -8°F, no ice required. When your vehicle turns off so does the cooler, so it won't drain your battery. At 51 pounds empty, this is a cooler that you want to load and leave, not one you want to be constantly lifting and moving. Multiple sizes available.