The 12 Best Ice Cream Shops Around The Country That Will Keep Your Kid From Melting
by Liz Newman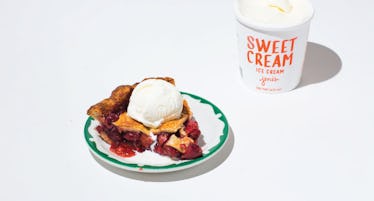 You scream, I scream — your damn kids won't stop screaming for ice cream during these hot summer months. But instead of falling victim to the ice cream truck guy that preys on the local playground (no parent alive has figured out how to stop their kid from getting an Astropop), try one of the best cold confectionaries around the country. These are all spots that serve product superior to the Drumsticks and Choco Tacos of the world. Here are great shoppes within licking distance of 12 major metropolitan areas.
Sundaes & Cones, New York, NY
Like pretty much everything else you consume in New York, people have strong opinions about their ice cream. While Ample Hills Creamery in Brooklyn has been getting the much-deserved spotlight, try heading to the criminally underrated Sundaes & Cones. You have your pick of the classics, but once your kid gets their tongue on an oddball like Black Sesame or Lavender and Corn, they may start to wonder how Ben & Jerry lost their edge.
Leopold's, Savannah, GA
This nearly 100 year old parlour is a total time warp, because it actually looks like a parlour. The neon sign, classic white hat uniforms and a soda counter will seriously make you feel like you just hopped in a Delorean and are eating a banana split —get the butter pecan with roasted Georgia nuts — next to a young Bif. So hopefully you finish it before he dumps it on your head.Leopold's
Salt & Straw, Portland, OR
They're not going to sugarcoat it (#DadJoke), you'll probably have to wait before actually sampling any of these these artistic / bizarre flavors, so bring a book, iPad, whatever will help you and the kids stand in line for an hour. Once you have your sweet, sweet, prize, tell everyone that scoops of fish sauce caramel and dill pickle sorbet are better than advertised. And the shop even collaborates with local breweries/distilleries for a solid lineup of booze scoops. Because, Portland.
Bi-Rite Creamery, San Francisco, CA
When a line forms around the block, and it consists of almost entirely locals, you know you've stumbled upon a San Francisco treat (#DadJokeAgain). That is indeed what Bi-Rite Creamery is. It's actually a full-fledge market that became so popular they had to open a second location. Head to the Mission because it's is the original. While everything in this place is pretty mouth-watering, sample a few of their seasonal flavors like cherry almond, balsamic strawberry or Sonoma honey. Then just get all of them in one cone.
Jaxson's Ice Cream Parlour, Ft. Lauderdale, FL
If you take out the excessive amount of tourists (and excessive prices) at local favorite Serendipity, but maintain the charm and deliciousness, you have Jaxson's. This place is a bonafide museum touting one of the largest collections of American memorabilia in the country, that also doubles as a playground for kids so that parents will never complain about visiting. The menu of flavors (chewy fudge, where have you been?) is almost as massive as the banana splits you can have ordered to your table.
Amy's Ice Cream, Austin, TX
350 flavors. You could have had one for every day of the year, but someone dropped the ball. Only 7 flavors are mainstays — including Belgian chocolate and their famous Mexican vanilla. Those other 343 rotate regularly. In other words, if you can't find something you love here then you probably don't even like ice cream. Why are you still reading this?Amy's Ice Cream
Scooter's Frozen Custard, Chicago, IL
Somewhere between Shake Shack's concretes and Dairy Queen Blizzards, there's Scooter's. This mom and pop shop has been doling out smooth, creamy custard since day one with Wisconsin farm-sourced ingredients for its house-made creations like the Elvis (vanilla custard, Reese's Peanut Butter Cup, banana — no bacon). You can also create your own if you don't panic at the nearly 30 different mix-in selections and start convulsing on the floor.
Kettle Cove Creamery, Cape Elizabeth, ME
Even if you're that guy who is just getting ice cream for the kids (good luck with that Whole 30 Diet — seriously) there's still a picturesque setting. For your kids who actually like fun, there are flavors that are as New England as a Patriots helmet filled with clam chowder, like pumpkin pie and black raspberry. They also have peanut butter Oreo, which has nothing to do with Maine, but everything to do with awesome.Kettle Cove Creamery
Brown Dog Ice Cream, Cape Charles, VA
Don't let the fact this Southern spot specializes in "micro batches" put you off. If you want a Ziggy Piggy, this isn't the place (San Dimas High School football rules!). Instead, savor those flavors, because they change often depending on the local ingredients they're sourcing that day. Count on usual suspects like Salty Dog, Bourbon Pecan, and Cookie Monster to always be in the offing, though.Brown Dog Ice Cream
Toscanini's, Cambridge, MA
In the shadow of MIT is the ice cream shop that science can't improve on. Dubbed the "the world's best ice cream" by The New York Times, which seems improbable, as New York has never said anything nice about Boston, this place has the rich, innovative flavors to back it up. Consider putting spoonfuls like the Bourbon Vienna Finger, Goat Cheese Honey Walnut, Burnt Caramel, and Malted Milk Ball in your, and your family's face.Toscanini's
Jeni's Splendid Ice Cream, Columbus, OH
Jeni's climbed the ladder from a small shop that sources all its ingredients from local Ohio Farms to a not-so-small shop that distributes to megastores like Whole Foods. Don't worry, the mass-production didn't wreak havoc on the freshness; they still source from those local farms for all 25 flavors, including Honey Milk Chocolate and Wild Blue Lavender (it's a flower and it's edible). The real win here though may be the oatmeal cream ice cream sandwich. If you ever wondered if there was a messier way for your kid to eat ice cream, you've found it.Jeni's Splendid Ice Cream
Sweet Republic, Scottsdale, AZ
They're serious about the purity levels of their cream, making these guys the Walter White of ice cream making. It also just happens to as addictive as meth, with mixable flavors. Go and cut some Madagascar Vanilla with almond toffee brittle, fresh bananas, and salted caramel sauce or go throw in some Mexican Coke for a Brown Cow. That's what the kids are calling it on the street.Sweet Republic
This article was originally published on