The 11 Best Family Hikes in America
From Ocean Path in Acadia to the Trail of Ten Falls in Oregon, here are the top picks for hiking with kids in America.
by Lauren Steele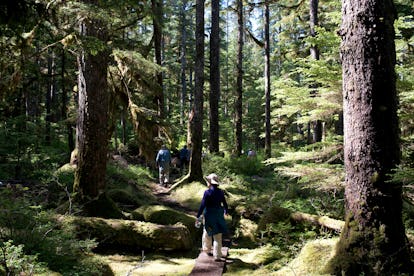 VW Pics/Universal Images Group/Getty Images
Taking kids on a hike can go one of two ways: either it's a journey of discovery enjoyed by the whole family, or it's a very slow stroll from hell. And while which one you end up on may feel sometimes like a coin flip, you don't always have to take your chances. There are ways to ensure that your family makes the good kind of memories when they venture into the wilderness. The simplest way: Pick the right trail.
Depending on the age of your kids, and their level of experience, it's important to avoid going too aggressive with either mileage or elevation. Distance, difficulty, and exposure (to the elements) can make or break your family's fun. So to uncover some of the best family-friendly hikes in the United States, we turned to Heather Balogh Rochefort, founder of Just A Colorado Gal, author of Backpacking 101, and mother of an avid 8-month-old hiker, Liliana. Here are her top 10 picks broken down by miles, difficulty, and what type of family the trail suits best.
Trail of Ten Falls Loop
Silver Falls State Park, Oregon
Distance: 8.7-mile loopBest for: Families with an infantRating: Easy The Trail of Ten Falls — located just an hour outside of Portland — winds its way through the old-growth forests of Oregon and leads hikers to (as the name suggests) ten awe-inducing waterfalls. The loop is long, but there are no major climbs or technical sections — and there's plenty of shade and cool mist to keep you moving along a nice, flat, dirt trail.
Emerald Lake Trail
Rocky Mountain National Park, Estes Park, Colorado
Distance: 3.1 miles roundtripBest for: Families with teensRating: Moderate This 5K trail is the perfect introduction to the Rocky Mountains. It's got an elevation gain of 700 feet (on the lower side for these parts), which is just challenging enough for the juice to be worth the squeeze when you top out at the pristine Emerald Lake. It's a good trail for teenagers because, while they might not be entirely motivated early on, the payoff vista at the end will close the deal. This trail could make a hiker out of anyone.
Pirate's Cove Trail
Marin County, California
Distance: 3.8-miles roundtripBest for: Families with school-age kids (5-12)Rating: Easy Five-year-olds ain't fast, but they can make it three miles with a little motivation and a lot of snacks. This trail is an ideal Bay Area getaway and the name should draw kids in as much as the actual hike. Cruise along rugged ocean overlooks down to hidden beaches at low tide to bring the mystery and wild of the Marin Headlands to life.
Avalanche Lake Trail
Glacier National Park, Montana
Distance: 4.5 miles roundtripBest for: Families with more than one babyRating: Easy to moderate When you have more than one carrier between the two of you, things can get logistically challenging. The trailhead for Avalanche Lake is less than five miles from the nearest lodge (in case of emergency) and the trail itself quickly winds into the wild of Glacier National Park. It's the best of both worlds. There's only one small climb on the entire 4.5-mile jaunt, and you'll be rewarded for your efforts with vistas of mountains, lakes, waterfalls, and all the goodness Glacier is known for.
Miners Fall Trail
Pictured Rocks National Lakeshore, Michigan
Distance: 1.2 miles roundtripBest for: Families with toddlersRating: Easy We know, your toddler wants to walk. So let them. Even if they stagger along at the toddler pace of one mile every two hours, that makes this jaunt to one of the most picturesque waterfalls in the Midwest the perfect two-hour adventure.
Glacier View Loop Trail
Exit Glacier, Kenai Fjords National Park, Alaska
Distance: 1-mile loopBest for: Easy "extreme" adventureRating: Easy It's not often that anyone under the age of 16 visiting from the lower 48 would get the opportunity to see Alaska at it's most untouched and beautiful, but that's what makes Exit Glacier great. It's accessible, but it's pristine. Plus, this one-mile loop hike offers panoramic views of the glacier and the opportunity to talk to kids about climate change and the world's rapidly melting glacier ice.
Ocean Path in Acadia
Acadia National Park, Maine
Distance: 3.9 miles roundtripBest for: Everyone hiking with their own two feetRating: Easy What better way to keep kid's mind off of moving their feet for four miles than scrambling up rocks and pointing out the ocean, mountains, wildflowers, and sandy beaches? The Ocean Path is hands down one of the most magical hikes on the east coast — and will get kids excited about discovering new places on their own. Even better, the drive up the Maine coast to get there is gorgeous.
Hoh River Trail Washington
Olympic National Park, Washington
Distance: 17.4 miles one-wayBest for: Introducing the kids to an all-day outingRating: Moderate Olympic National Park is one of the country's most stunning gems, and the Hoh River Trail is a prime example of the park's diversity. The trail winds 17.4 miles through temperate rainforest, subalpine meadow, subalpine meadow basin, and montane forest ecosystems from the trailhead all the way up to Glacier Meadows — where you can catch glimpses of Mount Olympus and the Blue Glacier. The variation is the landscape — and the option to go as far as you want and then turn around — is nice for your first all-day adventure as a family.
Billy Goat Trail
Potomac, Maryland
Distance: 7.8 miles roundtripBest for: Little ones who want to learn to scrambleRating: Moderate This trail will certainly get everyone's adrenaline pumping. With views of the Potomac river and plenty of rocks to hop/scramble around on, this trail is good for showing kids that the world is indeed, a jungle gym. This hike can get crowded on sunny weekend afternoons, so aim to hike early in the morning or on a weekday.
Kule Loklo Trail
Point Reyes National Seashore, California
Distance: 1.2-mile loopBest for: Educational exerciseRating: Easy This short path can be tackled by kids of any age, but we suggest reading age and up. All along the trail, there are educational and interpretive signs that describe the culture and lifestyle of the Coast Miwok Native Americans who called this land home centuries ago. At the end of the trail you'll even discover a replica of a Coast Miwok Indian village.
Hidden Falls and Inspiration Point
Grand Teton National Park, Wyoming
Distance: 1.3-mile loop (plus boat ride)
Best for: Epic Family PhotosRating: Easy+ While the full Jenny Lake Loop in Grand Teton National Park, which includes the much-sought Hidden Falls and Inspiration Point, is a moderately difficult 7 miles. Parents looking for a hike that fits between naps need look no further than a ferry run by the National Park Service that cuts straight across the glacial lake to the trailhead. Hidden falls are an easy, flat 1/2-mile hike from the dock, and then it's onward and upward to Inspiration Point, which looks over the lake and Bison-packed National Park. It's a photo opportunity that is guaranteed to make your family holiday card.
This article was originally published on