5 Apps To Help You Score The Family Campground Of Your Dreams
Whether you want to book a campground, cabin, RV, treehouse, or pretty much any outdoor accommodation you can think of, one of these apps can help make it happen.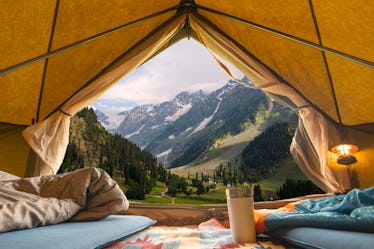 Getty
If you're interested in booking a campsite for this spring or summer, now's the time to start making your reservations. Sites book up lighting fast these days and there are only so many places to look. Luckily, thanks to the Airbnb-ification of, well, everything, there's a fleet of apps that make it easier to book a campground, cabin, RV, treehouse, or pretty much any sort of outdoor accommodation you can think of (yep, that includes yurts). Simply log into the app, enter your search criteria, and find a rated listing that meets your requirements. Want a pet-friendly treehouse that can sleep four and is within ten miles of your preferred location? If it's out there and available, you'll be able to book it. Some listings even have instant booking features to automatically lock in a choice, making the process even easier. Whether you're searching for a campsite at a state or national park, a cabin for a long weekend, or just want to extend a family day hike into an overnight experience, one of the five apps below can help you find what you need.
1. HipCamp
HipCamp is a free service with website and app components that very much operates like an "Airbnb for camping." Its listings of unique, outdoorsy accommodations include camping trailers, stationary RVs, cabins, treehouses, or merely plots of private land to set up a tent in convenient locales near points of interest. Each of the more than 300,000 listings has reviews from previous guests, so you can get a better sense of how the stay was on a more personal level, including any interactions with the host. Like Airbnb, HipCamp is a platform for both guests and hosts so if you have your own slice of nature, you can also make a couple of bucks providing space for your fellow happy campers.
2. Campspot
Campspot is another free campsite booking service with nominal booking fees. Through it, you can find family campgrounds, RV resorts, and cabins ranging from rustic to modern. You can narrow down your search by checking off parameters to include the type of site, nightly price range, rating, and distance from your target area. You can also narrow down searches by pet-friendliness, showers, activities, and entertainment, as well as hookup voltage, air conditioning, accessibility, and more. Like HipCamp, reviews for campsites are user-generated by previous guests, but there's a one-to-five-star aggregated rating system as well.
3. The Dyrt
The Dyrt is a network of campers shelling out "the dirt" on what they loved, liked, hated, and couldn't get enough of at different campsites. The service is a great way to get an inside look at a site before booking—and spending the night in—your next campsite. Each listing has a breakdown of features, amenities, and any rules for the property. The Dyrt comes in two tiers: a free version with basic search and book capabilities, and a pro version, annually $35.99, which adds discounts for activities and downloadable maps, including a handy map of cell service.
4. Recreation.gov
As the booking system used by the National Park Service, this website and app can help you find bookings in popular reservations-only experiences in national parks and forests across the country (including Alaska and Hawaii) as well as the lodging and campsites within them. In fact, sometimes it's the only way to get a reservation for camping in a national park. Recreation.gov's database covers tens of thousands of different recreation sites across the country, plus bookable activities, from excursions in Alaska's Tongass Forest to watch bears hunt for salmon swimming upstream on Fish Creek, to tours of the preserved 17th-century Castillo de San Marcos National Monument in St. Augustine, Florida.
5. RA Camping
Short for ReserveAmerica Camping, this online booking system and app is similar to Recreation.gov, but focuses on the state and private park levels. It's actually an online platform for states to use or not use, so know that even if a state park exists in real life, it might not necessarily be in the ReserveAmerica network. For those who dream of staying in an RV, RA Camping is affiliated with Outdoorsy (the "Airbnb of RV rentals"), so you can find the perfect Winebaga to book and pick up—or have one delivered—to the state park of your choosing. ReserveAmerica also has a loyalty membership called the Apex Club. It costs $45 a year and offers discounts on outdoor gear from partner brands, reservations at hundreds of sites, and even a free night of camping.