How Common Is BDSM Sex? Very. In Fact, You've Probably Done It
It's more common than you think.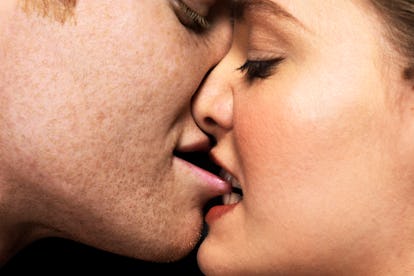 Jonathan Knowles/Stone/Getty Images
A few years back, a group of Canadian researchers decided to look into just how often people practice kinky sex. Just about half of the individuals they surveyed said they were into it. Turns out, BDSM was big with group. Nearly 47 percent of the women and nearly 60 percent of the men said they had fantasized about dominating someone sexually. Slightly more women, and slightly less men, were into the idea of being dominated.
The Canadians aren't alone. The Kinsey Institute has found that roughly 30 percent of American adults are into spanking, 20 percent like to play with restraints, and 13 percent of the public has dabbled with whips and floggers.
Questions concerning our tendency to borrow from the world of BDSM have – for the most part – already been answered. A more interesting question might revolve around whether or not we know that's what we're doing while doing it.
"Many vanilla couples engage in kinky sex without calling it that," says Kayla Lords, resident expert for the adult retailer Jack and Jill and host of the podcast Loving BDSM. Ever given your partner a spank during sex? Well that could be considered "impact play," a popular favorite within the BDSM community. Has your partner given you oral sex to the point of, perhaps, gagging? Or maybe one of you like some light choking during sex. Both those instances are examples of "breath play," another BDSM staple. Maybe she likes getting her hair pulled. Maybe you like making her "wait" to get off. Maybe you like stifling her moans with your hand every now and then. And so on.
The point is, all these moves entertain dynamics related to power and control, and that's a core tenet of BDSM. "Anytime you tell your partner to make it rough, or you both consensually engage in rough sex, you're playing with impact, and other kinky elements," says Lords. "Because these things don't typically get labeled as 'kinky' but only 'wild' or 'rough,' it's very easy to overlook them as being what they are: Kinky."
Of course, it's understandable why some folks hesitate before dropping the "BDSM" bomb around town. Puritan traditions are enduring, and the U.S. hasn't exactly done a stellar job at encouraging open and honest conversations about sex. Coming out about atypical sexual interests might get you labeled a deviant. Even if those deviant behaviors are, in fact, more standard than some would like to believe.
At the same time, it makes sense that not everyone wants to marry any one particular label when it comes to sex. "Most people who identify as kinky feel like it in some way is a core part of their sexuality," says Dr. Michael Aaron, an NYC-based sex therapist and cofounder of the Alt Sex Conference. "I think that is the major difference between those who label themselves as kinky and those that do not. It is based on identity not behavior."
Still, if you and your partner enjoy this kind of play, there's nothing wrong with pursuing it. You might even want to elevate the game. "From a light swat on the butt during sex, you might want to explore over-the-knee spankings, paddles, crop or floggers," suggests Lord. "Hair pulling and rough sex can turn into pinched nipples, scratching, or even biting. If you like the idea of being restrained, there's an entire world of bondage to explore," she adds.
Though, there is one thing you've got to make time for before you proceed. After all, BDSM isn't all about whips and chains. It's also about consent, and communication. There's an acronym often thrown around within the community: SSC. It stands for safe, sane and consensual. It's a guiding principle designed to ensure that those participating in community activities will not do any real damage to those involved, that all decisions will be born from a sane frame of mind, and that all activities entertained in bed are done so with the explicit consent of all participants.
"The key to all of it — from light kinky sex or hardcore BDSM and everything in the middle – is consent and communication," stresses Lords. "Before you try a new kinky thing in bed, talk to your partner about it and learn about it together."
This article was originally published on