Travel With Your Baby. It's Good for You (and Them)
Life's too short to put off traveling until they're older.
by Ilya Smith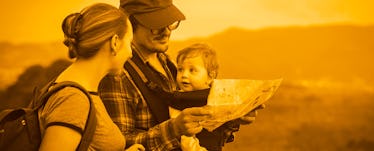 My wife, Alisa, and I were in Monterey Bay, California, when our lives were turned upside-down. After a day of hiking, tide-pooling by the ocean at Point Lobos State Park, and soaking in a bubbling Jacuzzi, we stumbled into our lodge. We were feeling exhausted but accomplished and looking forward to dinner and Champagne to celebrate Alisa's birthday. Like so many San Francisco couples, we'd often take weekend trips along the shore, and we were also recently married, so we were traveling — wine-tasting in Mendocino, climbing the Sierras, camping in Yosemite, spelunking caves in Lassen, paragliding in La Jolla, and of course, biking over the Golden Gate Bridge to Sausalito — in full-on honeymoon phase.
However, these excursions were about to come to an end. That evening my wife announced: "We're pregnant!" with tears of joy in her eyes. I was ecstatic, even though both of us were not entirely ready for a child. In either case, our life of exploration was about to change to a domestic sedentary pace. Or, so we thought…
This story was submitted by a Fatherly reader. Opinions expressed in the story do not reflect the opinions of Fatherly as a publication. The fact that we're printing the story does, however, reflect a belief that it is an interesting and worthwhile read.
A few months later we were back at Point Lobos: Our baby refused to come out on time and we thought of nothing better than just to go back to the place where it all began. We went hiking to induce the labor. Sure enough, a day later we received our slightly overdue Christmas gift, a little human being — our son.
Several months into parenthood, after a few hormonal mood swings and some postpartum depression (mostly mine, to be honest), we decided to begin traveling again. After reading up on parenting advice and talking to our friends, we realized that there's no need to stress out about making sure that the baby gets his needs met. I just strapped him over on my chest in one of those fancy baby carriers, and we went out into the wild.
What seemed like an ending to our mini-expeditions sparked a reserved jolt of energy. We couldn't wait to get out to the national parks, the mountains, and the deserts of California — and our son seemed to share our passion. His first hike was in Indian Canyons in Palm Springs. We were back in nature again. Even though we thought that he'd weigh us down and make the trips intolerable, the opposite happened. Our appreciation of the world changed.
It was always immediately apparent when our son had something to share: his eyes opened wide and an expression of amazement graced his face. I was a bit jealous of him, seeing the marvelous nature of California for the first time ever. He was astonished by every detail, and my wife and I got a unique opportunity to vicariously relive all those first times through our son's eyes.
Planning, packing, and simply managing all the factors involved with traveling brought my wife and me even closer together. We are never bored or feel burdened by the set of little feet that were starting to run around on their own. It is fascinating to watch our little guy explore the world and be awed by the new things after seeing them for the first time. Now that we see the world through his little infant eyes, our travels are more meaningful.
We had not been huge proponents of long-distance travel with infants, but by the end of the first year we were brave enough to travel internationally. The experience we had accrued over the few months as parents going out on mini-expeditions around California gave us enough confidence to prepare for a long-distance flight. We learned how to work around our son's schedule, making sure to keep it consistent. We planned all the activities around his nap and feeding times, and it wasn't as hard as we thought it would be. (Most of the credit goes to my wife when it comes to planning.)
Most importantly, we never transitioned into that sedentary lifestyle we were dreading so much. Having a child made our schedule more dynamic, less predictable, and definitely not boring. We use travel and mini-getaways as a way to cooperatively overcome challenges, see new things, and build memories together. We're always looking forward to going out and seeing something new next weekend.
Ilya Smith is the father of a little California explorer, Misha, who visited every corner of the state before turning 2. He and his wife, Alisa, share their explorations at californiaperspective.com.
This article was originally published on