Airbnb for Camping: 5 Services That Let You Rent Private Campsites
People with land, meet people with tents.
by Dave Baldwin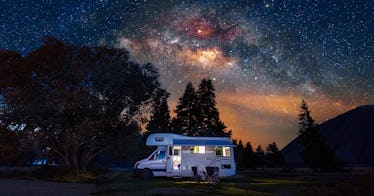 Whether it's over your son or daughter's fall break or just a long-weekend adventure for the delta-variant concerned, private camping (also dubbed "Airbnb camping") provides what some believe to be a safer, more private camping experience. These short-term camping rental apps, including Hipcamp and Tentrr, have been doing a brisk business for years. But with increased demand during the pandemic, they've found their stride (and customer base) as Americans search for socially distanced recreation opportunities. These private camping services and camping apps have gotten so popular that even godfather Airbnb has gotten in on the game. So if you're ready to trade headlights for starlight and a packed KOA for your own piece of private wilderness, their new breed of outdoor adventure is just a few clicks of a mouse or swipes of a finger away.
Whether you're in the market for a primitive campsite or something more established, from yurts to lean-tos, cabins, trailers, treehouses, glamping-like experiences, and more, these outdoor-centric apps use the same model Airbnb popularized: Find your location and structure online, read through details, scan reviews, flip through photos, contact the owner to book your stay, pay through the website, and with a few turns, you've arrived at secluded serenity. While not every city or state is fully covered, these four websites in both the U.S. and Europe do a great job of offering campers a lot of cool places to bed down under the stars. You end up get a quiet, idyllic campsite far from the shoulder-to-shoulder bustle of the nearby RV park, while a dude with a few wild acres makes a few extra bucks. Everybody wins.
Hipcamp
From national and state parks to "ranches and farms, to vineyards and nature preserves," there are more than 400,000 campsites bookable through Hipcamp across the country, making it the biggest such operation in the United States. While sites can be heavy on California and the West Coast, other choice locations include a cranberry marsh in Maine, a farm in Texas, and even Colter Bay in Grand Teton National Park. Much like Airbnb, all you do is find a spot to your liking (on a beach? on a lake? in somebody else's back pasture?), fill in your dates, and request a booking. Everything, including the price per night, is coordinated with the owner. And not only does your group get the run of the designated land ⏤ so, no dealing with crowded campsite bathrooms or too much late-night noise ⏤ but some of the spots offer cabins, yurts, tipis, and even tree houses. Or, you could just set up your Qube interconnected tents and get that party started.
Tentrr
While similar to Hipcamp and Gamping in that you're camping on somebody's private property, Tentrr operates a little differently. Each site is equipped, much like a hotel room, with a standard package of amenities that includes: a large canvas wall tent on a wooden platform, inflatable queen-sized cot, outdoor sun shower, picnic table, two lounge chairs, a camp toilet, stone fire pit … the list goes on. Technically, you are still camping, you just don't have bring anything. If you've got a big group, they also set up extra dome tents. Campsites are selected based on "privacy, location and the wow factor!" — originally limited to sites in New York state and the Catskills, Tentrr has since expanded to include more than three-dozen states and Puerto Rico.
Campspace
Through Dutch startup Campspace you can book one of hundreds of private camping sites around the globe. While most listings are in Europe, they have offerings on six continents, and in locations as varied as Paris, the Australian Outback, and Kazakhstan. Whether you want to park your RV across the street from Yellowstone, stargaze deep in the Namib Desert in Namibia, or pitch a tent in an English garden, Campspace has you covered. In 2017, Campspace acquired Camp in My Garden — founded before in Airbnb, in the U.K. in 2010, it was the first website to let people list their gardens and yards as campsites.
Gamping
Not to be confused with glamping, a.k.a. glamorous camping, a.k.a. camping for people who want to sleep in the J.Crew-catalog version of the woods, Gamping stands for "garden camping." This French-based site started in 2013 and advertises over 10,000 private campsites around the world. Most are in France and Europe, but there's a decent lineup of U.S. spots including one in scenic Duluth, Minnesota. In addition to searching by geographic location, campers can also choose by category, such as "Oceanfront" or "Vineyards." From there they can break it down by type of site (tent, motor home, etc.) amenities (electricity, WiFi, tumble drier), and activities. Booking is done directly with the property owner and you can bring up to 20 people per site.
Getaway
Listen, even Henry David Thoreau didn't subject himself to longterm tent living. Getaway offers one- and two-bed tiny homes in sites across the U.S. that lack TVs and WiFi, along with most other hometown creature comforts, to focus your attentions on peace and quiet. They even offer the option to lock up your smartphone for the weekend, turning your attention to yourself, your partner, and your child or children. A kitchen, firewood and firepit, and indoor bathrooms and showers, which include hot water, are all standard. (Make a reservation)
This article was originally published on