5 Iconic Road Trips To Take Before Your Kids Grow Up
Talk about memories they'll cherish for life.
by Michael Howard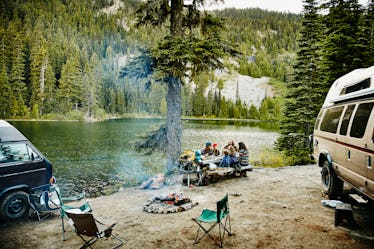 Thomas Barwick/Stone/Getty Images
American highways have inspired more great music, books, and movies than any other roads in the world because — as a system — they cover more iconic, gorgeous, and interesting ground than any other roads in the world. There are hundreds of amazing routes you can chart, any one of which will blow your kid's mind with beauty, BBQ, or baseball. Here are five classics that will show them everything from the Grand Canyon to Big Sur and teach them the country's history from Paul Revere's ride to Martin Luther King's Freedom March. Or, just say "screw it," take them out of school for a year, and do the whole damn thing at once. Your boss will be pissed, but your kid will think you're a cross between Jack Kerouac and Clark Griswold — basically the coolest father.
Southwest: Grand Canyon To Moab
Starting with 18 miles of ancient natural artwork, about which Teddy Roosevelt (the guy who created the National Parks system) said, "Leave it alone. You cannot improve on it," this route connects some of the most unusual terrain on the planet with vivid monuments to Native American culture. If you kid likes hiking or rafting, or just has a healthy obsession with Westerns, they will be slack-jawed throughout.
Key Spots You'll Hit: Grand Canyon Lodge — Vermillion Cliffs National Monument — Elephant's Feet — Navajo National Monument/campground — Goosenecks State Park — The View Hotel/Monument Valley — Valley of the Gods/VotG Bed and Breakfast — Wild River Expeditions — The Dinosaur Museum — Edge of The Cedars State Park Museum, Newspaper Rock Historic Monument — Sand Flats Recreation Area — Delicate Arch — Canyonlands.
West Coast: San Francisco To San Diego On The PCH
On one of the most filmed and photographed stretches of highway in the world, the Pacific Coast Highway is one of the country's most glorious stretches. Renting a drop top is highly recommended; renting a surfboard is basically required (and they're much easier to fit in a convertible, so …). Both ends of the trip are dense in pop-cultural history, which is interrupted by several hundred miles of the kind of scenic beauty that gave rise 200-years-ago to the phrase, "Go west, young man." Make sure you drive North to South, or you'll be craning (and veering) to catch ocean views from the wrong side of the road.
Key Spots You'll Hit: Haight-Ashbury — Golden Gate Bridge — Half Moon Bay State Beach/Barbara's Fishtrap — Santa Cruz Beach Boardwalk — Monterey Bay Aquarium — Pebble Beach Golf — Carmel, CA — Big Sur/Julia Pfeiffer Burns State Park/Post Ranch Inn — Hearst Castle — Morro Bay Kayaking — Cambria, CA/Outback Trail Rides — Santa Barbara/State Street Shopping/Paragliding —The Strand House — Neptune's Net — Hollywood Walk of Fame — Griffith Observatory — Aquarium of the Pacific — Huntington Beach/Jack's Surfboards — Torrey Pines State Park — San Diego/Safari Park/Coronado Island/Bus Tour
Northeast: New York To Acadia National Park On Route 1
From the center of the universe (at least as far as New Yorkers are concerned) to possibly the most rugged, striking coastline in North America, this route covers the country's 20th Century history, it's 18th Century history, and some of it's best regional accents. Seriously, your kid will love the trip-long game of "How many ways can you pronounce the word 'Water'?"
Key Spots You'll Hit: New York City/Statue of Liberty/Empire State Building — Mark Twain House and Museum — Minute Man National Historic Park — Boston/Fenway Park/Bunker Hill Monument/Boston Tea Party — Salem Witch Museum — Gloucester —Rachel Carson Wildlife Refuge — Portland Head Light — Acadia National Park
Midwest: Chicago To New Orleans
A straight(ish) shot through the country's musical and BBQ heartland, this route will ensure your kid has a proper appreciation for the blues, country, jazz, and pork. Time the drive around the Indianapolis 500, and you can throw internal combustion engines in for good measure because — who knows — your kid might be taking this road trip with their own kids using hoverbikes.
Key Spots You'll Hit: Willis Tower Skydeck — Museum of Science and Industry — Indianapolis Motor Speedway — NCAA Hall of Champions — Children's Museum of Indianapolis — Churchill Downs — Muhammad Ali Center — Louisville Slugger Museum — Grand Ole Opry Concert — Walkin' Nashville Music Tour — Beale Street — Graceland — National Civil Rights Museum — Stax Museum of American Soul — Central BBQ — French Quarter — Snug Harbor Jazz Bistro — Frankie and Johnny's
Southeast: Birmingham To D.C.
The cradle of the civil rights movement is worth a visit under any circumstances, but plan your trip in the fall and you can combine it with the world's most passionate sporting event: an SEC football game. From there, it's a romp through some of the oldest historical monuments in the country, ending on the National Mall, where you'll have to decide if you're going to keep a straight face while telling your kid they, too, can grow up to be president.
Key Spots You'll Hit: Birmingham Civil Rights Museum — The Vulcan — McWane Science Center — Oak Mountain State Park — Six Flags Over Georgia — Martin Luther King Jr. National Historic Site — Piedmont Park — Fox Theater — Peachtree Food Tours — Georgia Bulldogs Football Game — Forest Hills Golf Club — Augusta Canal Boat Tour — Savannah Rapids Visitors Center — Carolina BBQ — Airborne and Special Operations Museum — Colonial Williamsburg — Historic Jamestowne — The National Mall
This article was originally published on