A Parent's Guide to Treating Symptoms of Coronavirus
Many parents and kids will be home with the coronavirus looking to alleviate symptoms. Here's what parents need to know about over-the-counter medicine for the novel coronavirus.
by Lexi Krupp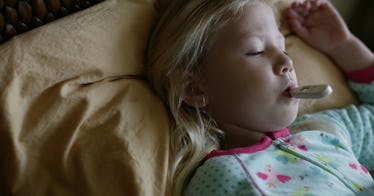 What do we know about COVID-19? That it spreads easily and from people without symptoms. That it can survive for hours or days on metal or plastic. That it is particularly dangerous for those over 60, due to comorbidities and weakened immune systems. That most people don't have life-threatening symptoms, and a lot of us — estimates of some 20 to 60 percent of the population — are going to get it. What don't we know? A whole lot more than we do, including what it's like to get it for most people and how best to treat it when you do.
RELATED: Doctors Answer Parent's Coronavirus FAQs
This gap in knowledge has caused a lot of misinformation and fighting about which drugs are safe to treat COVID-19. The French health minister led the way with bold, brazen (and mostly unsubstantiated) claims that ibuprofen and its family of pain-relievers, known as Nonsteroidal anti-inflammatory drugs, or NSAIDs, don't mix well with this new virus. There is scant scientific evidence to support his warning — just a passing reference in a scientific article that ibuprofen could increase a receptor the new virus binds to, which theoretically might ramp up an infection. Without any solid data to back this claim, the World Health Organization and other public health officials around the globe say these drugs are perfectly fine to use for COVID-19 symptoms.
This is important because symptoms of COVID-19 are all over the place and include unpleasant, to nonexistent, to wholly worrisome signs. Fever, cough, and fatigue are among the most common ailments, while some people experience difficulty breathing, muscle pain, headaches, phlegm production, and (very rarely) diarrhea.
If you or someone in your family has symptoms of COVID-19, first consult your healthcare provider. Then, make sure to read the dosage instructions and warnings, and only take the drugs that you need, advises Dr. Alicia Ines Arbaje, and a geriatric care expert at Johns Hopkins Medicine in Maryland.
For getting through the night until then, we've rounded up the current advice from health care professionals. Information is coming in fast, and what we know about COVID-19 will no doubt change in the coming days and weeks.
Tylenol (active ingredient: acetaminophen)
Coronavirus Symptoms: Aches and pains (common), Fever (very common), Headache (less common).
For lowering fevers, Tylenol is often the first choice for medical care providers. It works through a mechanism that targets temperature regulation in the brain and tends to have fewer side effects than ibuprofen.
"It's best to start with acetaminophen," advises Dr. David Tauben, chief of pain medicine at the University of Washington School of Medicine. "Let's err on the absolute side of caution when we're dealing with children," he adds.
But Tylenol is not without its risks, especially if you have a history of liver disease or regularly imbibe more than three drinks a day. Again, consult your healthcare provider, and make sure to carefully read the dosage recommendations.
DayQuil (active ingredients: acetaminophen, dextromethorphan, and phenylephrine) and NyQuil (active ingredients: acetaminophen, dextromethorphan, doxylamine): Thumbs up
Coronavirus Symptoms: Aches and pains (common), Cough (very common), Fever (very common), Headache (less common), Sore throat (common)
These drugs are basically Tylenol with a cough suppressant and decongestant thrown in. NyQuil has an added antihistamine that gives it a potent drowsy effect. Those chemicals don't raise concern for treating COVID-19, according to Hussin Rothan, a molecular virologist at Georgia State University.
Arbaje points out that for older adults, it might be better to avoid drugs with decongestants and antihistamines, like DayQuil and NyQuil if that's an option. . "[Antihistamines] aren't generally recommended for older adults because they cause falls, delirium, urinary retention, and other side effects," she says.
Robitussin (active ingredient: dextromethorphan)
Coronavirus Symptoms: Cough (very common)
This cough medicine poses no concern of complications with COVID-19
Advil and Motrin (active ingredient: ibuprofen)
Coronavirus Symptoms: Aches and Pains (common), Fever (very common), Headache (less common)
The fear that this class of drugs — NSAIDs, or non-steroidal anti-inflammatory drugs — could make COVID-19 infections worse primarily comes from a short review paper that looked at three reports of COVID-19 patients. The authors raise the notion that, maybe, these drugs could leave patients with a higher risk of severe infections.
That speculation doesn't hold much weight says Siddappa Byrareddy, a pharmacology researcher who specializes in the study of viruses at the University of Nebraska Medical Center. "There isn't evidence to really say anything, unfortunately," he says. "We need more data — more convincing data — to make a conclusion at this stage."
People with certain pre-existing conditions shouldn't be taking ibuprofen to begin with — if you're on blood thinners, have severe asthma or kidney disease, or recently had a heart attack. Arbaje advises her elderly patients to avoid this class of drugs in place of other fever reducers and pain relievers.
Aspirin (active ingredient: acetylsalicylic acid): Thumbs down for kids
Coronavirus Symptoms: Aches and Pains (common), Fever (very common)
Make sure to avoid Aspirin, another NSAID, when treating children or teenagers for viral infections — think chickenpox, the flu, or this new coronavirus. That's because of a poorly understood link between Aspirin and Reye syndrome, a rare condition that can lead to swelling in the liver and brain.
This article was originally published on