"Special Needs" Is a Euphemism That Hurts Disabled Kids
Disabled people have called for the end of the term. Research shows the harm it causes.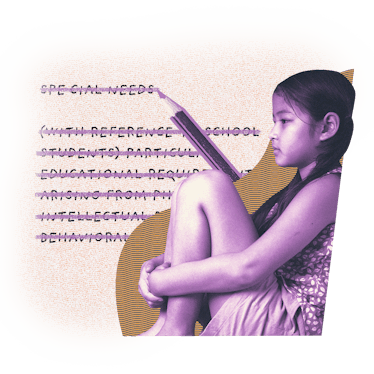 Ariela Basson/Fatherly; Getty Images, Shutterstock
It may seem kindest to describe a child as "special needs" instead of saying they're "disabled" or calling out their specific disability. In fact, many parents of disabled kids prefer "special needs" over terms the euphemism attempts to replace. But when disabled kids grow up, they often eschew the label of "special needs" in favor of calling themselves "disabled," and many disabled adults are working to end the use of this term. The power of this language change is backed by research that shows people see disabled individuals in a worse light when they're described as having "special needs."
The term "'disability' is not a slur," says Morton Ann Gernsbacher, Ph.D., a psychology professor at the University of Wisconsin-Madison who studies how language is used in relation to disability. But the term "special needs" may be moving in that direction, she says. According to her team's previous research results, "special needs" is an ineffective euphemism, and it seems to be morphing into a dysphemism – a term whose connotations are more negative than the ones it attempts to replace.
Gernsbacher and her colleagues conducted their research in two parts. Using a crowdsourcing website, they recruited 530 adults, then assigned each to one of six groups. They gave each group six imaginary scenarios: choosing a college freshman who would be their dorm roommate or share a cabin with them during a spring break experience, selecting which new second-grader to place in a classroom or on a basketball team, and choosing which middle-aged adult they would prefer as their co-worker or cooking class partner.
In each scenario, one of the four characters they could choose was disabled. They were described in one of three ways: "has special needs," "has a disability," or by their specific disability (for instance, "Roommate B is an 18-year-old business major and is blind"). Each group had one scenario in which a character had "special needs," one in which they had "a disability," and one in which their disability was named.
The participants, who didn't know the study was focused on evaluating the term "special needs," ranked the characters from most to least preferred in each situation. The characters who were described as "special needs" were chosen last in about 40 percent of cases – the highest rate of any of the categories studied.
The researchers also asked participants to share what words they associated with the terms "special needs," "has a disability," and "has disabilities." "Special needs" was more likely to conjure negative associations, such as "annoying" or "helpless," than the other descriptors. Even people who had a family member, friend, or co-worker with a disability responded more negatively to "special needs" than the other options.
"Special needs" doesn't achieve the purpose behind euphemisms: dulling the negative impact of the words it sets out to replace. In fact, as the study shows, the term makes others more likely to view disabled people negatively, further harming people who are already marginalized. And although Gernsbacher hasn't yet researched associations that kids have with the term, she says, "I think children do have that capacity to pick up on some of these unintended associations." So, if adults describe kids as "special needs," it could alienate them from their peers or harm their self-image.
Additionally, the participants were more likely to associate "special needs" with developmental disabilities than sensory, psychiatric, or physical disabilities. But the disability-centered descriptors conjured associations with a more diverse set of disabilities. The vagueness of "special needs" sometimes invites more questions than it answers.
The term also "implies segregation," given its similarity to terms such as "special education" and "Special Olympics," according to the study. "Special needs" is sometimes even misconstrued as "special rights" when others view accommodations made for someone's disability as an unfair privilege, such as being allowed priority boarding into an airplane.
If that weren't enough to stop using the term, potentially the most convincing factor is that disabled people don't want you to. "Disabled people are telling us, 'Please don't use that term about me.' And I feel strongly that when a minoritized group says, 'I want to be called X; do not call me Y,' that we should adhere to their request," Gernsbacher says.
Leading by example and encouraging disabled kids to embrace this aspect of their identity could have further-reaching benefits. Gernsbacher says that some of her other findings show that for disabled people, "the more they're able to accept the fact that they have a disability, the better their self-esteem, the higher their well-being, the happier they are." So encouraging disabled kids and the adults around them to embrace the child's disability may set them up for a healthier and happier future.