7 Signs It's Time To Find A New Pediatrician
The relationship between parent and pediatrician is important. Here's how to know when it isn't working out.
by Ashley Abramson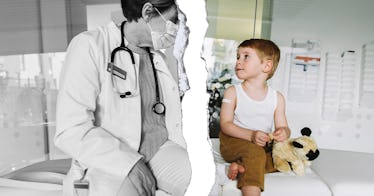 From the week you get home from the hospital with your baby to the time your child becomes an adult, your pediatrician plays a significant role in both your child's life and your life. The long-haul nature of this relationship is one reason it's so important to find a good match in a doctor for your child. Choosing the right pediatrician is crucial.
So, what does a good relationship with a pediatrician look like? According to Stanford Children's Health pediatrician David Wanderman, M.D., it's built on trust. Since your pediatrician is there to help your entire family, you should feel seen, heard, and respected by them. Ideally, you should also like the person treating your child — and maybe even look forward to appointments.
As broad as a pediatrician's job is, there are a few things you shouldn't expect from your child's primary care provider. For one thing, even though this person knows your child's medical history better than anyone else, they won't treat everything. Like your own primary care provider, pediatricians are generalists. So, if your child's issue falls outside the realm of their expertise, you might need to head to a specialist.
"We won't manage every issue on our own in our office," says Wanderman. "If you have an issue that needs to go to a specialist, whether for physical or mental health, we'll send you there and help you manage that with them."
And while your child's doctor is there to provide options for you, they're not going to make decisions for you — or settle disputes between you and your partner about the best medical choice for your child, whether you're trying to decide about a round of antibiotics, when to do a medical procedure, or whether it's safe to send your child back to school during the pandemic. "Our role is to make sure you have all the information to make an informed decision, but we can't make that decision for you," says Wanderman.
As with any relationship, it's only natural for the occasional concern to surface. Maybe your normally polite doctor was curt with you during a sick visit, or you left a well-child appointment without getting all your questions answered. While your child's doctor could certainly be to blame, don't immediately hop online to leave a one-star review. Remember: It's a two-way relationship.
"Ask yourself, 'What do I do I bring to that relationship that might be a problem?" suggests Jack Maypole, M.D., a pediatrician at Boston Medical Center. "Were my expectations reasonable? Was I cramming 75 minutes of questions into a 20-minute visit? Was I listening to what the doctor was saying?"
While some situations may warrant a resolution-seeking conversation between you and your child's provider, in other scenarios, it might be reasonable to search for a new pediatrician. Not sure if it's time for your family? Here are eight signs it could be time to find a new primary care provider for your child.
1. It's Not a Collaborative Relationship
If you frequently feel your pediatrician is making health decisions for you, or that you frequently leave the office feeling like your voice or opinions don't matter, you might be better off with a different doctor.
Yes: Some medical situations require specific approaches, and your doctor's the expert. But Wanderman says there's more gray area in pediatrics than you might think, and a good pediatrician should collaborate with a family to determine the best path forward for their unique situation.
For example, maybe your child's ear infection doesn't need to be treated immediately with antibiotics, or you can safely delay a medical procedure without major health consequences for your child. A good pediatrician should lay out the options, then help you make a choice.
"It's so important that you and your child's doctor can have trust-based discussions," Wanderman says. "It should be a collaborative conversation, where you come to a mutual agreement that makes most sense for your family."
2. You Find Yourself Seeking Medical Advice Elsewhere
Since trust is the bedrock of a healthy doctor-patient relationship, you want to make sure you trust your child's doctor to do what's best for your child. One sign you might not trust your doctor's expertise or care for your child is that you consistently seek second opinions about the pediatrician's advice. Maybe you talk to another doctor, ask a friend, or resort to Dr. Google. None of these is a good sign.
"Your pediatrician should be top of your list for trusted sources for medical and child-based decisions," Wanderman says. "If you're seeking out other sources to make that decision, then maybe your pediatrician isn't the best fit."
3. The Pediatrician's Office Is Consistently Inconvenient
At times, maybe the issue isn't with your pediatrician at all but rather the office setup itself. If the infrastructure of the clinic leaves you frustrated on a normal basis — or, worse, you're not able to get the care you need for your child — you might think about making a switch.
Logistical issues could be as small as not getting calls back quickly or inconvenient appointment-making processes. Access issues could also impact your family, especially during the pandemic. Does your pediatrician's office offer tele-health? Is there an online portal where you can easily message your doctor about concerns? If you've mentioned your concerns and preferences but nothing is changing, you might want to consider a more convenient scenario.
"These days, what kind of access you have makes a big difference," says Wanderman. "It's nice to have alternative options when people don't want to go into the office if they don't need to."
4. You Don't Like the Pediatrician's Communication Style
Bedside manner matters as much as a doctor's expertise. If you don't click with your doctor, you might be less likely to trust them, which could impact whether you follow their advice or come back for routine check-ups.
One thing to look out for: Does your doctor's communication style match your own, or at the very least, work for you? While you can resolve conflicts or other issues with your child's doctor, it's not likely that their personality will change.
"Your child's doctor should be approachable and understandable to you," says Maypole. "People should feel the clinician's style and approach — including the manner with which they convey information — is compatible with their own approach."
5. You Leave Feeling Ashamed or Blamed
Obviously, blatantly abusive or inappropriate behavior is reason to find a new doctor (and report the incident). But even more subtle behavior from the pediatrician can leave you feeling uncomfortable. For example, your doctor shouldn't make you feel silly for airing your anxiety or blow off your concerns about a medical issue.
Instead, look for a compassionate, understanding clinician who hears your concerns without resorting to condescension and offers helpful solutions (even if that means a gentle reality check). "No one wants to feel like they're getting patted on the head by their provider," Maypole says.
6. The Clinician Seems Unengaged
Doctors are busy, so it's not always realistic to expect a deep connection at every appointment. Sometimes, your pediatrician might be running behind or simply having a bad day. (Doctors are humans, too.)
But if your clinician generally stares at the screen instead of you and doesn't engage you and your child, you might have reason to find a new doctor. Maypole says good pediatricians should be joyful in what they do, which means they'll be interested in your family beyond the medication and allergy list.
"If I'm doing my job, I'm tuning into what's going on with the whole family," he says. "I don't want you to feel like we left without answering all your questions."
7. Your Kid Wants to Switch
A bit of pushback when it's time for a shot is one thing. But If your child consistently dreads seeing the pediatrician, there might be a deeper issue there.
Maybe your child doesn't jive with your pediatrician's personality or communication style. Perhaps your older child liked the pediatrician, but your younger one doesn't. Or, maybe it's a developmental issue, and your pre-pubescent kid is growing squirmy at the thought of a lady doctor examining his genitals.
Maypole encourages families to be flexible if this is the case. Maybe you don't have an issue with the pediatrician, but remember, it's a relationship that impacts the whole family. It's important for your child to feel just as comfortable at the doctor's office as you do.