New Fathers Lose Testosterone. Should They Really Want It Back?
New fathers often experience a decline in testosterone. But is there a method to the biological madness?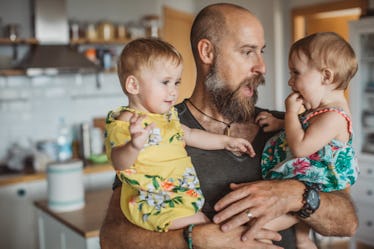 svetikd/Getty
The end came when Ross was watching an animated movie. He thinks it might have been Trolls, the 2016 DreamWorks film about a village of spikey-haired creatures based on the popular toy fad of the '90s. There are lessons about love and friendship, and moments of troll despair, and music by Justin Timberlake. In the midst of it all, Ross — who prefers not to use his last name — began weeping. "It was just a stupid kid's movie," he says. "The heartwarming stuff, you can kind of relate to it now."
Born and raised in Ontario, Ross's daughter came into the world in January 2015. During his wife's pregnancy and his subsequent status as a new parent, Ross put on weight, felt run down, and found himself longing to go to bed earlier and earlier. Some of these things might be attributable to sympathy symptoms for his wife, who bore the physical brunt of childbirth. But other sensations might be the result of a precipitous decline in testosterone, the hormone dominant in men that fuels aggression, builds muscle, and steels us against the emotional tug of cartoons.
Ross is one of many millions of new dads who'll experience a marked decrease in his testosterone production. But why would biologic processes try to emasculate them? And should new dads want any of it back?
Ask a scientist who has studied the phenomenon of this sort of new dad castration and you'll garner considerable insight into its effects, its benefits, and its misconceptions. What you probably won't get is an exact explanation as to how it happens.
"We're not really sure what the mechanism is," says Robin Edelstein, Ph.D., an associate professor of psychology at the University of Michigan and the lead author on a 2016 paper examining the role of reduced testosterone in new fathers. "We see it in other mammals, so it's not likely psychological. We think it has something to do with interacting with a pregnant partner. It's beneficial from an evolutionary perspective. When fathers are more likely to show a response, the offspring is more likely to survive."
Edelstein's study examined same-sex 27 couples from the first trimester on and performed salivary tests on men that measured testosterone levels during and after their partner's pregnancy. As the female continued to carry the child to term, men experienced an average 17 percent reduction in testosterone. The more it dipped, the more researchers found that it correlated with a greater involvement in the family unit. Men reported more interest in caring for the child and supporting their partner and less interest in cheating, leaving, or being a bystander. Other studies have shown a lower likelihood of divorce and a greater investment and commitment in the relationship.
Collectively, the data concludes that less testosterone appears to equal happier, playful dads. "The men who showed a larger decline reported doing more at home and women happier with the help they were getting," Edelstein says.
The drop is both conditional—the partner is pregnant—and situational. Using the same salivary tests, researchers have noted that men will see immediate dips in testosterone when tending to a crying infant, bathing them, or reading to them. In a significant study conducted by Northwestern University and published in 2011, fathers who spent more than three hours daily with their children experienced as much as a 34 percent reduction when compared to single males, who might have seen just a 14 percent decrease.
Lee Gettler, Ph.D., a professor of anthropology at the University of Notre Dame and lead author of the study that looked at more than 600 men from the Phillippines in their 20s, says that part of the reason is exposure to singular experiences—the situations that can only be present as a new father. "Those hormonal systems… respond to our social experiences, such as watching our partners go through a pregnancy or a birth, hearing our babies laugh for the first time, or our dealing with our kids being bullied at school," he says.
Testosterone is not the sole source of the changes in behavior, adds Chris Kuzawa, Ph.D., a biological anthropologist and professor at Northwestern. "New parents often form tight emotional bonds with their new child, which are encouraged by changes in other [nurturing] hormones like prolactin and oxytocin," he says. "All indications are that the hormonal changes that new fathers experience have been shaped by evolution because they've been important to human survival in the past."
Biologically, humanity seems to understand that lowered testosterone makes it less likely for a father to shirk responsibility, ignore his child, run around on his spouse, get a divorce, or ignore chores.
"Studies have shown that men with lower testosterone are more likely to respond favorably to recordings of a crying baby, suggesting that they have greater attentiveness and empathy," Kuzawa says. "It seems likely that, in the context of a healthy loving relationship, lower testosterone levels might encourage bonding and offspring care while promoting behaviors that reinforce and strengthen the relationship."
That evidence may be encouraging for dads who have been feeling the effects of lowered hormones, including fatigue, emotional vulnerability, and weight gain. It all ultimately invites concerns that new dads will also be asexual, somnolent heaps of tears.
But according to Kuzawa, that fear is overblown. "Among men who have testosterone levels in the normal healthy range, relatively big differences in testosterone do not necessarily predict differences in traits like libido or frequency of sex," he says. "The testosterone declines that most men experience with new fatherhood are generally within this normal range."
In other words, you might indeed be having less sex, but that's more likely to be the result of lack of time and sleep disruption, rather than hormonal changes. According to Gettler, testosterone and libido is often over-correlated. "You need some testosterone for a healthy libido," he says. "But, within the normal range of testosterone between men, which is really wide, testosterone is not strongly related to libido.
In his work, Gettler and his team did find that as men transitioned to fatherhood, the more their testosterone declined, the less sex they reported with their partners but they don't know if it's decreased libido. "There is a host of other reasons that relationship could exist. Maybe it simply reflects shifting priorities, time constraints, and new demands in the short-term when babies are young."
That remains true, Gettler says, "no matter what 'low-T' commercials tell us." In an age where that biomarker is becoming stigmatized thanks to anti-aging marketing and hormone replacement in aging but otherwise healthy men, is even a mild dip in testosterone going to be tolerated? And what happens if new dads decide to start fighting back?
In Northwestern's research, fathers with a child less than one-month-old experienced the greatest dip in testosterone. As a child grows older, there's evidence of what Kuzawa dubs a "hormonal rebound." Biologically, there's less need for nurturing as a child slowly grows more independent. Better diet and more sleep might also be contributors.
But even in men with precipitous declines, researchers believe that paranoia is unwarranted. A decline isn't synonymous with a drastically different life, and attempts to "cure" it by buying into the hype of testosterone therapy might do far more harm than good.
"I certainly do not think it advisable for young fathers to supplement their testosterone to reverse the normal declines in the hormone that many new fathers experience," Kuzawa says. "There are health risks associated with testosterone replacement, and past studies suggest that having higher testosterone levels could have other downsides, such as blunting one's attentiveness to their new child and possibly even increasing the likelihood of divorce."
Sari van Anders, Ph.D., an associate professor of psychology and women's studies at the University of Michigan, says that thinking of testosterone in absolutes is a mistake. "There is an ingrained notion that high testosterone is good for men and many people actually financially profit from the insecurities these messages lead to," she says. "I would argue that, in our culture, men would benefit from questioning the messages that their value rests on their masculinity and look towards multiple ways of finding meaning in their lives."
As for a dreaded drop in athletic ability, Gettler again cautions dads to be wary of the hormone pharmaceutical sales pitch. He cites a study by Louis Alvarado, a fellow biological anthropologist, that found new dads working manual labor jobs were stronger than their childless counterparts. It's activity, not the hormone, that will keep strength up. "In my opinion, speaking as a scientist and personally as a father of two young kids with quite low T, for what that's worth," Gettler says, "the bigger constraint is time to train, rather than[having the] testosterone to train."
Finding time, of course, is another issue. But for men skittish about feeling less themselves as a result of child-rearing, it's probably better to place their trust in human evolution.
"There is nothing less manly," Kuzawa says, "about being a good father."
This article was originally published on