Turn The Playground Into A Full-Body Workout With Tips From A Spartan Race Champ
"Dad, can you put me down now?"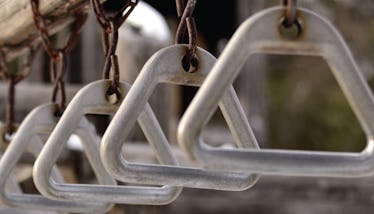 Your usual excuse for not working out is that chasing after your kid is cardio. That's adorable, but pushing toddlers on a swing or pulling yoga moves to crawl through a plastic playground tube isn't the pint-sized equivalent of a CrossFit box you think it. That doesn't mean you can't work out while your kids play — you just have to remove the word "jungle" from the jungle gym.
Robert Killian does this all the time. The 2015 Spartan Race World Champ (it's an obstacle course competition, like Tough Mudder, but tougher) and father never misses an opportunity use the play equipment like a workout circuit. After Killian shows you how to chisel your dadbod on a bunch of swings, slides, and see saws, you'll start looking at the playground more like a proving ground.
To be fair to you, this only works if you're willing to be "that guy" who's doing pull-ups while the other playground dads are sipping iced coffee in the same clothes they woke up in. To be fair to Killian, if you looked like him, you wouldn't care either.
Swing Set Chin-Up Bar
Push your kid to get them started. Once they've got some momentum going, you can grab the crossbar of the top of swing set to start your workout. Traverse the bar to work on your grip strength, or fire off a few pull-ups. Jump down and push your kid to get them going fast again, and repeat. It's like natural interval training and, if you go too slow, your kid will star whining. That's natural motivation.
Alternatively, get them going, drop down and do 5-10 burpees before pushing them again. Repeat until you're exhausted. "This will help build upper body strength, core and the glutes," says Killian.
Monkey Bar Dead Hang
With older kids, you can have a competition to see how long you can dead hang on the monkey bars. If the kid thinks that boring (the kid is right), have them count and encourage you to push your time, all of which will boost grip strength, Killian says this is a fundamental strength by any measure, whether you're traversing Olympic rings in Spartan Races or applying it during other exercises like sandbag lifting.
Monkey Bar Push Ups And Muscle Ups
Buy a pair of gymnastics rings for about $30 and bring them with you. You can hang the rings from monkey bars and do a few muscle-ups.
You can also hang the rings so that they rest 2 to 3 feet above the ground. That's the right height for doing elevated push-ups (where your feet are in the rings and your hands are on the ground) and elevated crunches (where you assume the position of the elevated push-up but crunch your legs to your chest while maintaining straight arms). Killian suggests trying 3 sets of 30 to 50 elevated crunches done at a fast pace, with 30 seconds of rest between sets. Optional: Crying in the fetal position.
Bucket Carry Balance Beams
Balance beams are great for "resting" activities between sets of other exercises. Killian suggests walking them when your heart rate is already high, to maximize your time when not performing more lung-busting moves.
For stronger dads (you know who you are) and brave kids under the 50-pound range, you can use your children like free weights. Lift your kid up and hug them to your chest — similar to a bucket carry during a Spartan race — and cross the beam 3 times. If needed, rest and repeat. "You'll really work your lower back," says Killian. That would be the body part that is killing you because it's not strong enough.
Rock Climbing Wall Agility Test
If your playground has a small rock wall, you can traverse it from side to side to practice placing your hands and feet precisely and efficiently. "Look at each grip as you hold it and focus on where you're going to place your hands and feet. In a race, that's so important," says Killian. It's also important so you don't fall on your ass while hanging off a wall.
Platform Step-Ups
Most playgrounds up small platforms or logs for your kids to climb up, but you can do step-ups on them. Killian will put his kid on his shoulders, or holds them to his chest, and place one foot on top of the platform. Step up, step down. Repeat 10 times, or until burning sensation takes over. Do 3 sets, for a total of 60 step-ups.
Sandbox Sandbag Overhead Press
Buy an empty sandbag from the hardware store and bring it on your next playground workout. Fill it up with 20 to 40 pounds of sand (you're only borrowing it; the playground won't miss the sand). "It's ridiculous how many workouts you can do with a sandbag," says Killian. One of the easiest is an overhead press. Or carrying the bag at your chest (the same way you did the bucket carry) for 50 to 100-yard intervals. Pay no attention to kids who are calling you a sand burglar.
For a more intense, lactic-acid-releasing variation, do 3 sets of the following:
10 squats while holding the sandbag to your chest
10 times dropping the sandbag, picking it up, and lifting to your chest
10 Turkish get-ups with the sandbag on your shoulder
Optional: After completion of one set, carry the sandbag for 50 to 100 yards for "recovery." Or rest for 30 seconds to a minute.
Multiple Playground 5K
Rather than staying put in a single park or playground, for dads with little ones in strollers Killian recommends running between playgrounds. Since Spartan races cover 4 to 15 miles of distance, he looks for various obstacles around the neighborhood a half-mile to a mile apart . "Since you're fatigued when you first get to a new one, it's a great way to add endurance training and get multiple workouts," he says.
Mix and match specific workouts at the playgrounds, and use that run time to build up endurance. If the playgrounds aren't far apart enough for a taxing workout, you can always wear a 16-pound weight vest while running. Or, as you call it, a baby.
This article was originally published on