I'm An Alcoholic Father. Sobriety Saved Multiple Lives.
Things got worse before they got better, but the important thing is that they got better.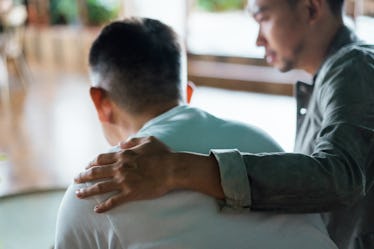 AsiaVision/Getty
My name is James, and I'm an alcoholic. I'm 36-years-old, have been married for nearly 12 years, and I have three beautiful daughters aged 9, 7, and 5. I'm also a stay-at-home dad. I've been sober for 571 days as of writing this (July 26, 2019).
Drinking for me was a release. I needed it. Hanging out with babies and watching Nick Jr. can take its toll on a man. At least that's what I would tell myself. There was just this feeling like I was always "working" when it came to looking after the kids and trying to keep up with house stuff. For the first eight years of fatherhood, that was a good excuse to have a drink. Before I quit, I would joke about being a high-functioning alcoholic. It wasn't really a joke. And I don't know that I was too high-functioning. I was being a terrible husband and a terrible father. I didn't have any control over myself.
In order to get control, I had to quit. And I knew that was going to be difficult. My wife and I are known for having these great themed parties: 4th of July block party, Halloween/fall festival party, Oktoberfest party… And all of those events revolved around drinking. And it was at those events that I was really spinning out. So, after an embarrassing holiday season, I decided to stop drinking.
This story was submitted by a Fatherly reader. Opinions expressed in the story do not necessarily reflect the opinions of Fatherly as a publication. The fact that we're printing the story does, however, reflect a belief that it is an interesting and worthwhile read.
I quit drinking cold turkey as the calendar flipped over to 2018. The last beer I had was a bourbon barrel one — one of my favorites.
I didn't get sick the first few days, and I didn't have DTs or anything like that. I just slowly came to realize that drinking wasn't my only problem. It was masking the real problems: depression and anxiety. All the social things that I had to do felt like these impossible tasks that no human could complete sober.
After that first month, my wife thought I was going to start back drinking again. I had done a "dry" January in the past. I hadn't told her that I was done for good. I hadn't even said the words out loud: "I'm an alcoholic." I hadn't hit my bottom yet. That took a while.
During those first six months, I nearly lost everything I care about. We were on vacation and I got in touch with an old girlfriend. It wasn't the first time I'd done something stupid, but I was still thinking I didn't deserve my life. When we fought about it — a bad fight, the worst fight — I hit rock bottom and a cabinet, breaking my hand. I had to drive myself to the ER. I was depressed. That's even harder to quit.
It's hard when you realize you've missed things. After I got sober, I was helping my wife get our house decorated for one of our yearly parties, and she asked me to get a table cloth. I didn't even know we had a table cloth. It was a small thing, but that stuck. I had spent years not knowing about a table cloth. What else had I missed? That thought alone was enough to make me want a drink.
I'm lucky in a lot of ways. My wife is patient, and my kids won't ever remember me drinking. I didn't kill myself on the way to the hospital. I was ready to end it. I decided not to, I don't know why. Maybe I was too afraid. Maybe I'm a coward. Maybe it just wasn't my time.
I haven't taken a single day for granted since that night. The time I spend now with my wife and kids is always the best time. I'm noticing the little things. I don't feel the need to wind down afterward. I'm the one suggesting a trip to the beach or the mountains. My wife actually just told me the other day that she likes doing stuff with me. It made me both happy and sad. I know that I have come a long way; I know that I still have a long way to go.
Here's what I've learned: If you think that you have a drinking problem, you most likely do. If you think you know someone that has a drinking problem, they probably do. We need help and second chances. People sometimes need help being loved so they can give love. Talk to people. Be honest. It helps more than you know.
This article was originally published on