How My Husband And I Use Technology To Connect With Our Autistic Son
Maryam Scoble struggled to connect with her autistic son, but she explains how technology allowed her son to express himself and learn to bond with people.
by Maryam Scoble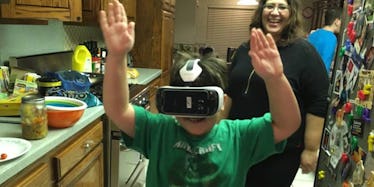 Maryam Scoble
Our son Milan is a sweet, cuddly and smart 8-year-old boy who is on the autism spectrum. He was diagnosed with autism along with Apraxia (a speech and language disorder) before he turned 3. It's hard to tell Milan has autism, if you observe him when he is quietly watching his YouTube videos on his iPad or playing games. He looks like any other child in that age range, especially in the Silicon Valley.
He doesn't talk very much though and won't look you in the eyes even if you are talking to him. If he gets excited, in new places, or with crowds, he will run around excited clapping his hands and making excitable sounds. You'd know then that he is stemming like most other children on the spectrum do.
The iPad has been a life-saver for us. Milan learned his alphabet and numbers from the various preschool apps on the iPad. He would trace the alphabets, or hear the app say the sound of the letter and mimic that.
He loves watching his favorite cartoons on YouTube, and keeps repeating his favorite parts. Some of his favorite cartoons are Thomas the Tank Engine, Wubbzy, The Annoying Orange, SpongeBob, Tom and Jerry and Uncle Grandpa and the Magic School Bus.
Over the years he has played with many games on the iPad and mastered them. He used to like playing Angry Birds, Temple Run and Cut the Rope. He now plays with Goat simulator and RoBlox, but his favorite is Minecraft and Minecraft Story Time.
He loves playing with the Camera app too, taking pictures and videos and also playing with different filters to make silly pictures.
As he is learning more and more how to read and write, he can type in his own search words on the iPad so he can search for his favorite topics. He likes reading books too, and recently we saw a demo of Campfire: getcampfire.co by Kyle Kesterson that makes reading books with your kids so much fun by adding sound and light to the story. We can't wait to share that with our kids.
My husband, Robert, is super excited about VR and what it means for gaming and everyday life and how it would change Milan's life. In one way we think Milan would enjoy this immensely and in one way we are scared that he would be more isolated and spend more time away from us and his peers.
Some parents may feel that we should not allow kids on the spectrum to have too much screen time. Milan spends his days in special education classes at school and then after school in various activities and therapies and is usually occupied until around 5. The last few hours of the evening between homework, dinner and bath, he will have some time to chill with his iPad.
He is also allowed to have his iPad when we go to restaurants, so that we can sit down and enjoy a meal as a family without others in the restaurant staring at us because our child is clapping his hands loudly and running around. The funny thing is most kids are on their iPads/tablets anyway. He has also learned to play games with his little brother and his cousin on the iPad like Minecraft and they bond together with that too.
Although it may seem that technology may be isolating, it has helped us in many ways with our son, and we are grateful.
This story was written for The Fatherly Forum, a community of parents and influencers with insights about work, family, and life.
Maryam Scoble is an event and conference organizer from Half Moon Bay, CA. Her husband Robert is entrepreneur-in-residence at Upload VR.
This article was originally published on