How to Make Your Face Look Less Tired After An All-Nighter
Aside from staying hydrated, chugging caffeine, and getting more sleep (go figure!), your best solutions come packaged as grooming products.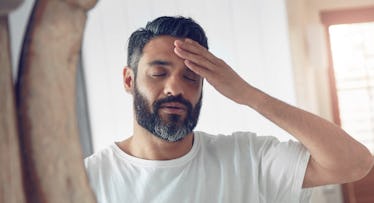 It was one of those nights. Maybe your colicky kid was up until the wee hours. Maybe your toddler accidentally had caffeine before bed. Maybe you decided to tie one on with your coworkers. Whatever the case, your face bears the telltale signs of exhaustion: dark under-eye bags, deep lines that make your face look like some sort of road atlas that maps your lack of sleep. You have to go to work, but there are ways to conceal the effects of exhaustion so you don't spend the entire day fielding questions about why you look so beat.
When you go without sleep, your body amps up cortisol production to boost energy and combat stress. This in turn increases blood volume throughout your body and, because the skin is so thin around the eyes, the blood vessels sitting just below the surface become inherently more visible. The cortisol spike also throws off your body's salt balance, which means the fluid sacs under your eyes retain more water, swell, and make you look like you spent all night slugging comp drinks at the Golden Nugget craps table.
Aside from staying hydrated, chugging caffeine, and getting more sleep (go figure!), your best solutions come packaged as grooming products. Here are three ways to attack your exhausted mug.
1. Minimize Puffiness and Brighten Dark Circles with an Eye Cream
If you wake up with swollen, dark eyes (or if you barely fell in the first place), then your most immediate, effective fix is a multi-purpose eye cream. A good one does it all, usually with the help of caffeine- and nutrient-dense formula: It de-puffs the baggage, brightens dark circles, and nourishes parched skin. So, while moisturizing your skin during your usual morning regimen, skip the under-eye area and then treat it with a site-specific cream. Simply pat one drop of cream under each eye with your ring finger. (The logic there is that the ring finger is the clunkiest to move, so it's also the gentlest one. And since the skin here is so sensitive, you should be as gentle as possible.)
We Like: AHAVA's All-In-One Cream
Fight Signs of Aging with a Night Serum
Most of your "look less tired" solutions are instant fixes—like how that cup of coffee fills the void of lost sleep. However, if you want to reverse or prevent any perpetual exhaustion from your face, it's just as important to play a long game. Right up there with "drink more water" and "drink less alcohol", is use a night serum. Find one with retinol. Serums are lightweight and penetrate all three layers of the skin to nourish cells. Retinol, a topical Vitamin-A, is every dermatologist's go-to for anti-aging or age-reversing benefits. Even if the tyke wakes you a few times overnight, you'll wake each morning with firmer, brighter skin (these are both good adjectives when talking about your complexion). Since your cells regenerate overnight, the bedtime application ensures that you're getting magnified restorative results. One important thing: Apply it to cleansed skin, and cleanse again in the morning. Your skin will be more sensitive to sunlight if you don't wash the retinol away.
We Like: Dr. Dennis Gross Ferulic + Retinol Triple Correction Serum
Just Fake It with a Camo Stick
Sometimes, your eyes look so tired their sage can only be cured with a full night's sleep. Since you'd rather not entertain colleagues' observations of said exhaustion, then it's worth buying a skin-matching camouflage stick. It can cover up dark circles and hide the obvious signs, even if you're begging on the inside for a nap And if your gut reaction is that "you don't wear makeup", well…it's not like we're asking you to wear purple blush here, buddy. You can leave the raccoon eyes on full display, or you can make them go bye bye. You choose.
We Like: MENAJI's roll-up applicator
This article was originally published on