It's Time to Get a Primary Care Doctor
One in four men don't have a primary care doctor in the U.S. This pandemic shows this needs to change.
by Lexi Krupp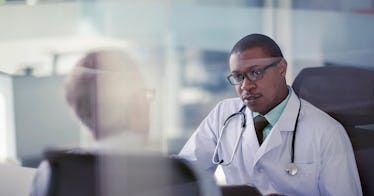 For the one in four men who don't have a primary care doctor in the U.S., the coronavirus pandemic should be a wake-up call. With a virus circulating the globe that mostly targets the elderly but also indiscriminately strikes young, healthy people, having a doctor who knows you and who you can call on without walking into a clinic is crucial for personal health. It also makes hospitals and emergency rooms safer and more effective. It's time to add one to your roster. We'll wait.
Right now, the most obvious benefit of a primary care doctor has to do with social distancing. Their offices are typically less crowded than clinics, and most visits can take place by phone or online. With far fewer people walking in the door, many offices are set up for patients to go straight into the exam room, and others have removed chairs in their waiting rooms to ensure ample personal space.
Nowadays, primary care doctors only see patients in-person for rare, medically-necessary visits (like removing sutures or for wound care) — virtually all docs are holding appointments online or by phone. That hasn't always been the case. Before the pandemic, "telemedicine wasn't on our radar," says Dr. Ada Stewart, a family physician at Cooperative Health in South Carolina and president-elect of the American Academy of Family Physicians. "Now it's wide open. We're all doing it," she says.
The same is true in practices across the country. "We've all been hoping for telemedicine for a long time," adds Dr. James Heckman, a primary care doctor and assistant medical director at Healthcare Associates in Boston. "COVID kind of forced the issue."
A relationship with a primary care doctor goes beyond annual appointments or drop-in sick visits. They can be a trusted resource for medical questions, COVID-related, or otherwise. "Once you have a primary care doctor, you have a doctor on retainer," says Dr. Olveen Carrasquillo, chief of general medicine at the University of Miami Health System. If you hear a dubious medical claim, you can just shoot your doctor an email or give them a call. "We get that all the time, 'Hey, I just saw this on TV, what do you think about it?'" Dr. Carrasquillo says.
Another benefit primary care doctors offer has to do with preventative medicine. Your doctor is there to help you figure out if you're at risk for certain diseases, pick up signs of depression or anxiety, and manage other chronic conditions. They provide flu shots, tetanus shots (you should get one every ten years), colonoscopy exams (screenings should start at age 50, for most people), regular physical exams, and when the vaccine for the coronavirus finally rolls out, your primary care doc will have those too.
"We're going to be on the front lines being the ones that are able to offer this," says Dr. Stewart. "And encouraging patients to be vaccinated, just as we do with other vaccines that are out there."
How to Get a Primary Care Doc, Virtually
If you get a primary doctor now, your first appointment is almost certainly going to be virtual. That first visit is about reviewing your medical history, figuring out a health care plan, and beginning a new relationship. "Most of that can be done over the phone or with a video visit," says Dr. Heckman, of Healthcare Associates. "Once we're able to provide safe in-person care for routine things, we'll bring you in to do a physical exam and do the handshake, which is the most important thing."
But there are a few ways you can prepare. Start by writing down your medical and surgical history. ("People forget a lot of stuff," says Dr. Carrasquillo.) Have your pill bottles on hand, so you can be sure of the names and dosages of your medications. Take note of what issues you want to address, and try to carve out a private place where you feel comfortable talking with your doctor. Finally, have your insurance information ready, or if you don't have insurance, have a social security or unemployment statement, advises Dr. Stewart.
And for patients who need their vitals taken or lab work done, your doctor will help you work out a plan. They can arrange a visit to a nearby commercial lab, or figure out creative ways to monitor your breathing or check your blood pressure. "Don't worry about not having what you need," reiterates Dr. Heckman. "We'll troubleshoot. The best thing to do is just call us—reach out to us."
This article was originally published on