After Son's Tragic Death, This Doctor Fought For Backup Camera Law
In 2002, Dr. Greg Gulbransen accidentally backed over and killed his young son. He turned his agony into activism and fought for backup cameras in every car.
by Adam Bulger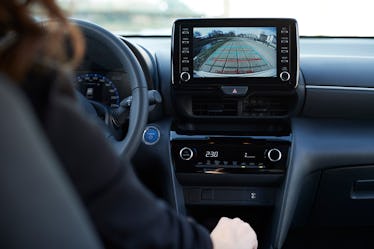 Westend61/Getty
Shortly after 9:30 p.m. on an October night in 2002, Long Island pediatrician Greg Gulbransen, M.D., backed up his car as he tried to park outside his condo. The Oyster Bay, Long Island pediatrician was sober and drove slowly that night, checking both his side and rear-view mirrors before backing up. He was a caring father and a driven man working hard to build his medical practice and help families. But his precautions and character couldn't prevent a parent's worst nightmare from happening: That night, he accidentally backed over his 2-year-old son Cameron, who had crawled beneath the vehicle.
"There, in front of me in the headlights, was Cameron," Gulbransen said. "He was lying on his back with his blue blankie in his hand. He had gone under the vehicle, I had gone right over his head and killed him. I jumped out of the car, tried to do CPR." Gulbransen can still taste his blood in his mouth and remembers the way Cameron bled from his nose and ears. "I knew at that moment he was dead."
No one would blame Gulbransen if he tried to block that moment from his memory forever. But instead, to honor his lost son, he's relived it over and over in public for 14 years. Working with public interest and safety advocacy groups, he successfully pressured the federal government into passing safety regulations aimed at preventing backover accidents like the one that took Cameron's life. After years of work and legal wrangling, the law finally took effect in May 2018.
According to the National Highway Traffic Safety Administration, an average of 210 fatalities and 15,000 injuries are caused every year by backover crashes similar to the one that took Cameron Gulbransen's life. Just under a third of the deaths involve children under 5. The automobile safety child safety advocacy group Kids and Cars says most backover accidents occur in driveways and parking lots; 60% involve large vehicles with poor rear visibility like trucks, SUVs, and minivans.
The newly enacted law dictates that all cars, buses, and trucks that weigh less than 10,000 pounds manufactured or made to sell in the United States are required to have rearview video systems that allow drivers to see a 10-foot by 20-foot zone directly behind the vehicle.
Prior to this legislation, the automobile industry didn't have set standards for rear visibility. They could sell vehicles with no rear-view mirrors or no windows going out the back, and it would be completely legal and almost certainly fatal.
"You'd never go forward with the same poor visibility you have when you're going backwards," Gulbransen said.
Janette Fennell, president and founder of Kids And Cars, worked closely with Gulbransen, who she described as "an incredible human being."
"The worst thing that can ever happen is the death of your child. Everyone agrees with that," Fennell said. "Well, ratchet it up about a hundred points here. You're the one who did it. Try living with that."
Indeed, Gulbransen says the pain is inexpressible. "It was a like a bullet, it was like a drill right in my head. I've never been able to find a word in the English language that explains the feeling of immense loss."
No one would have blamed Gulbransen if he curled up in a ball and gave up. But he was driven by his sense of duty as a father. "As fathers, our responsibility is to care and provide, and keep everybody safe and sound," he said. "When [Cameron] died, that mission became very intense because you can really doubt your ability to be a good person, be a father and a parent."
Gulbransen channelled his grief and self-recrimination into action. His first thought was to hire a big Manhattan law firm to sue his car's manufacturer and the dealership, but he realized a civil suit would almost certainly entail a gag clause preventing him from talking to the media or testifying before public officials. If he agreed to be silent, it wouldn't be effective.
"So I said, 'I don't want the fucking money,'" he says. "I'm going to take the hit and I'm gonna show you what I did, and I'm going to change the world. And that took 15 years."
As Gulbransen was a pediatrician and a visible member of his Long Island community, his outreach quickly yielded a response. "I went with an associate from Consumer Reports to Capitol Hill to talk to representatives and Senators and when we met with [New York Congressman] Peter King's office, the very next morning we got a call back saying that King would like to get involved and he would sponsor a bill to help prevent these backovers," Fennell said.
But although King and then-Senator Hillary Clinton got on board early, resistance from automobile makers made sure that results came slow. King and Clinton introduced backover safety legislation in Congress and the Senate in 2005 and Congress enacted the Cameron Gulbransen Kids Transportation Safety Act in 2008, requiring federal transportation officials to write a regulation to correct vehicle rear visibility problems. President George Bush signed the bill into law. But the the bill languished, thanks to the Office of Information and Regulatory Affairs.
Although automobile manufacturers claimed the cameras were too prohibitively expensive to implement industry-wide, Fennell contends that the cameras are actually inexpensive, averaging about $8 per camera and more for a monitor. Indeed, aftermarket backup cameras and monitors that fit almost all cars sell for as low as $30. But car dealerships didn't want to stop using backup cameras as luxury packages along with leather seats and other features to entice buyers to pay more for cars.
"That's really where people are making money on vehicles, selling vehicles today, grading people into higher level packages," Fennell said.
With the Office of Information and Regulatory Affairs holding up implementation of the bill, Gulbransen sued the federal government for the delay and continued calling for backup vehicle safety in government testimony, meetings with elected officials and the media. But keeping a high profile as the pediatrician who accidentally killed his son exposed him to public scorn.
"Some people would call my office and say, 'you have no business being a pediatrician,'" he said. "'You're just trying to make money on this, you're a bad person, you killed your son, you should go kill yourself.' It was pretty hard."
The setbacks were discouraging and the negative public response was difficult. Nonetheless, the memory of Cameron compelled Gulbransen to keep fighting. "As a father, how can I let my son down?"
The Department of Transportation (DOT) backed the backup camera law in 2014. After years of delays, Gulbransen and his allies finally caught a lucky break. They were scheduled to appear before the DOT the day before General Motors executives would answer questions about faulty ignition switches that prevented airbags from deploying during accidents, a lethal oversight that the National Highway Traffic and Safety Administration had failed to prevent. Gulbransen said it was a week that the DOT desperately needed a win. Facing heightened scrutiny from the press and public, DOT officials signed off on the backup camera law and scheduled it to go into effect in May 2018.
Fourteen years after tragedy, Gulbransen had his victory. Speaking shortly after the rule was enacted, Gulbransen was more than satisfied with the result. "I feel amazing," he said. "I feel like a good father."
This article was originally published on