The 5 Best Online Streaming Workouts That Bring The Gym To You
If you can't join 'em, stream 'em.
by Matt Schneiderman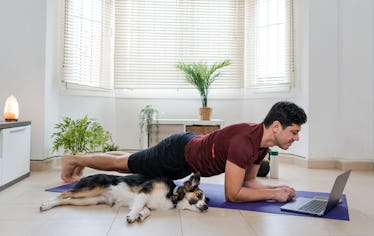 Rawlstock/Moment/Getty Images
Being a father changes everything, including the way you work out. While going to the gym every day is great in theory, the likelihood of it happening lessens with each new activity your kids start. The next best thing: streaming fitness classes.
A far cry from the Youtube videos of guys working out in weirdly lit basements, today's online workouts are portals that transport you directly into high-quality action. With them, you can see your real-time heart rate, hop into a high-intensity interval training session, or get screamed at by professional trainers while pedaling your spin bike — all from the comfort of your home. The best part? When you're done, you can hit your own shower.
Odds are you're already familiar with Beachbody thanks to the 450,000 affiliate "coaches" evangelizing on Facebook, hawking products like Shakeology and the cardio, dancing, strength training, yoga, and martial arts-based DVDs with titles like "P90X." With a focus on weight loss, a Beachbody on Demand subscription includes access to personalized meal plans, workout calendars, and, of course, hundreds of streaming workout videos — workouts with sweat-inciting names like "Country Heat," "Turbo Fire," the ominous "Insanity," and the even more ominous "Insanity: The Asylum." An included membership in the Team Beachbody Club grants additional access to online coaching, training, and counseling, as well as in-person training sessions at non-affiliated gyms.
Free 30-day trial, $60 for six months, $100 for a year; available for iPhone, iPad, Apple TV, Roku, Chromecast, and Amazon Fire
Best For Getting a Big City Burn: Fortë
Want to exercise like a real New Yorker? Short of sprinting city blocks to catch an express bus or purse-snatcher, your best bet is Fortë. This newly-launched service streams classes taking place in boutique Manhattan and Brooklyn exercise studios (and, inexplicably, one yoga studio in Salt Lake City), both live and on-demand. Most studios offer dance, boxing, core training, variations on calisthenics, and barre, so there's little-to-no need to buy special equipment. Interactivity and social integration allow you to track your performance in real time while comparing (and despairing) with other users. For better or worse, the service will eventually expand its offerings to include classes taking place in studios around the country, but don't expect a Milwaukee-based HIIT class happening anytime soon.
Free 30-day trial, $39/month, $99/year; available on most web-connected devices
No, Inferno HR does not refer to the office fire taking place in your human resource department. Rather, HR stands for heart rate, the measure of effort you're achieving while working out. The program integrates the live data from your standard Bluetooth-enabled heart rate monitor into your workout display, pushing you to target different heart rate zones for building stamina and burning calories. Trainers' heart rates are also displayed, showing just how much harder you should be pushing yourself in comparison to the professionals. The 4-week program consists of 4 high-intensity workouts.
Free 30-day trial, $15/month; available for iPhone, iPad, Apple TV, Roku, and laptop; requires a Bluetooth-connected heart rate monitor
Best For Experiencing A Real Gym: Crunch Live
Crunch Live is the first online fitness program to come from a national gym chain (though unlikely the last). Actual Crunch instructors lead you and real club members in Crunch Gym's most popular fitness classes including full-body boot camps, dance-based cardio, Pilates, and yoga — as well as "Throwback" classes no longer taught in the clubs — in 15- and 30-minute chunks. And though "Sweat in Stilletos" and "Chair Dancing," both part of the "Sexy Series" of classes, might feel ridiculous at the gym, working out with a Brooklynette cheerleader in the privacy of your own living room is an inspiring option.
Free 10-day trial, $10/month, $90/year; available on web-connected devices
Best For Cyclists: Peloton
Love spinning — er, cycling — classes, but hate other people's sweat? Bring a more hygienic version of Soul Cycle into your living room. All you need is a $2,000 stationary bike. Pricey, yes. But it's a gym-quality cardio machine that comes with a 21.5-inch Wi-Fi-enabled HD monitor above the handlebars that streams both live classes from Peloton's NYC studio and more than 3,000 archived classes, as well as displays your performance data. If you participate in one of the 10 or more daily studio classes, you will be a virtual member of the studio — the instructor can see your stats and will embarrass you personally as if you were in the same room.
Price: $39/month, plus $1,995 initially for bike
This article was originally published on