7 Ways To Give Your Workout Routine A Boost
Nobody — and no body — wants to do the same workout every day.
by Kristen Mae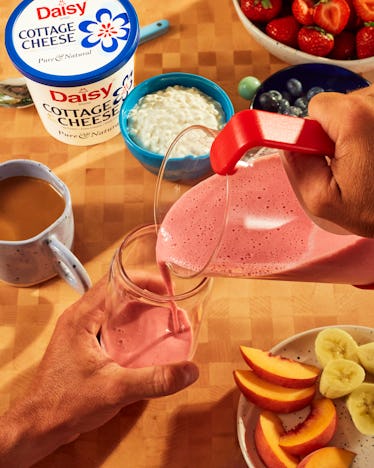 You already know that sticking to a solid routine is crucial for the maintenance of any workout regimen. And yet it's also critical to keep your mind, body, and spirit fresh with variation and new ideas. A few minor adaptations can add some much-needed flavor to your workout routine, whether that "flavor" is atmospheric or literal. Here are 7 easy ways to give your workout routine a boost:
1. Add A Time-Saving Protein Boost For School & Work Mornings
As a parent, you know how hard it can be to make time for you to eat breakfast. The kids need help with brushing teeth and tying shoes and the dog is giving you sad eyes because she wants a walk (you can't say no to that look). And you still need to actually get to work. One way to squeeze in a protein-rich breakfast is to mix cottage cheese with fresh fruit. It's the perfect balance of protein and carbs to fuel your workout, whether you sweat first thing in the morning or not till after the kids get to bed.
2. Try A Movement That's New To You
Routine may be important, but nobody — and no body — wants to do the same workout every day. It's a snoozefest psychologically, and our bodies tend to adapt to the same unvaried movement day after day. Add variety in the form of a different kind of movement. Are you normally a runner? Add in some weighted exercises before or after your run, whether with dumbbells or your own body weight. Do you normally gravitate toward lifting weights? (Get it? Gravitate? Weights?) Add some 60-second stints with a jump rope. Or schedule a session at your local rock-climbing gym — your brain will get an amazing workout and you'll discover lat muscles you didn't know you had.
3. Add A Protein-Packed Creamy Fruit Smoothie
Research suggests that the timing of your protein intake (before or after a workout) is less important than the actual consumption of it. But we do know it's important to get enough protein for muscle recovery, repair, and growth. We also know that a diet rich in protein helps us feel fuller longer, so we can keep our energy up throughout the day. A simple way to add protein to your day is with a post-workout smoothie. Try this simple and delicious recipe: In a blender, layer your favorite fruits like blueberries, strawberries, and banana (go for frozen if you prefer a thicker consistency). Add a scoop of cottage cheese, almond milk, honey or agave, and some oats for fiber and texture. Blend until creamy smooth. Bam — protein that tastes like a milkshake.
4. Incorporate Dynamic Stretching
When you're already in a time crunch with your workout, it's easy to leave off stretching even though you know it's important for maintaining flexibility and avoiding injury. So build your stretching into your workout. This is called dynamic stretching, and it just means that you work your muscles to their full range of motion during an exercise movement. For example, a lunge works your quads and glutes, but it can also offer a beneficial stretch to your hip flexors, glutes, and calves. You can add a dynamic stretch to just about any exercise — just make sure you're listening to your body and not pushing beyond your range.
5. Equip Yourself With Appropriate Gear
Whether you're a runner, a twice-a-week baller, or just getting into climbing, it makes a huge difference to have the right gear. Part of maintaining a consistent workout routine is actually wanting to do the routine. And who wants to work out with equipment that doesn't accommodate what you're actually trying to do? So, if you're running, get running shoes with proper arch support for your pronation. Basketball shoes if you're on the court. And climbing shoes for grip and toe protection if you're learning climbing. It's not just about having cool stuff, although that's obviously fun — it's about prioritizing your physical health.
6. Build In A Post-Workout Recovery Snack
As much as we would love to blend our favorite berries and protein sources into a delicious smoothie every day, there isn't always time for that. Sometimes a workout is a 15-minute blast on the treadmill at 6:15 a.m. before the kids shoot like cannon balls from their beds, or a rock climbing date squished into your lunch break. With a prepackaged protein and fruit snack duo, you can add nutrients and flavor to workout sessions squeezed in on even the busiest of days. They're perfect for stashing in the fridge at work so you can get a convenient, delicious snack with plenty of protein to refuel after a lunch-hour workout.
7. Give Your Tunes A Tune-Up
If you've ever been dragging yourself through the last few sets of a workout only to have your energy restored by a hype beat, you know the impact music can have on exercise. It's easy to lean on the same two-hour playlist you created when your fourth grader was still in diapers, but trust us when we say that branching out will infuse new life into your workout. Search playlists by decade, genre, or activity type. The options are nearly limitless.
You're prioritizing your physical and mental health by exercising, which means you're already ahead of the game. Add flavor by switching up movements, gear, and atmosphere, and fueling yourself with a protein-rich snack. Your workouts and your daily life will be all the better for it.
Photographer: Maria Be
Art Director: Julie Vaccaro
Prop Stylist: Adri Suarez
Food Stylist: Molly Corrigan
Wardrobe Stylist: Heather Newberger
Hair and Makeup: Maya René
Production: Danica Butkovich