4 Things Your Kid Can Learn About Success From Manny Pacquiao's Career
Pacquiao versus Mayweather is a study in contrasts between 2 fighters, but also 2 people — and only one of those people should be teaching anyone life lessons.
by Michael Howard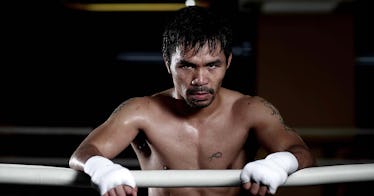 Getty
On Saturday night, Manny Pacquiao will fight Floyd Mayweather Jr. for the welterweight championship belt. Vegas has the undefeated Mayweather as the favorite, but if you're looking to draw some parenting lessons from 2 guys beating each other up, you'll want to concentrate on the 36-year-old underdog. While Mayweather's criminal record for domestic violence rivals his competitive record (6 arrests and one 2-month jail stint), Pacquiao is a well-respected congressman in his native Philippines whose record of charitable giving and humanitarian work rivals his 57-5-2 competitive record.
If you want your kid to grow up successful, humble and gracious, consider the following lessons from Pacquiao's life. If you're just trying raise a savvy gambler, tell them to take Mayweather in a decision.
Follow Your Heart (But Don't Forget Your Mom)
Pacquiao grew up totally broke in Philippines city of Kibawe — so broke he dropped out of school after the sixth grade to support his mother and 3 siblings. After discovering boxing as an adolescent, he moved to Manila at 14 without his mother's permission to chase his dream. Still broke, Pacquiao slept in the ring at the gym where he trained, working as a junkyard metal scrapper to earn enough money to send cash home to his family.
Learn From Your Defeats
At 16, Pacquiao turned pro, knocked out his first opponent, and steamrolled through his first 11 fights with a sloppy style that he compensated for with fearlessness, explosiveness and crowd-pleasing intensity. Then he got cocky, failed to make weight and was penalized by having to wear heavier gloves against his twelfth opponent. That guy knocked him out in the third round.
Pacquiao reportedly told his mother "It can't be about winning all the time; we must learn to accept both victory and defeat." Then he requested the toughest fighter in his division for his next fight and knocked him out. Since then, Pacquiao has been as well known for his humility as Mayweather is for being a self-aggrandizing loudmouth.
Be Gracious in Victory
A December 2008 fight between Pacquiao and Oscar De La Hoya would have been huge even if there wasn't bad blood between the boxers, but a business dispute between the 2 cost De La Hoya millions. With the undersized Pacquiao forced to move up 2 weight divisions, many assumed the 10-time world titleholder would finally serve the humble Filipino a major defeat. Nevertheless, Pacquiao clobbered boxing's "Golden Boy" so badly, he didn't just throw in the towel after 8 rounds — he retired. After the fight, Pacquiao hugged his defeated opponent and said, "You're still my idol. That fight was an honor for me."
You Can't Take Those Things To Heaven
"We can't take any of these things to heaven," is a mantra Pacquiao repeats whenever he's donating or working in a charitable capacity — which is a lot. That Manila gym he used to sleep in? He bought it and built dorms for poor fighters. After a typhoon devastated the region of Mindanao, he pledged 10 percent of his wealth to aid the recovery. He's contributions to Habitat For Humanity are responsible 195 homes in the region of Sarangani, and his personal foundation provides health and education support to countries all over the world.
Pacquiao's humanitarian spirit is so strong, he suggested that the entirety of the $300 million purse from his fight with Mayweather go to charity. So if you teach your kid anything at all about Saturday's fight, teach them this bit: the wife beater declined Pacquiao's offer.
This article was originally published on