Next Up for Zoe Saldana after Guardians of the Galaxy: Advocacy
Gamora is a mother on a mission.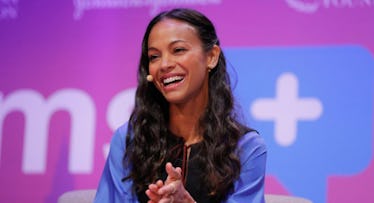 Every time you like and share this post, Johnson & Johnson will donate $1 (per social action), up to $500,000, via the Global Moms Relay to help improve the health and well-being of families worldwide in support of Shot@Life, UNFPA, Girl Up, UNICEF USA, and Nothing But Nets.
What do you wish were true for every family, everywhere?
My wish for every child and every global citizen is that they have medical aid accessible to them. That's what I wish for children and people all over the world.
Why did you become a global advocate for Shot@Life?
To be public figures, not only do we have the ability to entertain our audience and our followers, but we also have the ability to inform them on causes and organizations that need attention, encouragement, and support. This is especially true when these organizations are providing aid and care for women and children around the world who don't have it accessible to them.
How has becoming a mother changed your outlook on life?
Now that I'm a mother, the fear of one of my children being afflicted by a vaccine-preventable disease is daunting. To know that so many parents and families don't have that kind of ability to provide good healthcare for their children keeps me up at night. I don't just want my children to benefit from all the things that I can provide for them, I would like to help other families do so for their children as well.
Zoe Saldana is an actor, mother, and Global Advocate for the United Nations Foundation's Shot@Life campaign. Zoe Saldana is the epitome of a true star in Hollywood and has built her reputation as a versatile, respected actress by choosing roles she feels passionate about. Saldana recently reprised her critically acclaimed role of Gamora in Marvel's Guardians of The Galaxy 2, starring opposite Chris Pratt and Bradley Cooper.
Saldana has taken part in The Haiti Relief Inc, which works tirelessly to provide disaster relief to Haiti after the devastating earthquake in 2010. The organization focuses on distributing medical supplies, food, clothing, and other necessary items (such as soap, chlorine bleach, etc.) to aid and assist the residents of Haiti. The organization also assists in rebuilding schools, medical clinics, and hospitals being the focus of the organization from relief to development.
Additionally, Saldana has participated in development efforts with FINCA, an organization designed to alleviate poverty through lasting solutions to help build assets, create jobs, and raise the standard of living. In 2010, Saldana spearheaded the "Lend a Hand" campaign, FINCA's safe and easy to use online donation tool. The campaign allowed people to donate to FINCA and women from around the world working to free their families from poverty to better the lives of their families.
Saldana was born and raised in New York. When not on location, she resides in Los Angeles with her husband and three children.
You share, they give: Each time you 'like' or share this post via the social media icons on this post, watch this video or comment below, Johnson & Johnson will donate $1 (per social action), up to $500,000 divided equally between Shot@Life, UNFPA, Girl Up, UNICEF USA and Nothing But Nets. The Global Moms Relay was created by the United Nations Foundation and Johnson & Johnson with support from BabyCenter, Fatherly, Global Citizen, and Charity Miles to help improve the lives of families around the globe. Share this post with the hashtags #GlobalMoms and #JNJ, and visit GlobalMomsRelay.org to learn more.
You can also use the Donate A Photo* app and Johnson & Johnson will donate $1 up to $40,000 per cause when you upload a photo for Shot@Life, UNFPA, Girl Up, UNICEF USA or Nothing But Nets, to a maximum total of $200,000. You can help make a difference in seconds with the click of your mouse or snap of your smart phone.
* via the Donate A Photo app for iOS and Android. Johnson & Johnson has curated a list of trusted causes, and you can donate a photo to one cause, once a day. Each cause will appear in the app until it reaches its goal, or the donation period ends. If the goal isn't reached, the cause will still get a minimum donation.
This article was originally published on