UNICEF-Sponsored Program Empowers Women to Transform Family Healthcare in Pakistan
Women helping women are making everyone's lives better in Punjab.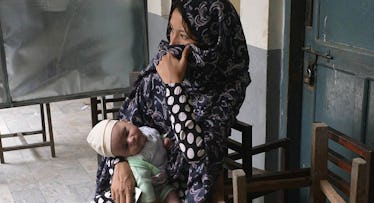 Every time you like and share this post, Johnson & Johnson will donate $1 (per social action), up to $500,000, via the Global Moms Relay to help improve the health and well-being of families worldwide in support of Shot@Life, UNFPA, Girl Up, UNICEF USA, and Nothing But Nets.
RAJANPUR, Punjab Kainat, 21, sits with her 7-month-old baby girl Aliya. They are joined by Kainat's sister-in-law, Sumaira, her one-year-old daughter, Ayesha, and their host, the local Lady Health Worker (LHW), Tasleem. The women are discussing nutrition for children after six months of age. Around 30 other women wait with them, ready to join a special session on mother and child health by the area's Lady Health Supervisor (LHS).
Kainat lives in Basti Miani village in Pakistan's Punjab province. Today, however, she has traveled to the Rural Heath Center in Kot Mithan, a nearby town, for the session. The place is not new to Kainat. She delivered Aliya at this center.
"I have been coming here for over a year now to attend these meetings by Tasleem and her senior baaji," she tells while trying to stop Aliya from thumb-sucking. Baaji is a common word used for elder sisters in this part of the world. The senior baaji is actually Tasleem's Lady Health Supervisor.
Like Tasleem, every LHW reaches around 150 households in the area where she lives and works and has significant responsibilities. LHWs visit homes regularly, check for pregnant women, ensure prenatal and antenatal care, provide guidance on safe deliveries, early initiation of breastfeeding, and exclusive breastfeeding; and mobilize women and families for a more informed approach towards family health.
Southern Punjab has a much higher rate of women dying from complications around childbirth and pregnancy compared to the rest of the province. The division in which Kainat's district falls also has the highest rate of deaths for infants and children under age five in the whole province. The Lady Health Workers' program is designed to change the situation.
With generous funding from Johnson & Johnson, UNICEF supported the Pakistan Governments' Lady Health Workers' program in 12 areas of southern Punjab through a special project that links health management and the community members around maternal, newborn, and child health. This includes immunization, hygiene and sanitation, nutrition, and education. To support one facet of the project, UNICEF provided portable projectors to the LHWs so they could show instructional videos to mothers and pregnant women to follow.
"Tasleem has been coming to our village since before my marriage two-and-a-half years ago. I knew that she talks about health and babies," says Kainat. "I joined her discussions only when I was pregnant." She says it was surprising for her to discover the importance of caring for herself before her baby was born. She also learned about the impact of things like early and exclusive breastfeeding.
"Thanks to Tasleem and the LHS baaji, my Aliya is a healthy baby," says Kainat. Aliya received the start that every child deserves: from early initiation of breastfeeding and immunization to regular health check-ups. "There are also sessions Tasleem and her friends hold for men of our village. Because of them, my husband has been helping in keeping the house clean," adds Kainat.
Adresh Laghari is a Communication Officer at UNICEF's Pakistan Country Office in Islamabad. Having previously worked as an editorial journalist and a literature critic, he currently deals with digital media and communication for social change. Adresh has been working in development communications for over seven years. Follow him on Twitter @aadarshayaz.
You share, they give: Each time you 'like' or share this post via the social media icons on this post, watch this video or comment below, Johnson & Johnson will donate $1 (per social action), up to $500,000 divided equally between Shot@Life, UNFPA, Girl Up, UNICEF USA and Nothing But Nets. The Global Moms Relay was created by the United Nations Foundation and Johnson & Johnson with support from BabyCenter, Fatherly, Global Citizen, and Charity Miles to help improve the lives of families around the globe. Share this post with the hashtags #GlobalMoms and #JNJ, and visit GlobalMomsRelay.org to learn more.
You can also use the Donate A Photo* app and Johnson & Johnson will donate $1 up to $40,000 per cause when you upload a photo for Shot@Life, UNFPA, Girl Up, UNICEF USA or Nothing But Nets, to a maximum total of $200,000. You can help make a difference in seconds with the click of your mouse or snap of your smart phone.
* via the Donate A Photo app for iOS and Android. Johnson & Johnson has curated a list of trusted causes, and you can donate a photo to one cause, once a day. Each cause will appear in the app until it reaches its goal, or the donation period ends. If the goal isn't reached, the cause will still get a minimum donation.
This article was originally published on