This 11-Year-Old Girl Is Using Her Footsteps to Feed Malnourished Kids Through UNICEF Kid Power
Leave it to a kid to find a practical use for those activity trackers.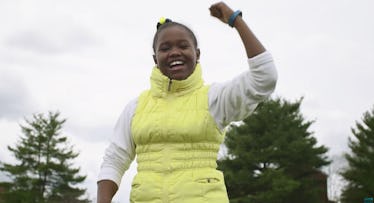 Every time you like and share this post, Johnson & Johnson will donate $1 (per social action), up to $500,000, via the Global Moms Relay to help improve the health and well-being of families worldwide in support of Shot@Life, UNFPA, Girl Up, UNICEF USA, and Nothing But Nets.
UNICEF believes all children have a right to survive, thrive, and fulfill their potential. Malnutrition, however, can deny children that basic human right.
Every year, around three million children die of undernutrition. Some 16 million live with the crippling effects of its most extreme form, severe acute malnutrition (SAM). For millions more, chronic malnutrition leads to stunting, an irreversible condition that can impede physical and cognitive development.
There is good news: UNICEF has the solution. It's called Ready-to-Use Therapeutic Food (RUTF).
And UNICEF Kid Power has kids like 11-year-old Atesha who are using exercise to unlock funding for UNICEF to deliver RUTFs to kids in need.
Raised by a loving family to look out for others, Atesha now has a new channel for the things she cares about.
"What I wish were true for every family, everywhere would be that they could give their children what they need to be healthy. If I could help one child I would do everything in my power because I have been very lucky to grow up with everything I need.
I live with my grandma, Kai. My grandma and I do everything together. We are really close. I feel lucky to have her.
Grandma Kai takes me to school every day and helps me with everything in my life.
Lots of the things my grandma and I do together help save kids' lives! My teacher last year showed me Kid Power. I wish more kids everywhere could join the team because it lets kids do something important for other kids around the world who don't have as much as we have.
I knew that some children in other countries went hungry but last year, when I learned that some kids don't have the food or clean drinking water they need to survive, it made me sad. We have what we need, why shouldn't they?
My UNICEF Kid Power activity band counts my steps then turns them into food packets for severely malnourished children. So now my grandma and I walk a lot together. We walk a little, then we run, and then we skip.
We also like dancing. When we listen to the radio, my grandma always asks me if there's a dance to go along with the song that's playing. When I know one, I show her how to do it and we dance together! I wish everybody had a grandma to dance with, too. I earn a lot of food packets that way.
I love knowing how I can help others. I like that because I am interested in exploring the world and doing everything in my power to help."
Since October 2014, kids like Atesha have been racking up steps with their UNICEF Kid Power Activity Bands to earn points that unlock funding UNICEF uses to deliver this critical treatment to every child who needs it. An energy-packed peanut paste that contains everything kids suffering from severe acute malnutrition (SAM) need to get better, it truly is a miracle food.
Since its inception, the growing kids-helping-kids movement has contributed 6.4 million lifesaving food packets, enough to save more than 40,000 malnourished children. The impact on children and families can't be measured.
You share, they give: Each time you 'like' or share this post via the social media icons on this post, watch this video or comment below, Johnson & Johnson will donate $1 (per social action), up to $500,000 divided equally between Shot@Life, UNFPA, Girl Up, UNICEF USA and Nothing But Nets. The Global Moms Relay was created by the United Nations Foundation and Johnson & Johnson with support from BabyCenter, Fatherly, Global Citizen, and Charity Miles to help improve the lives of families around the globe. Share this post with the hashtags #GlobalMoms and #JNJ, and visit GlobalMomsRelay.org to learn more.
You can also use the Donate A Photo* app and Johnson & Johnson will donate $1 up to $40,000 per cause when you upload a photo for Shot@Life, UNFPA, Girl Up, UNICEF USA or Nothing But Nets, to a maximum total of $200,000. You can help make a difference in seconds with the click of your mouse or snap of your smart phone.
* via the Donate A Photo app for iOS and Android. Johnson & Johnson has curated a list of trusted causes, and you can donate a photo to one cause, once a day. Each cause will appear in the app until it reaches its goal, or the donation period ends. If the goal isn't reached, the cause will still get a minimum donation.
This article was originally published on