Baby Boxes Are Simple but Life-Saving for Women and Newborns in Disaster Areas
And the equally simple way you can help deliver one.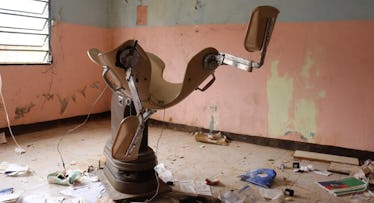 Every time you like and share this post, Johnson & Johnson will donate $1 (per social action), up to $500,000, via the Global Moms Relay to help improve the health and well-being of families worldwide in support of Shot@Life, UNFPA, Girl Up, UNICEF USA, and Nothing But Nets.
Disaster can strike anywhere, changing lives forever. Basic needs including food, shelter, and medical care go unmet. Women and girls are often the worst affected. In addition to facing an increased risk of gender-based violence, they frequently lose access to reproductive healthcare.
Being pregnant during a disaster can turn a difficult situation into a nightmare. To meet the maternal health needs of pregnant women, UNFPA initiated the Safe Birth Even Here campaign in 2012, which was relaunched in 2016. This program works in areas of crisis and conflict where health services such as antenatal care and skilled birth attendants can be hard to come by.
Along with prenatal visits, safe birth and postnatal care, baby boxes are provided to help infants survive, particularly in the first days and weeks when they're most at risk.
This is a baby box. It provides protection to babies for the first six to eight months of their life. This baby box contains a waterproof mattress, a baby blanket, some clothing including a baby sleep sack and a tote bag, and a few other essentials for a newborn.
Baby boxes are designed to be safe and comfortable places for babies to sleep on their backs and breathe freely. However, the baby box is part of a broader service package that UNFPA provides to pregnant women and women who've just delivered their babies.
Donations through the Global Moms Relay will help UNFPA and partners deliver thousands of baby boxes to mothers and infants in need, in places like Haiti and Liberia, and other areas where crisis and disaster have deprived them of the basic services they need.
Jeffrey Bates came to UNFPA as a Media Specialist for sexual and reproductive health in January 2017. Before joining UNFPA, he was Chief of Communications with UNICEF Iraq. He has held posts with WHO, UNICEF, and other international NGOs and has worked in over 30 countries in communications, health, protection and education.
Prudence Chaiban, Information Management Specialist, Humanitarian and Fragile Contexts Branch, UNFPA HQ Prudence has been with the UNFPA Programme Division/HFCB for a few years, after working in a variety of positions abroad. Her most recent position prior to UNFPA was with the World Food Programme, where she served in several capacities in Sudan and Ethiopia.
You share, they give: Each time you 'like' or share this post via the social media icons on this post, watch this video or comment below, Johnson & Johnson will donate $1 (per social action), up to $500,000 divided equally between Shot@Life, UNFPA, Girl Up, UNICEF USA and Nothing But Nets. The Global Moms Relay was created by the United Nations Foundation and Johnson & Johnson with support from BabyCenter, Fatherly, Global Citizen, and Charity Miles to help improve the lives of families around the globe. Share this post with the hashtags #GlobalMoms and #JNJ, and visit GlobalMomsRelay.org to learn more.
You can also use the Donate A Photo* app and Johnson & Johnson will donate $1 up to $40,000 per cause when you upload a photo for Shot@Life, UNFPA, Girl Up, UNICEF USA or Nothing But Nets, to a maximum total of $200,000. You can help make a difference in seconds with the click of your mouse or snap of your smart phone.
* via the Donate A Photo app for iOS and Android. Johnson & Johnson has curated a list of trusted causes, and you can donate a photo to one cause, once a day. Each cause will appear in the app until it reaches its goal, or the donation period ends. If the goal isn't reached, the cause will still get a minimum donation.
This article was originally published on