Ultimate Campout Unites Families Fighting Childhood Cancer for a Day of Fun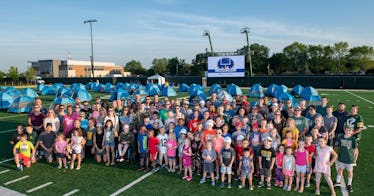 This story was produced by Northwestern Mutual Foundation, committed to accelerating the search for a cure to childhood cancer while supporting families undergoing treatment and survivors suffering from late effects.
After a long school year, the anticipation and excitement that children feel at the start of summer vacation is palpable. And while it can be a hectic time for many parents as they find activities and care during these months, it's a gift to see their kids light up, embracing summertime freedom and dedicating all hours of the day to fun. Unfortunately for children and families affected by childhood cancer, carefree summer breaks can be difficult for children to enjoy when dealing with the realities of diagnosis and treatment.
When a child receives a cancer diagnosis, their routine as they know it is paused indefinitely, as treatment becomes the family's top priority. When a child is battling cancer, the illness can put normal experiences on hold. That's why, Northwestern Mutual's Foundation created the Ultimate Campout Fighting Childhood Cancer. The event, now in its second year took place at Titletown, a new development neighboring Lambeau Field in Green Bay, Wisconsin, bringing together hundreds of kids fighting cancer, survivors and loved ones from all over the country for an unforgettable experience camping out on the field and enjoying one of childhood's best pastimes.
Campers had a blast spending the hot summer afternoon playing on a huge playground, creating arts and crafts, touring behind-the-scenes of Lambeau Field, watching a big screen movie, making s'mores and finally, sleeping under the stars.
Green Bay Packers legend Donald Driver joined Northwestern Mutual for the fun and ran football drills with the campers, taught end-zone dances, and provided plenty of smiles and laughs to the group.
"I tip my hat to Northwestern Mutual for what they do," Driver said. "Just allowing these kids to enjoy life, to play and not have to worry. Yeah, they put a smile on these kids' faces but they're also changing lives."
Families from across the country made the journey to Green Bay – including Rafael Moreno, a 10-year-old from Omaha, Neb., who was diagnosed with acute lymphoblastic leukemia (ALL) at age 3, suffered a 2016 bone cancer diagnosis, a 2017 ALL relapse, and finally finished treatment in February. Rafael is a Packers fanatic, so of course he couldn't wait to visit the home of his favorite team, but he was also excited to spend this time with his family.
"To see our kids happy is what makes us happy," Rafael's mom, Irma, said. "This is so important because of the energy we all feel. A lot of our closest friends through this have lost kids. Rafael keeps asking for his friends and it's so hard when you have to tell him a friend has lost their battle, but it's important to us to be honest with him throughout this Being able to do normal things and things like this campout are extra special for us, because we know how things can change in a second."
Charlie Vogelmann, a 13-year-old from Oak Creek, Wis., has a tumor caused by an optic glioma diagnosis at age 7 – which requires chemotherapy treatments every other Tuesday, a special diet, and physical and occupational therapy. When asked what was on his mind leading up to his trip to Green Bay, though, Charlie said he wasn't even thinking about these challenges – he was just thinking about the campout.
"I'm excited to meet friends who have gone through stuff like me – just meeting people like that, he said. "And being with my family, camping out there, and being able to go on the field!"
Northwestern Mutual –launched its Childhood Cancer Program in 2012, and has since provided more than $20 million in funding to the cause, resulting in the support of more than 240,000 hours of research through their partnership with Alex's Lemonade Stand Foundation. The Ultimate Campout Fighting Childhood Cancer provides children and families with support and the opportunity to find joy, where their only worry may be how to get another s'more.
"Being able to give these wonderful families meaningful memories together was such a gift," said Eric Christophersen, president of the Northwestern Mutual Foundation. "And now we will get back to work creating new opportunities where kids can just be kids, and parents can feel that carefree childhood magic again."